Los Angeles Tourist Attractions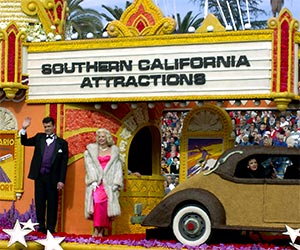 A list of tourist attractions in Los Angeles and the surrounding area. The list is arranged by location to help you figure out what's near your hotel. Here are some examples:
The list includes attractions such as Landmarks, Performing Arts Centers, Shopping Malls & Districts, Amusement Parks and other tourist activities.
Los Angeles is a world-class premium shopping destination. Not only do we have a variety of stores to suit every taste and budget; we also have several different types of shopping venues. This list of Los Angeles-area malls, open-air markets and shopping districts (such as the Grove and Third Street Promenade) is organized by location. It includes factory outlets and farmers markets.
Find admission tickets for tourist attractions, amusement parks, tours and more in Los Angeles and San Diego. Buy tickets online for places like Universal Studios, Disneyland, LEGOLAND, SeaWorld, Aquarium of the Pacific, StarLine Tours and other Southern California attractions.
Southern California Amusement Parks. Disneyland, Universal Studios, Knott's Berry Farm and more.
This list of museums in and around Los Angeles is divided by geographical area. The list includes major museums like The Getty, L.A. County Museum of Art, the Natural History Museum and many more.
Find out how to attend TV talk shows and game shows. The list includes popular shows like Dr. Phil and Jimmy Kimmel. Learn how to be a contestant on Jeopardy, Let's Make A Deal and other popular game shows.
A list of tourist attractions in Los Angeles and the surrounding area. The list is arranged by location to make it easy for you to figure out what's near your hotel. The list includes attractions such as Landmarks, Performing Arts Centers, Shopping Malls & Districts, Amusement Parks and other tourist activities.
The easiest way to see L.A.'s best attractions is to let a pro show you around. Here are a variety of guided tours of Los Angeles, from the time-tested Grand Tour to the brand-new helicopter tours. See beaches, movie star homes, downtown and all of the attractions through the eyes of an expert! This is a great way to explore our great city, even if you've been here before.
Some Los Angeles Restaurants and online resources to many more.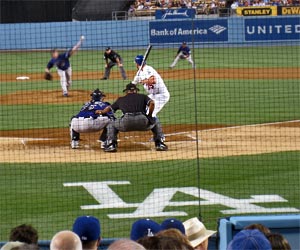 L.A. Dodger Game at Dodger Stadium
L.A. Dodgers, the Lakers and other Los Angeles sports teams, venues, where to get tickets. Also, horse race tracks, motor speedways and automobile race tracks.
Information about Los Angeles handicap accessibility and links to tourist attraction accessability pages.
Los Angeles City and County City Government websites (including Library, Police, Fire Dept, etc).
How to get Free Travel Brochures and Publications, Tourist Bureaus, Government links, Sports Teams and Sporting Events, Venues.
Hollywood attracts millions of visitors each year who travel there to pay homage to their favorite stars and perhaps even catch a glimpse of a few famous personalities.
Shopping - See Malls and Shopping Centers above.
Official organizations set up by local governments to help increase visitation and awareness of their locale.
Los Angeles Transportation links, including bus schedules, trains, airports and more. Learn how to use Metro's website to find routes and schedules for most public transportation agencies in Los Angeles.
Hiking, Mountains, Lakes, Nature Centers, Online Campsite Reservations.
Some ideas for activities and sightseeing during an extended layover at Los Angeles International Airport.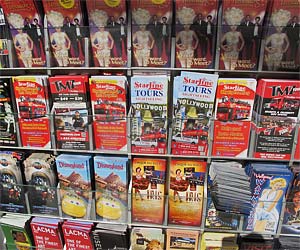 Los Angeles Tourist Brochures
A list of Visitors Bureaus that will send you free publications via US Mail. To help you save time, step-by-step instructions on how to request Visitor Guides from each website is provided. Includes Visitors Guides, brochures and travel publications from Visitors Bureaus in the Los Angeles, Orange County and San Diego areas, plus other parts of California, Nevada and Arizona. This is a great resource for anyone who wants to visit Southern California, as well as for local residents seeking ideas for a weekend getaway.
Free and low-cost activities in and around Los Angeles.
Includes links to other Los Angeles oriented websites, universities and other city landmarks.
Los Angeles is one of those places where kids can feel at home. While some Los Angeles-area attractions are decidedly grownup in nature, there are so many options in and around this bustling city for travelers with young children in tow.
Religious buildings which are also popular tourist destinations.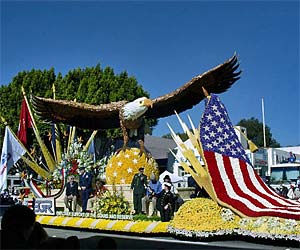 Rose Parade Float
The Tournament of Roses Parade is held each year on January 1 at 8AM Pacific Time. Over one million spectators attend, traveling to Pasadena from the Los Angeles area, across the United States and all over the world.
Experience ocean views, shopping and dining on the Santa Monica Pier, plus carnival games and rides at Pacific Park. Browse shops and watch street performers at the Third Street Promenade shopping district. Shop at upscale and trendy boutiques, department stores and market at Santa Monica Place shopping mall. Cap off the day at Palisades Park to enjoy a spectacular California sunset over the Pacific Ocean. You'll find all that and more in Santa Monica.
Tourist Bureaus - See the Convention and Visitors Bureaus section above.
---
Other Southern California area tourist attractions, including Las Vegas, Death Valley, Sierra Mountains.
---
Short links to this page: https://LAtourist.com/Attractions -or- https://inLA.us/attracts