Long Beach Tourist Attractions

Attractions near Shoreline Village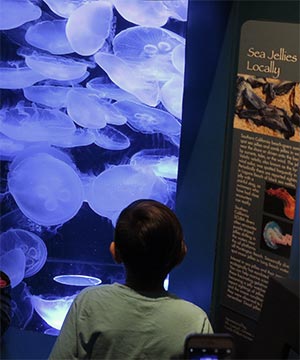 Sea Jellies at Aquarium of the Pacific
Aquarium of the Pacific - live marine animal encounters, shows, exhibits, films, and more. The aquarium hosts a variety of aquatic fish and animals such as sea otters, penguins, rays, and others.
Long Beach Convention Center - convention facilities for tradeshows, conventions, corporate meetings and other special events.
The Pike at Long Beach - a vibrant dining and entertainment district linking the Long Beach Convention Center to Rainbow Harbor's waterfront and the Aquarium of the Pacific.
Shoreline Village - gift and specialty shops, restaurants, events, a carousel and other activities.
Attractions near Downtown Long Beach
Downtown Long Beach - things to do, places to eat, events and information about downtown Long Beach.
Museum of Latin American Art - expands knowledge and appreciation of modern and contemporary Latin American Art through its Collection, ground-breaking Exhibitions, stimulating Educational Programs, and engaging Cultural Events.
Long Beach Museum of Art - a community-based organization that collects and cares for a permanent art collection, presents changing exhibitions in a variety of media, and provides engaging educational programming for youth and adults.
Rosie's Dog Beach - a section of beach along Ocean Blvd between Roycroft and Argonne Avenues. Dogs are allowed to enjoy the beach without a leash from 6AM to 8PM daily, except when closed by weather or special events.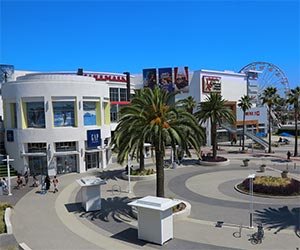 The Pike Outlets
Attractions near the Queen Mary
The Queen MaryTours and demonstrations of the historic ocean liner. Hear unique stories, facts and insights about the Queen Mary from expert guides. The Queen Mary Hotel offers overnight accomodations.
Catalina Express - year round passenger ferry service to Catalina Island, located 22 miles from the mainland. Departures are from Long Beach, San Pedro and Dana Point.
San Pedro Attractions near Long Beach
Ports O' Call Village [CLOSED] - Ports O'Call has been demolished for a planned new development. LA Waterfront Sportfishing, the San Pedro Fish Market, and the Crusty Crab remain open, although the Ports O'Call Restaurant is gone. Harbor cruises, whale watching and sport fishing trips still depart on a regular basis from LA Waterfront Cruises.
Battleship IOWA - visitors tour six decks and numerous exhibits on the Battleship, following in footsteps of thousands of sailors that lived on a city at sea.
Los Angeles Maritime Museum - seven galleries of exhibits exploring the maritime history of Southern California.
Point Vicente Lighthouse - standing on the most southwesterly point of the Palos Verdes Peninsula, the lighthouse is scenic delight and continual attraction to sightseers, tourists, photographers and painters.
More Attractions in Long Beach
Rancho Los Alamitos - The 7.5 acres are comprised of six agricultural buildings (including a working blacksmith shop), four acres of award-winning gardens, and a sprawling adobe ranch house (built c.1800). The barns area is home to a number of farm animals such as draft horses, sheep, goats, pigs and chickens.
More Long Beach Shopping Links - malls and shopping centers in Long Beach, San Pedro, Lakewood, Westminster and more.
More Long Beach Museums - the list includes Long Beach, San Pedro and the South Bay.
Skylinks Golf Course - 6,909-yard par 72 championship course is owned by The City of Long Beach and designed by leading golf course architect Cal Olson. It features Bermuda grass fairways, wide-open links-style play, and superb Bentgrass and Poa annua greens.
Long Beach Airport (LGB) - the airport's official website.
Grand Prix of Long Beach - annual Grand Prix race through the streets of Long Beach. Normally held during April, however the schedule for the 2022 race has not yet been released.
Long Beach Area Convention and Visitors Bureau - the official visitors guide for Long Beach. Visit the website for information on things to do, transportation, events, places to eat and more. You can also request a free visitor guide.