Los Angeles Government Websites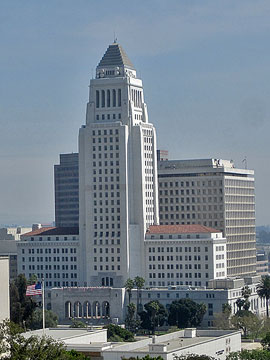 City Hall in Downtown Los Angeles
City of Los Angeles - The official Web site for Los Angeles. City council, commissions, the mayor's office and other government departments are highlighted. News, tourist information and links, as well as a schedule of events can be found here.
Convention and Visitors Bureaus - Official organizations set up by local governments to help increase visitation and awareness of their locale.
Demographics - (Los Angeles Almanac) and (LA City Demographics)
Los Angeles County Online - General info, Board of Supervisors, Commissions and Committees, Birth/Death/Marriage information, more.
Los Angeles Tourism and Convention Board - Tourist information on Los Angeles, Beach Cities, Hollywood, Westside, San Fernando Valley, San Gabriel Valley and Neighboring Regions.
Los Angeles Fire Department - LAFD Official website.
Los Angeles Police Department - LAPD Official website.
Los Angeles Public Library - About the LA Library system, Events and Exhibits, Apply for a Library card. online.
Los Angeles Sheriff's Department - LASD Official website.
Registrar-Recorder/County Clerk (Los Angeles County) - The Los Angeles County Registrar's Office is responsible for the registration of voters, maintenance of voter files, conduct of federal, state, local and special elections and the verification of initiative, referendum and recall petitions. The County Clerk's Office major functions include: marriage license issuance, the performance of civil marriage ceremonies, fictitious business name filings and indexing, qualification and registration of notaries and miscellaneous statutory issuance of oaths and filings.