Outdoor Activities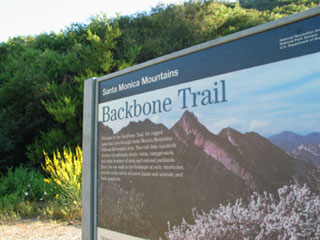 Backbone Trail, Santa Monica Mountains
Hiking and Camping
Baldwin Hills Scenic Overlook - A state park in Culver City that offers hiking, picnicking, and a panoramic view of the entire Los Angeles basin, along with the Pacific Ocean and surrounding mountains.
TreePeople Onsite Tours - Weekly hikes and tours that showcase the work at TreePeople, including Moonlight Hiking, Drought Solutions Tour, Family Tours, Native Plant Exploration, group dog walks. Pre-registration required to attend tours.
Campsite Reservations - Over 49,500 reservable campsites provided by the Corps of Engineers and USDA Forest Service. Make campsite reservations online.
Franklin Canyon - Los Angeles does indeed have a wilderness area and this is it. Open sunrise to sunset, Franklin Canyon features a nature center, expansive Franklin Lake, and Heavenly Pond, which is full of ducks. There are also plenty of jogging paths that can be traversed with jogger strollers. There's no admission fee for enjoying the canyon area.
Beaches
L.A. Dept of Beaches and Harbors - List of beaches, info on permits, beach use rules, a guide publication, photos and more.
Los Angeles County Beach Map - Interactive map helps you quickly locate the beach you want.
Beach California - List of all California beaches, along with descriptions and nice photos of many beaches.
Orange County Beaches - Beaches and coastal facilities in Orange County, including Newport Harbor, Dana Point, Capistrano Beach and more.
Topanga Beach Bus - Connecting the San Fernando Valley with Topanga Beach and Santa Monica Pier.
Lakes and Fishing
Fishing LA - Directory of information for fisherman with local streams listed, resources and fishing tips available.
Castaic Lake - Fishing, Boating (onsite rentals are available), Camping, Day Use, Hiking. The website also has maps and photos of the lake. Castaic Lake is about 40 miles north of downtown Los Angeles on I-5 (Lake Hughes Road in Castaic).
Lake Piru - Fishing, Boating, Camping, Day Use. Lake Piru is about 60 miles north of downtown Los Angeles on I-5 (Take Hwy 126 to Piru Canyon Road in Piru. You can get live bait in Piru).
Pyramid Lake - Fishing, Boating, Camping, Day Use. Pyramid Lake is about 60 miles north of downtown Los Angeles on I-5 (Take Hwy 126 to Piru Canyon Road in Piru. You can get live bait in Piru).
National Forests
Angeles National Forest - This forest spans the northern part of Los Angeles county. Forest Vicinity Map, Camping and Picnicking, Hiking, Fishing, Wilderness, Off-Highway Vehicle Opportunities, Hunting and Target Shooting, Water Sports, Winter Sports.
Angeles National Forest Visitor's Centers - Chilao Visitor Center, Grassy Hollow Visitor Center and Mt. Baldy Schoolhouse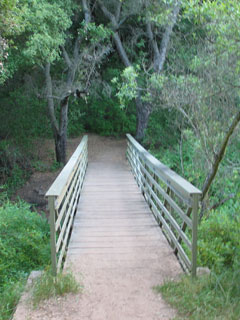 Newton Canyon Trail,
Santa Monica Mountains
Santa Monica Mountains contain a wide variety of plants and wildlife. This huge recreation area is a collection of parks, trails, nature centers and wilderness area. This is the best area for hiking within Los Angeles. The air is clean in the Santa Monica Mountains, so it's a great place to get away for the day. This link contains an Interactive Park Search (including Trail Maps & Photos), Programs & Events, more.
Channel Islands National Park - Five islands oof the coast of Los Angeles. The names of the islands are: Anacapa, Santa Barbara, Santa Cruz, San Miguel and Santa Rosa.
National Forest Map Store - Purchase US Forest Service maps online. This site has printed maps and atlases available for purchase.
San Bernardino National Forest - North east of Los Angeles. Phone number and address.
San Gorgonio Wilderness - this is the location of San Gorgonio mountain, the highest peak in Southern California. The website contains general info, trail maps, and permit information. Be advised that parking a car in the wilderness requires an Adventure Pass, and each group of hikers requires a wilderness permit. It takes several days to get a wilderness permit and the quota could be full, so wilderness hiking needs to be planned in advance.
Cleveland National Forest - Between Los Angeles and San Diego
Horseback Riding
Los Angeles Equestrian Center - arenas and showing areas. Host equestrian events and horse shows, large and small. Located on the north side of Griffith Park. There are horse rentals available for trail riding, and an equestrian riding school (see both below).
L.A. Horse Rentals - a horse rental livery located across the street from the Los Angeles Equestrian Center. Horseback trail rides are led by an experienced guide.
Traditional Equitation School - a riding school located on the grounds of the Los Angeles Equestrian Center. You can take lessons on your own horse or one of theirs. There are occasional student-rider shows that are free to the public for viewing.
Equine Experiences and Trail Rides - Horseback riding in Palos Verdes. Cowboy Boot Camp, Trail Rides, Dinner Rides, and riding Lessons.
Hansen Dam Horse Park - facilities for horse parties, meetings and filming. Also offers boarding and riding lessons.
Sunset Ranch Hollywood - (Hollywood/LA) Horseback riding in Griffith Park and Hollywood Hills. Trail Rides, Dinner Rides, and riding Lessons. The ranch is at the top of Beachwood Drive, offering a spectacular view of the Hollywood Sign.
Parks and Nature Centers
Hansen Dam Park - a large outdoor recreational facility in the northern San Fernando Valley (11770 Foothill Blvd, near the I-210 freeway). Horseback riding, biking, hiking, fishing and water sports, picnicking and park activities, Visitor Center.
The Japanese Garden - A 6.5 acre garden located in the San Fernando Valley, which features three gardens in one: A dry Zen meditation garden (karesansui) containing Tortoise Island, a three-Buddha arrangement of stones, and a wisteria arbor across a Plover Path; an expansive Chisen or "wet-strolling" garden with waterfalls, lakes and streams, abundant greenery, and stone lanterns which were hand-carved by artisans in Japan; and the Shoin Building with an authentic teahouse and adjacent tea garden.
Los Angeles Parks - City of Los Angeles Department of Recreation and Parks comprehensive list of parks in Los Angeles. Includes parks, aquatic centers, dog parks, skate parks and more.
Nature Centers - Links, addresses and phone numbers of many LA area Nature Centers.
Temescal Canyon Association - This organization works to preserve the Temescal Canyon area of the Santa Monica Mountains, near Sunset Blvd and Pacific Coast Highway. They have built a bridge, trails and a park. They hold group hikes on certain Sundays.
Tree People - This organization raises trees to be planted throughout Los Angeles, by volunteers. The headquarters contains paths in a small forest located between Beverly Hills and the San Fernando Valley (Mulholland Drive at Coldwater Cyn Rd). You can hike the easy paths and meanwhile look out over the Valley.
Local Guides
Burbank Outdoors Activities - Burbank Hospitality Association that includes the Batcade Batting Cages, the Chandler Bikeway, the L.A. Equestrian Center, and the Starlight Bowl and other ideas for outdoor fun in Burbank.
Mountains Recreation and Conservation Authority - (formerly known as LAMountains) - A guide to parks and outdoor activities, event planning, and filming in the greater Los Angeles area
Ice Skating
Pickwick Ice - Ice Skating Arena located in Burbank, open for public sessions as well as events.