Free or Low-cost Tourist Activities in Los Angeles

The Getty (West L.A. and Malibu)
Admission is free to both sites of the Getty. Pay only for parking ($15 per car), or take a Metro bus to save even more. See more free museums in another section below.
Getty Center near the 405 freeway in West L.A. displays many genres of art, including classical and contemporary paintings, sculptures and architecture.
Getty Villa on Pacific Coast Highway in Malibu features classical Greek and Roman art and architecture.
Click here for more information on the Getty facilities in Los Angeles
Free Museums
Click here for a list of free museums in Los Angeles
Free Shows, Concerts and Musical Performances
Most free shows occur during the summer. Includes downtown Los Angeles, Pasadena, Beverly Hills and other areas. Click here for a list of free shows, concerts and performances in Los Angeles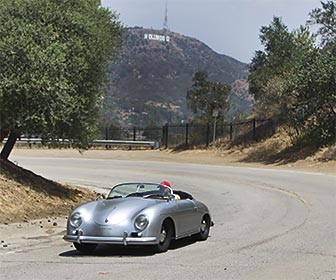 Mulholland Drive near Hollywood Bowl Overlook
Sightseeing From Your Car
The cost of gasoline makes this more expensive than in the past, but still costs less than paying for parking and admission at a theme park.
Hollywood Sightseeing
Click here for a list of free Hollywood Boulevard attractions
TV Show Tapings
Click here to find a list of TV Show Taping links. In most cases you'll need to get your tickets in advance, but they're usually free.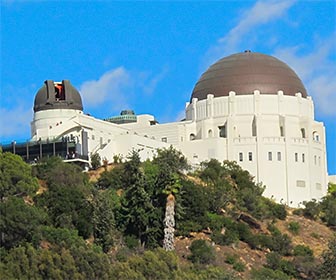 Griffith Park Observatory
Griffith Park
Griffith Park - Free activities include: Picnic in the park, go hiking on one of the trails, see the Griffith Observatory or visit Travel Town train museum.
Downtown L.A.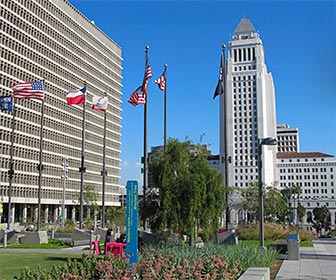 Court of Flags in Grand Park, downtown L.A.
There are many free activities in downtown Los Angeles, although they are not all within walking distance of each other. However you can take a low-cost DASH bus to get around. Free activities include tours, famous tourist sites (such as Disney Hall and Olvera Street), and the L.A. City Hall observation deck. Parking will cost $5 or more (it's less expensive on the weekends), or you can take a Metro train into downtown L.A.
Click here to find free activities in downtown Los Angeles
Shopping Districts
Some shopping districts are more than just malls, and are an attraction in themselves. Many of them offer entertainment beyond what a mall provides. Some are in attractive locations, like near the ocean. Although it costs money to shop, the shopping districts listed here are places where you can walk around and stay entertained without having to buy anything. Most charge for parking.
Click here for a list of Shopping Districts.
Hiking in the Santa Monica or San Gabriel Mountains
---
Suggestions - if you know of an ongoing free activity in Los Angeles, please send a note about it to info@latourist.com