Outside of Los Angeles

Northeast of Los Angeles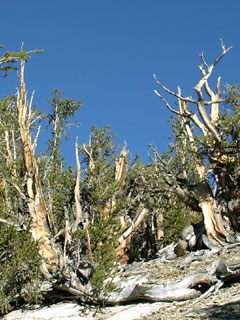 Bristlecone Pine Forest
Bristlecone Pine Forest - Near Bishop, about a 5-hour drive north of LA. Home of the Methuselah Tree. The Bristlecone Pine Forest Visitor Center is usually open late-May through the end of October. The center is the interpretive focal point for the oldest living trees in the world, the Bristlecone Pines. The interpretive center has exhibits, a natural history sales area, self-guided interpretive trails, and rangers on duty. The area also has restrooms, picnic tables, hiking trails, and a nearby campground. (Bring your own water).
Kern County Museum - Contains over 50 historic structures and exhibits depicting the history of Kern County, California, and the West set amid 16-acres of beautiful grounds.
Northwest of Los Angeles
Santa Barbara Botanic Garden - Sixty-five acres and over 5 miles of paths meander through an unrivaled collection of California flora and offer panoramic views of the Pacific Ocean and Channel Islands. Eight different habitats represent various regions throughout California, including redwood forests, oak and canyon woodlands, meadows and deserts.
Orchid Farm - At the Gallup & Stribling Orchid Farm, you'll be able to take a firsthand look at the largest orchid growing operation in the United States and learn something more about the breeding and cultivation of these beautiful flowers. The center also features beautiful potted orchid plants for sale. Located in Carpinteria, near Santa Barbara
Solvang - Solvang is the Danish Capital of America. Quaint Old World architectural styles blend with flower-lined streets to create a walk-able village. Solvang offers you a Shopping Showcase of unusual, quality imports and collectibles from 200+ merchants. Comfortable country inns, B&B, family motel or full service hotel accommodations are all within walking distance of sights, shopping, restaurants and activities. About two hours north of LA on Hwy 101. Near the home of world-famous Andersen's Pea Soup restaurant.
---
Death Valley and Northern Deserts

Goldwell Museum
Goldwell Museum - Death Valley - Just outside of Rhyolite, Nevada, a spectacular ghost town off the road leading to Death Valley, California, an unlikely group of prominent Belgian artists created a self-described art situation consisting of seven outdoor sculptures that are colossal not only in their scale, but in their placement within the vast upper Mojave desert.
Rhyolite Ghost Town - Some of the remnants of this former mining down in Death Valley near the Nevada border are still standing. A house made of bottles was restored in 1925.
Death Valley: Official Page - Death Valley National Park: The Official National Park Information Page - Official Death Valley Site
Maturango Museum - Museum of the cultural history, natural history and geology of the Northern Mojave Desert emphasizing our Indian Wells Valley. Located in Ridgecrest, CA. (There are more museums in the Museums links section.)
Feline Conservation Center - Also known as the Cat House, this refuge is located in Rosamond (about 1.5 hour drive north of LA on Highway 14). Cat lovers of all ages who discover this desert zoo north of Los Angeles are surprised and amazed at the variety of wild cat species found here. We are dedicated to the protection and preservation of the world's endangered felines.
Digital Desert - A virtual tour of the southwestern Mojave and the bordering forest mountain regions. There are nearly 5,000 photo/pages. Ghost towns, rivers, ranches, roads, monuments, fishing holes, springs, interesting rock formations, wild flowers, aerial photos, more. Interactive maps let you locate a specific region then see photos of the area.
---
East of Los Angeles
Calico Ghost Town Museum - Near Barstow, about two hours east of Los Angeles on I-15. One third of the town is original; the remaining carefully reconstructed to recreate the "spirit' of Calico's Old West past. Walking tours, exhibits, virtual photo tour. (There are more museums in the Museums links section.)
Living Desert - Discover The Living Desert's 1,200 acres of blooming, scampering, flying, howling fun. Wild creatures and creature comforts for the whole family. Near Palm Springs.
Jeep Eco Tours - Palm Springs and Palm Desert jeep tours by Desert Adventures.
Palm Springs Travel Guide is the essential guide to Palm Springs California featuring hotels, restaurants, attractions, golf courses, real estate, museums and more.
---
South of Los Angeles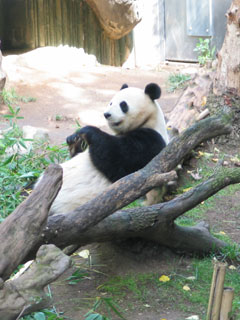 Panda at the San Diego Zoo
San Diego Zoo - The San Diego Zoo cares for more than 4,000 individual animals representing 800 different species. Its collection of animals, as well as its plant collection of over 6,500 species, is acknowledged as one of the finest in the entire world. TIP: For a memorable experience at the San Diego Zoo, try the optional "Backstage Pass" experience (see ticket pricing info below). You'll be treated like a VIP as you are personally introduced to furry, feathered, and scaly critter celebrities in a private show area!
San Diego Zoo Safari Park - (formerly called Wild Animal Park) - Located 32 miles northeast of the San Diego Zoo near the city of Escondido in north San Diego County, the San Diego Zoo Safari Park is 20 times larger than the Zoo. It is also a completely different experience than a visit to the Zoo. The 1,800-acre wildlife preserve allows visitors to view herds of exotic animals as they might have been seen in their native Asia and Africa. The Park has over 3,500 animals representing 260 species, and is also an accredited botanical garden.
San Diego Carriage Ride Service - Carriages of San Diego specializes in providing horse-drawn carriage and wagon service throughout San Diego County.
Sea World - At their Home Page, click on "San Diego". Sea World is about a two hour drive south of downtown Los Angeles. See dolphins, polar bears, whales, sharks and other aquatic animals in exhibits and performances.
Temecula Valley Balloon and Wine Festival [- ]June 3-5, 2022] - The Festival begins with the very popular Friday evening Balloon Glow. Saturday and Sunday offers a "Festival within a Festival," with top-name concerts, wine tasting in the Wine Gardens, Kids Faire, Arts & Crafts and Commercial exhibits and the Food Court.