Churches, Missions, Religious Buildings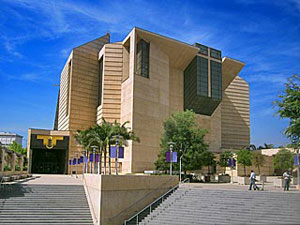 Cathedral of Our Lady of the Angels
Los Angeles Churches
Downtown L.A.
Cathedral of Our Lady of Angels - Home of the Los Angeles Catholic Archdiocese, located in downtown L.A. near the Performing Arts Center and Disney Hall.
Christ Cathedral - Former site of the Crystal Cathedral and the Hour of Power television ministry. It is now a Catholic church.
First A.M.E. Church - First African Methodist Episcopal Church, Los Angeles is a world-renowned church that was founded by African Americans in 1872.
First Congregational Church of Los Angeles - Protestant church, oldest in Los Angeles, founded 1867.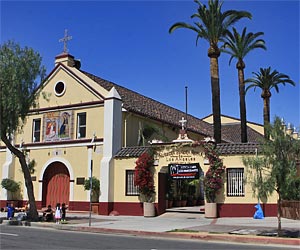 La Placita: Nuestra Senora Reina de Los Angeles
La Placita - Iglesia Nuestra Señora Reina de los Angeles. Originally founded in 1784, only three years after the official founding of Los Angeles. The church is located across the street from El Pueblo de Los Angeles (home of Olvera Street).
Hollywood
Church of Scientology in Los Angeles - The original Church of Scientology, located at 4810 W Sunset Boulevard in Los Angeles, east of Hollywood.
Scientology Celebrity Centre International - a special Church of Scientology that was designed to serve celebrities. This facility is located at 5930 Franklin Avenue in east Hollywood.
L.A. Westside
King Fahad Mosque - The Islamic mosque is located in Culver City, and is open daily for all five prayers. Visitors are welcome. Individual or group tours are available.
Mormon Temple in Los Angeles - Los Angeles California Temple Visitors' Center showcases a representation of Thorvaldsen's Christus amidst beautiful surroundings. Guides are available to give you a free tour of the visitors' center.
Valleys
Saint Andrew's Abbey [Antelope Valley] - a Roman Catholic Benedictine monastery. The basis for monastic life at Valyermo is the Rule of St. Benedict, a formula for life in community which has been followed by monks and nuns for over fifteen-hundred years. Home of the annual Valyermo Fall Festival (Tel: 661-944-2178)
Lists
Churches in Los Angeles - List of churches arranged by denomination
L.A. Jewish Guide - A list of dozens of synagogues in the Los Angeles area, sorted by location.
---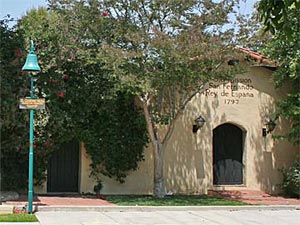 San Fernando Rey de España
Spanish Mission Websites
Southern California Missions - Links to missions from San Diego to San Luis Obispo, as well as mission research websites. The list includes two missions in the Los Angeles area, three near San Diego and four missions near Santa Barbara. Some of them offer tours (docent-led and self-guided) of mission grounds and artifacts. Most of these missions are within a two-hour drive from downtown Los Angeles.