Hollywood, California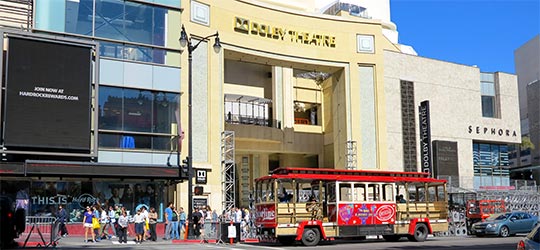 Ovation Hollywood Shopping Center

on Hollywood Boulevard
Although Hollywood is a neighborhood in Los Angeles, for some it's more a state-of-mind. "I'm going to Hollywood," say young hopefuls who dream of acting in movies or on television.
Indeed, they're going to Los Angeles but probably not to Hollywood itself. Though Hollywood has long represented the glitz and glamour of the film, television, and music industries, most studios have moved away from this quirky district in favor of other L.A. neighborhoods, like Burbank.
Nevertheless, Hollywood still attracts millions of visitors each year who travel there to pay homage to their favorite stars and perhaps even catch a glimpse of a few famous personalities. Sometimes they're lucky! And while, for years, Hollywood had a rather seedy reputation, the town has endeavored to make recent improvements in the areas most visited by tourists, adding a new kind of charm to this interesting neighborhood.
NAVIGATION

Hollywood Introduction (this page)

ADVERTISMENT