Los Angeles Information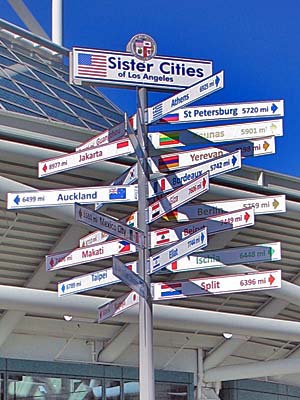 Sister Cities Sign at the Convention Center
Brochures and Free Publications - How to get Visitor Guides, travel brochures or other free literature by Postal Mail.
Events in Los Angeles - A collection of Los Angeles Events websites. Includes venues such as Staples Center, Anaheim Pond and other event locations.
Getting Around LA - See the Transportation section below.
Government Websites - Los Angeles City and County City Government websites (including Library, Police, Fire Dept, etc). Also, see the list of "Tourist Bureau Websites" below.
Los Angeles Websites - Includes links to other Los Angeles oriented websites, universities and other city landmarks.
Sports Teams and Sporting Events - LA Lakers and other Los Angeles sports teams, venues, where to get tickets. Also, Horse Racing, Motor Speedways and race tracks.
Tourist Bureau Websites- Links to the official source of travel info for communities of interest to Los Angeles tourists.
Transportation - Los Angeles Transportation info, including Bus schedules, Trains, Airports, Bicycles and more.
Venues in Los Angeles - Performing Arts Center, Staples Center, Greek Theatre, and other stadiums and venue locations.
Virtual Tours - Virtual Photo Tours of Los Angeles