Southern California Amusement Parks

Los Angeles Amusement Parks
Universal Studios Hollywood
The world-famous movie studio and theme park featuring movie studios, tours, attractions, rides, restaurants and more. The movie studio tour offers a behind-the-scenes look at special effects and movie-making techniques. The rides and attractions are based on major movies that have been produced by Universal Studios.
Immerse yourself in the adventures of Harry Potter™ at The Wizarding World of Harry Potter™; Enter the world of The Simpsons™ like never before and visit downtown Springfield and hold on tight for the all-new grand finale, Fast and Furious-Supercharged.
Magic Mountain
If you like roller coasters, then you will LOVE Magic Mountain. The emphasis is on thrill rides, and some of them are heart-pounders! The park also offers theme attractions, carnival games, arcades, food, shows and more opportunities for an entire day of thrills and fun. [Santa Clarita, Northern L.A. County].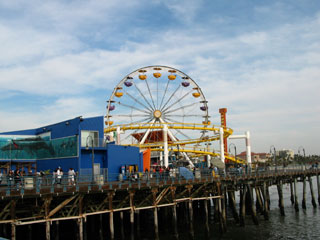 Pacific Park in Santa Monica
Pacific Park (Santa Monica Pier)
A carnival style amusement park located on the Santa Monica Pier. A Ferris wheel offers spectacular views of the Santa Monica Bay, the Pacific ocean, Santa Monica, Ocean Park and Venice Beach. There are carnival games, a roller coaster and other rides.
Los Angeles Zoo
Features animals, reptiles and birds in their natural habitat. The Zoo costs less than a movie but offers far more entertainment value. The L.A. Zoo is smaller than the San Diego Zoo, although it's much closer and the admission cost is lower. It is located in Griffith Park, north of downtown Los Angeles, about 6 miles away from Universal Studios.
Sherman Oaks Castle Park
Miniature golf (three 9-hole courses), indoor arcade with video games, air hockey and other games, laser tag, batting cage with multiple skills, and a snack bar. Parking is free. This venue is maintained by the L.A. Park system [San Fernando Valley].
Hurricane Harbor
From thrilling speed slides to cool kids' areas to gallons of water adventures, Six Flags Hurricane Harbor is a tropical paradise and the perfect place to cool off and work on your California tan. [Santa Clarita, Northern L.A. County, very close to Magic Mountain].
Aquarium of the Pacific
Features ocean-based exhibits and marine life of the Pacific ocean. You can explore the various ocean habitats of Southern California, Baja California, the frigid waters of the North Pacific and the colorful reefs of the Tropical Pacific. Come face-to-face with, and even touch, the ocean's ultimate predators in Shark Lagoon and hand feed lorikeet birds. [Long Beach]
K1 Speed Torrance
An indoor go cart race track in the Torrance/Gardena area. Experience the thrill of 20hp electric karts at an affordable price. Open late on Fridays and Saturdays. Also ideal for parties and meetings.
Raging Waters
California's largest water theme park featuring a 50-acre aquatic recreation park which includes water slides, speed slides, rides, chutes, lagoons, children's activity pools and beaches for sunbathers. Open during the summer months. Click on the link for their San Dimas facility. [North of Pasadena, near Pomona]

Castle Park (Riverside)
Located near the 91 freeway in Riverside, this amusement park offers 27 rides suitable for all ages, four championship miniature golf courses, a vast selection of carnival midway games, a water playground, retail shops, a video arcade, and more.
---
Escape Rooms and Escape Games
Escape Room Games - You and a group of others are given the challenge of finding a hidden exit within an allotted amount of time. Some escape games employ scare tactics, but most simply involve solving puzzles and deciphering clues to find the way out of the room. Most are open to younger participants so the whole family can join in.
Paintball Parks
Paintball Parks offer courses with obstacles, where players compete in mock battles using Paintballs (including Paintball Soft), Airsoft, Nerf projectiles and more. Some hold competitions and special events. Most also include deals for groups and parties. Equipment rentals are available. Some let you bring your own paintballs, but check each website carefully for details. All parks require a waiver, which can usually be filled out online.
---
Orange County / San Diego Amusement Parks
Amusement Parks in Orange County and San Diego
The list includes Disneyland, Disney's California Adventure, Knott's Berry Farm, Soak City, Adventure City and Speedzone in Orange County. For the San Diego area, there are links to LegoLand, San Diego Zoo, Safari Park, SeaWorld San Diego and Belmont Park.
---
Short Link: LAtourist.com/AmusementParks ||| Micro Link: inLA.us/amuse
---