West Hollywood Tourist Attractions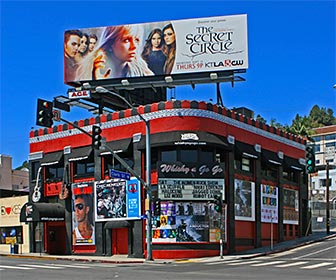 Whisky a Go Go on the Sunset Strip
The Sunset Strip
The section of Sunset Boulevard between Doheny Drive and Fairfax Avenue is famous for clubs and nightlife entertainment. Most clubs open in the late afternoon or early evening, and they all have a minimum age limit so check the details for each venue. There are around a dozen nightclubs on the Sunset Strip.
Concert Clubs on the Sunset Strip
Many rock and punk bands got their first big break at legendary West Hollywood nightclubs such as the Whisky a Go Go and the Roxy. The Doors, Van Halen and Guns n' Roses. Who knows, you could see the next big act, when they were still struggling on the Sunset Strip!
Comedy Clubs on the Sunset Strip
Some of the top names in comedy movies and TV began their career at nightclubs on the Sunset Strip that feature comedy acts. Robin Williams, Eddie Murphy, Jim Carrey, Howie Mandel, Whoopi Goldberg and many more comics have graced the stage of Hollywood clubs before they became worldwide sensations.
Restaurants on the Sunset Strip
Most of the clubs listed above also offer dinner menus, snacks and beverages. There are also many restaurants, diners and places to eat. Here are some that will be of interest to tourists.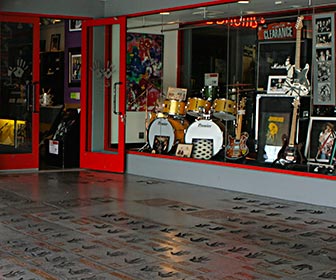 Hollywood's RockWalk at the Guitar Center
Hollywood's RockWalk at the Guitar Center - an outdoor monument to some of rock music's most influential figures. Their handprints and memorabilia are on display in the large entryway of the Guitar Center store. This is not as large as the courtyard at the Chinese Theatre, but it's interesting in a similar way, especially if you are interested in music legends like AC/DC, Aerosmith, B.B. King, Chuck Berry, Elvis Presley, Frank Zappa, Johnny Cash, KISS, The Ramones and almost 200 more. If you are a guitar aficionado, you'll probably enjoy looking around inside The Guitar Center, which holds an impressive array of guitars and musical instruments. There is also a Sam Ash music store across the street.
Pacific Design Center - a large retail space for furniture and home decoration, including over 100 show rooms and two restaurants by Wolfgang Puck. The Pacific Design Center features a branch of MOCA (contemporary art museum), and events such as appearances and exhibits by top designers.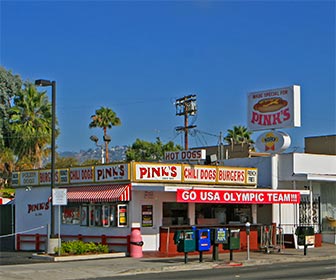 Pinks Hot Dogs on La Brea Avenue
Pink's Hot Dogs - World-famous hot dog stand at the corner of La Brea and Melrose Avenues in Los Angeles (near West Hollywood), about a mile south of Hollywood Boulevard. Nearby attractions include shopping on Melrose Avenue, Nick Metrolpolis Furniture and the Formosa Cafe.
Nick Metropolis Collectible Furniture (moved to downtown L.A.) - an eclectic collection of furniture, curios and other collectibles. The store has been seen on reality TV shows. NOTICE: This store is no longer located near Hollywood.
West Hollywood Government - services for residents and visitors. Of particular interest to tourists, the City of West Hollywood provides certification of domestic partnerships, including for non-residents.
Visit West Hollywood - the official visitor's guide website for West Hollywood.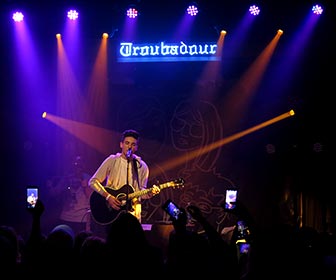 The Troubadour on Santa Monica Boulevard
Santa Monica Boulevard
Troubadour - a concert club that features contemporary bands. The Troubador has been around over 50 years and was the starting point for popular acts over the years. Near Doheny Drive.
Hamburger Mary's Bar and Grille - not your typical restaurant, Hamburger Mary's caters to the gay community of west Hollywood, although there is typically a broad mix of patrons including families and couples. There are regular events such as bingo, a "drag" race, comedy and more.
The Formosa Cafe - a Chinese restaurant that was established around 90 years ago, with limited changes in ownership. Open for dinner only, this venue has an impressive clientele, spanning many generations and genres. Previous patron include Marilyn Monroe, Elvis Presley, John Wayne, Judy Garland, Paris Hilton, Bono, Johnny Depp, Dean Martin and many others. Near La Brea Avenue, about a half mile from Pink's Hot Dogs.
Hotels in West Hollywood
There are dozens of hotels in West Hollywood on or near Sunset Blvd. These popular hotels are near The Comedy Store and Saddle Ranch Chop House.