Tourist Attractions and Sightseeing by Location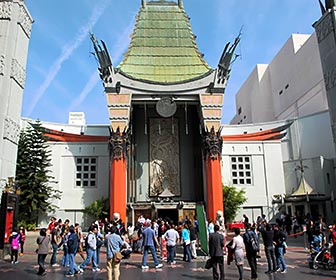 Chinese Theatre on Hollywood Boulevard
Hollywood and nearby, including Hollywood Blvd tourist links, TV Studios and Show Tickets, Universal Studios, Universal CityWalk, The Grove, Original Farmers Market, and others.
Westside, including Beverly Hills, The Grove, Original Farmers Market, Museums, Shopping and more.
West Hollywood - attractions and tourist destinations in West Hollywood, including the Sunset Strip, Santa Monica Boulevard attractions, Millions of Milkshakes, restaurants and concert clubs.
Santa Monica and nearby, including Third Street Promenade, Venice Beach and more.
Downtown Los Angeles and nearby, including Olvera Street, Chinatown, Little Tokyo, Downtown Shopping, Museums, Bunker Hill / Angels Walk, Disney hall, Performing Arts Center of Los Angeles, walking tours downtown LA, and more.
Pasadena/Burbank and nearby, including the Tournament of Roses Parade, Shopping, botanical gardens, Museums and more.
Long Beach, including Aquarium of the Pacific, downtown Long Beach, Shoreline Village, Shopping links, Museum links and more.
LAX area, including Harbor cruises, TV Show tickets and ideas for a layover at LAX.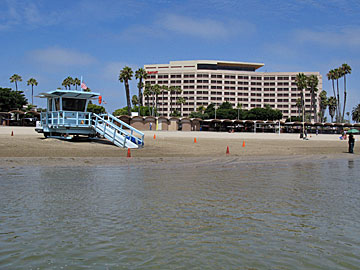 Mothers Beach in Marina Del Rey
Marina del Rey - Tourist Attractions near Marina del Rey in Los Angeles. Includes Fisherman's Village, High-end Restaurants on the Marina, Venice Beach near Washington Boulevard, Mother's Beach, Burton W. Chace Park, Marina del Rey WaterBus, Free Summer Concerts and more. Marina del Rey is the beach destination that is closest to L.A. International Airport (LAX).
South Bay/Redondo Beach, including Alpine Village, Long Beach, Shopping links, Museum links and more.
Malibu, including shopping, wineries that are open to the public, beaches in Malibu, museums and venues, Getty Villa Museum, Malibu Country Mart and more.
Griffith Park area, including Griffith Observatory, LA Zoo, The Autry, Griffith Park, Greek Theatre and Forest Lawn Museum.
Citywide - attractions that occur through the city, such as Mulholland Drive and Wilshire Boulevard. This section also includes categories of venues which are located all over Los Angeles, such as Amusement Parks, Shopping Centers, Farmers Markets, Free Activities, Museums, Golf Courses.
Orange County, including Shopping, Museums, Disneyland and Knott's Berry Farm.
Outside of LA Metro area, including Catalina Island, Santa Clarita, Nature Centers, San Fernando Valley and more.
---
Short links to this page: https://LAtourist.com/links -or- https://inLA.us/links
---