Malls and Shopping Centers - LA Westside

Century City Shopping Center in Los Angeles
Beverly Center Shopping Mall - Located between Hollywood and Beverly Hills, the Beverly Center features anchor stores Bloomingdale's and Macy's, along with 160 specialty stores, restaurants and a large theatre. It's almost always packed to the brims with shoppers from all walks of life, reflecting L.A.'s diversity. Here you'll find your stereotypical 90210 manufactured blondes browsing the racks alongside tourists from across the globe hoping to garner a piece of the glamour to take home with them. And of course there's everyone in between, including hipster teens, stroller-pushing moms, college kids from nearby UCLA and USC, Hollywood wheelers and dealers and smitten couples. No matter the time of day, there's a constant flow of visitors infusing the shopping center with an undeniable energy.
Promo Page: Beverly Center Sales and Offers
The Beverly Connection - This outdoor mall contains many of the stores that are well known for bargains on clothing - Marshalls, Nordstrom Rack, Old Navy and Ross Dress for Less. If you need to stock up on every day goods like toothpaste, the Beverly Connection has a Target department store. Located across the street from the Beverly Center Shopping Mall.
Promo Page: Beverly Connection Sales and Promotions
Beverly Hills Shopping - For many, Beverly Hills is synonymous to shopping - and with good reason. At the center of the city's "Golden Triangle" is the infamous Rodeo Drive, a haven for anyone who has a passion for fashion. As seen in Pretty Woman, these short three blocks are concentrated with an overwhelming array of designer labels, including the likes of Giorgio Armani, Bulgari, Cartier, Christian Dior, Dolce & Gabanna, Escada, Gucci, Harry Winston, Louis Vuitton, Prada, Valentino, Yves Saint-Laurent and more. For those of us who aren't in the mood to max out our credit cards, window-shopping is always a safe option here.
Brentwood Country Mart - Shopping, restaurants and activities such as free outdoor movies in the summertime, book signings, and events for children and teens.
(Westfield) Century City Shopping Center - Located just one mile from Rodeo Drive, Century City Shopping Center is an upscale locale surrounded by the gleaming office towers and fountains of Century City. An open-air shopping center, with spacious walkways sheltered by a canopy of white, wooden latticework.
Promo Page: Deals, Sales, and Special Offers at Westfield Century City
Robertson Boulevard Shopping District - Robertson boasts a crop of chichi boutiques and upscale eateries that attract starlets and the paparazzi who feed off them. Thanks to the likes of US Weekly and TMZ.com, this shopping district has become a destination on many tourists' lists. [West Hollywood, close to Beverly Center]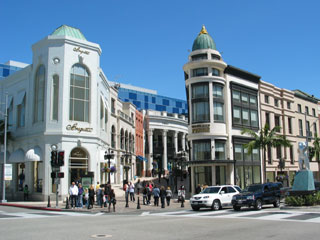 Two Rodeo on Rodeo Drive
Two Rodeo (Beverly Hills) - One of the highlights of Rodeo Drive, this is a European-style shopping center, complete with Old World cobblestones and street lamps. Located at the northeast corner of Wilshire and Rodeo, Two Rodeo most closely resembles a film set with its winding faux street, piazza and balconies. High-end brands like Versace, Jimmy Choo, Judith Ripka and Tiffany & Co. can be found here. The center also boasts three upscale restaurants: the seafood grill McCormick & Schmick's, the acclaimed sushi spot Urasawa, and 208 Rodeo, offering a patio that makes for prime people-watching. Tourists tend to pose for pictures in front of the Spanish steps and fountains.
Westwood Village - There are a number of shops and a wide variety of restaurants in Westwood Village. The shopping district is spread out over several streets but they are small blocks when compared to other areas in the city. That means you can easily walk to many stores within the district, which is a good thing because parking is brutal in Westwood. Once you get here and find a parking spot, you'll discover an assortment of restaurants and curio shops designed to cater to every demographic - Westwood is home to many wealthy families, as well as many budget-strapped college students. Starline Tours Hop-On, Hop-Off Double Decker Tour Yellow route services Westwood Village, and the Metro (website) has numerous Metro Rapid buses running along nearby Wilshire Boulevard.
NAVIGATION

LA Westside (this page)

ADVERTISMENT