Beverly Center Shopping Mall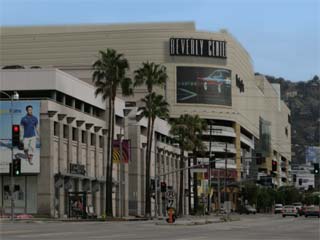 Beverly Center in Los Angeles
Don't let its name fool you: The Beverly Center is not, in fact, located within the heart of Beverly Hills. Rather, it's situated on the cusp of Beverly Hills and West Hollywood in a "no-man's land" of sorts. Much like it's in-between location (between La Cienega and San Vicente boulevards), the stores in this behemoth of a mall vary between being either ultra high-end and your average mall staples. Thus, the Beverly Center has something to suit shoppers of every style and budget.
The Beverly Center (website) is not for those looking for a quaint, quiet shopping experience. Rather, its eight stories are almost always packed to the brims with shoppers from all walks of life, reflecting L.A.'s diversity. Here you'll find your stereotypical 90210 manufactured blondes browsing the racks alongside tourists from across the globe hoping to garner a piece of the glamour to take home with them. And of course there's everyone in between, including hipster teens, stroller-pushing moms, college kids from nearby UCLA and USC, Hollywood wheelers and dealers and smitten couples. No matter the time of day, there's a constant flow of visitors infusing the shopping center with an undeniable energy.
Though the parking lot is five stories, guests might have to circle it to land a prime spot during peak hours. The prices are more than reasonable, starting at $1 for the first four hours. Those looking for a true L.A. experience ought to opt for valet, which starts at $7 for the first two hours.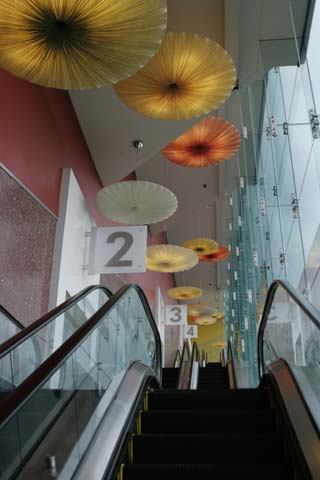 Beverly Center Escalator
As the actual stores do not start until the fifth level, guests must ride an elevator or escalator to get past all of the parking. Since the elevator tends to be slow and overcrowded, the escalator is the "ride" of choice among most Angelenos. The giant, Plexiglas tube escalator peers out onto surrounding streets and hilltops, enabling visitors to take in the view, which includes the Hollywood Sign.
For those looking to do some one-stop shopping, the Beverly Center offers a Bloomingdale's, Macy's and Macy's Men Store, as well as a Bed, Bath & Beyond. If you're looking for a specific store, you need not fret: odds are, the Beverly Center has it. Here, you'll find mass American retailers such as Banana Republic, bebe, Club Monaco, Coach, Ed Hardy, Forever XXI, Guess, H&M, Kenneth Cole New York, Sephora, Victoria's Secret and Wet Seal. Should you forget you're near 90210, the mega-mall has more upscale options including D&G Dolce & Gabbana, Dior, The Ferrari Store, Gucci, Just Cavalli, Louis Vuitton, True Religion and Salvatore Ferragamo. Also on-site are trendy L.A.-based stores such as Traffic and Planet Funk.
If you're hungry from all of that hard work swiping plastic, you can dine at one of the sit-down restaurants or grab something from one of the many to-go options. Those seeking a leisurely meal can head to California Pizza Kitchen, Grand Lux Cafe or P.F. Chang's China Bistro. Mall food-court staples such as Auntie Anne's, Mrs. Field's Cookies, Panda Express and Sbarro's Pizzeria are on-hand for quick bites, as are Chipotle Mexican Grill and Pinkberry.
As for entertainment, the Beverly Center boasts a thirteen-screen Mann Theatres cinema. Further, the Beverly Center itself has made cameos in Hollywood flicks including Scenes from a Mall, Body Double and Lipstick.
Since its 1982 opening, the Beverly Center has played a role in pop culture as well as in fulfilling the retail cravings of Angelenos and international tourists alike. What was formerly the site of a small amusement has since blossomed into an L.A. landmark that sets the bar for the mega-mall.
Beverly Center
8500 Beverly Boulevard, Los Angeles
M-F: 10 AM - 9 PM
SAT: 10 AM - 8 PM
SUN: 11 AM - 6 PM
Return to List: Los Angeles Shopping Centers and Malls

---
Short links to this page: https://LAtourist.com/BeverlyCenter -or- https://inLA.us/BevCtr
---