Malls and Shopping Centers - Long Beach Area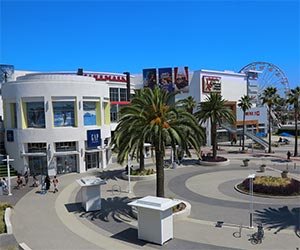 The Pike Outlets
Long Beach Shopping Malls
The Pike at Long Beach - a vibrant dining and entertainment district linking the Long Beach Convention Center to Rainbow Harbor's waterfront and the Aquarium of the Pacific. The center contains more than 30 retailers, restaurants, a cinema, a comedy club, along with an iconic carousel and Ferris wheel
Long Beach Towne Center - More than 50 retail stores and restaurants, along with family entertainment and activities for children at the Promenade located within the shopping center.
Promo Page: Long Beach Towne Center Events and Promotions
Belmont Shore - a popular shopping neighborhood containing over 250 shops within walking distance of each other. It is located from 2nd Street to Ocean Blvd between Livingston Drive and the bay. Street parking only, and you might have to park further away on busy days.
Shoreline Village - Gift shops, boutiques, restaurants, entertainment, nightlife, ocean views. This is a popular stop for cruise ships. It is adjacent to other attractions in Long Beach.
Crafted At The Port Of Los Angeles - an indoor artisanal marketplace, open every Friday, Saturday and Sunday. Artists and local craft makers offer their wares in a large warehouse (it's like shopping on Etsy in person!) The market is located along the new L.A. Waterfront, across from the Cabrillo Marina, and near attractions like Battleship IOWA and museums. Admission and parking are free!
Ports O' Call Village - [CLOSED] Ports O'Call has been demolished for a planned new development. L.A. Waterfront Sportfishing, the San Pedro Fish Market and the Crusty Crab remain open, although the Ports O'Call Restaurant is gone. Harbor cruises, whale watching and sport fishing trips still depart on a regular basis from L.A. Waterfront Cruises.
More Shopping Centers near Long Beach
SouthBay Pavilion - SouthBay Pavilion is an enclosed shopping center anchored by well-known national department stores. [Carson, between Long Beach and South Bay area].
Los Cerritos Center - The center features over 180 specialty shops, the Palm Court Cafes, several sit-down restaurants, and United Artists Theatre. Anchors: Mervyn's, Macy's, Nordstrom, and Sears.
Promo Page: Los Cerritos Center Sales
Stonewood Center - More than 170 shops and eateries. Stonewood Center is approximately 12 miles southeast of Los Angeles, and five miles from the Orange County line. The regional mall is easily accessible from four major Southern California freeways.
Promo Page: Stonewood Center Sales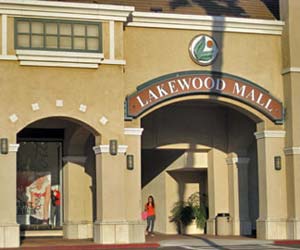 Lakewood Mall
Lakewood Center - a geat way to beat the heat inland from Long Beach. Lakewood Center offers four department stores, 265 specialty shops, a food court, a variety of big-box retailers, two theaters (totaling 25 screens), and over 30 restaurants and eateries. The "restaurant row" at Lakewood Center is considered one of the most successful groupings of exterior restaurants at any U.S. mall.
Promo Page: Lakewood Center Sales
Westminster Mall - The Westminster Mall is a modern shopping center whose unique symmetrical exterior is surpassed only by its beautiful interior. Features Macy's, JCPenney, Sears and Robinsons-May, plus more than 180 specialty stores.
NAVIGATION

Long Beach Area (this page)

ADVERTISMENT