Malls and Shopping Centers - Downtown LA Area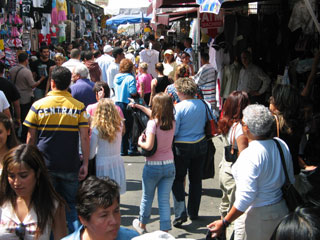 Santee Alley in the Fashion District
L.A. Fashion District
Fashion District Website - (formerly known as the Garment District) - the largest concentration of fashion-related businesses in the Western United States. The Fashion District occupies a huge area in the eastern section of downtown Los Angeles. On the Fashion District website, you can view a map that lets you know what type of clothing (Men's Wear, Women's Wear, Accessories, etc) can be found in each section of the District. Many stores post signs to indicate that they sell Wholesale only, although you can find some shops that will sell to retail consumers. Many stores accept cash only.
Santee Alley - a gathering place for countless vendors selling clothes and other merchandise. The alley is between Santee Street and Maple Street, starting at Olympic Boulevard. Santee Street is one block east of Los Angeles Street.
9th Street and Los Angeles Street - there are four major garment buildings at the intersection of 9th and Los Angeles Streets. Most stores are only open to retail vendors who buy in bulk, except during "Sample Sales."
California Market Center - (California Mart) A wholesale fashion industry showroom facility open to the trade only (registration required). California Mart contains more than 1,000 showrooms in three 13-story buildings (interconnected on every floor).
SAMPLE SALES: Sample Sales at California Mart
The Gerry Building - Over 70 retailers including Calvin Klein, Baby Phat and others.

The New Mart - Open to wholesalers only (appointment required), except during Sample Sales (last Friday of every month, and every Friday in December). On the website you will find a list of retailers who participate in Sample Sales.
SAMPLE SALES: Sample Sales at The New Mart
Cooper Design Space - (formerly known as the Cooper Building) Fashion industry showrooms, occasional sample sales (See the list of tenants for sample sale schedules.)
NOTE: Advanced registration, or an appointment may be required in order to gain entry to some of the buildings - you can check for the requirements on their websites.
Dover Street Market - a collection of modern clothing shops offering trendy designer styles, shoes and apparel. There is also a bakery. [Located about one mile east of the Fashion District]
The REEF - (not open to the general public, except by appointment) - a collection of three wholesale showrooms, event venues and creative working spaces that are open only to commercial buyers and retailers. The REEF is a large building that houses L.A. Mart, Maker City LA and Magic Box.
L.A. Flower District
Flower District Website - (near the Fashion District) The largest flower market in the United States. The general public is able to shop the flower market after the retailer buyer shift is over (see the Flower Market website for a schedule). There is a small admission fee. The market opens to the public at either 6AM or 8AM, and closes at noon. It is not open on Sundays.
Little Tokyo District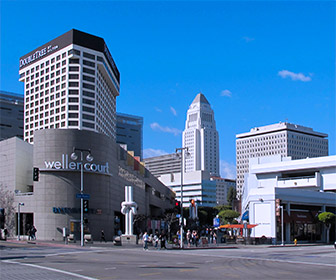 Weller Court in Little Tokyo
Little Tokyo Website - ethnic Japanese markets, restaurants and gift shops. Also, there are two museums (Japanese American National Museum and the Geffen Contemporary Museum), and historical monuments. You can find Japanese shops and restaurants throughout the District, although most are concentrated in shopping centers and plazas.
Little Tokyo Galleria Shopping Center - A large indoor shopping mall that specializes in Japanese shops.
Japanese Village Plaza Mall - The plaza is a collection of stores and shops featuring Japanese ethnic products, groceries and services. The main entrance is on 2nd Street, but there is also an entrance on 1st Street near Central Avenue, across the street from the Japanese American National Museum.
Weller Court (123 Astronaut E. S. Onizuka Street = San Pedro Street near 2nd Street) - an outdoor upscale shopping plaza with shops, restaurants. There is a memorial monument for the astronauts of the NASA space shuttle Challenger disaster.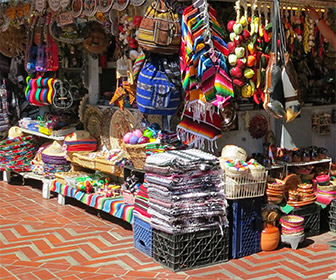 Shop on Olvera Street
Near Union Station
Olvera Street - Contains 27 historic buildings, a traditional Mexican style plaza area, where you can wander around, shop for souvenirs and handcrafted Mexican wares typical of old Mexico.
Los Angeles Mall - features a small collection of stores, a CVS pharmacy and a food court. Not a large mall, but it's a place to retreat for lunch if you are in the City Hall area.
Old Chinatown Central Plaza - features ethnic Chinese shops and restaurants. You can buy Chinese crafts, herbs, groceries, products and souvenirs.
Near Pershing Square Metro Station
Jewelry District - The boundaries of the Los Angeles Jewelry District are along three major streets in downtown LA: Hill Street, Olive Street, and Broadway between 5th and 8th Streets. However, you will find a large concentration of jewelry outlets along Hill Street between 6th and 7th Streets. Some are large plazas containing hundreds of stores inside. Here are a few of the plazas:
Western Jewelry Mart - 606 S Hill Street.
California Jewelry Mart - 607 S Hill Street.
The Jewellers Mall - 625 S Hill Street.
New York Jewelers Exchange - 629 S Hill Street.
St Vincent Jewelry Center - 640 - 650 S Hill St.
Grand Central Market - Billed as the oldest and largest open air market in Los Angeles. Restaurants, fruits, vegetables, meat, poultry, fish, gift shops. Open every day.
Near Seventh Street Metro Station
Fig at Seventh - a Target department store, retail shops and over a dozen restaurants. Located at the intersection of 7th and Figueroa Streets.
PROMO PAGE: FIGat7th Special Promotions
The Bloc - formerly known as Macy's Plaza, The Bloc contains a Macy's department store and a small collection of mall shops. This mall is located across the street from the Metro station (use the Hope Street exit adjacent to The Bloc).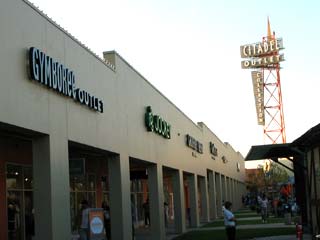 Citadel Factory Outlets, south of downtown Los Angeles
Outside of Downtown Los Angeles
(The) Citadel Factory Outlet - This is the only factory outlet retail mall within the city limits. It's a fairly large outdoor shopping complex with most top names in retail clothing, books and other items. You can also stop for lunch or a snack at the Citadel Cafes food court. There is adequate parking behind the stores, or you can take a Metro bus from downtown L.A. (see metro.net to find a route)
Promo Page: Sales at Citadel Outlets
Plaza West Covina - Over 190 stores, located near the I-10 freeway between downtown Los Angeles and Pomona. This mall hosts department stores, boutique shops, restaurants, services and more.
Promo Page: Deals at Plaza West Covina
NAVIGATION

Downtown LA Area (this page)

ADVERTISMENT