Malls and Shopping Centers - San Fernando Valley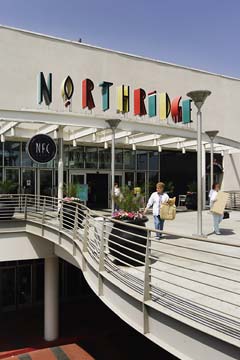 Northridge Fashion Center
Northridge Fashion Center - located in the north-western part of the San Fernando Valley. Features over 170 stores and restaurants, plus a movie theatre.
Sherman Oaks Galleria - In its prime, this mall defined the LA shopping mall experience. It was featured in movies and the popular 1980s-era song, "Valley Girl" by Frank Zappa. The mall has gone through some reorganization and was recently remodeled. There are only a few stores here, but you'll find a movie theatre and some nice places to eat, such as P.F. Chang's, Fuddruckers and The Cheesecake Factory.
(Westfield) Fashion Square in Sherman Oaks - Anchored by Macy's and the Valley's only Bloomingdale's. Over 120 specialty stores and eateries.
Promo Page: Deals, Sales, and Special Offers available at Westfield Fashion Square
Panorama Mall - located in the north-eastern part of the San Fernando Valley. Features over 50 stores and restaurants, including the very-popular Spanish-language La Curacao Department Store.
(Westfield) Topanga Shopping Center - 132 specialty stores including Nordstrom, Robinson's May, Sears, food court and restaurants.
Promo Page: Deals, Sales, and Special Offers at Westfield Topanga
Santa Clarita and Antelope Valley
(Westfield) Valencia Town Center - Shopping, Dining in Santa Clarita, north from the San Fernando Valley. [Northern LA County]
Promo Page: Deals, Sales, and Special Offers at Westfield Valencia Town Center
Antelope Valley Mall - located in Palmdale at 10th Street West near the 14 freeway. Features over 140 stores and restaurants, plus a movie theatre. The is a nice indoor mall. A good way to beat the heat out in the Antelope Valley. [Northern LA County]
Promo Page: Sales at Antelope Valley Mall
NAVIGATION

San Fernando Valley (this page)

ADVERTISMENT