Robertson Boulevard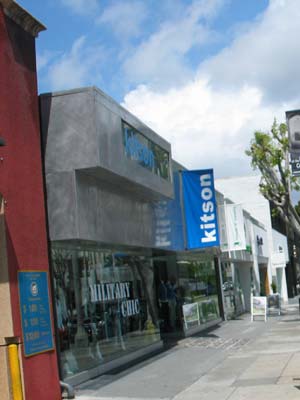 Kitson boutique on Robertson Boulevard
Those who are itching to see celebrities in their natural habitat need look no further than Robertson Boulevard. Considered one of L.A.'s trendiest streets, Robertson Boulevard boasts a crop of chichi boutiques and upscale eateries that attract starlets and the paparazzi who feed off them. Thanks to the likes of US Weekly and TMZ.com, this shopping district has become a destination on many tourists' lists.
Although the street itself runs for six miles, the strip of Robertson Boulevard between Beverly Boulevard (on the north) and Third Street (on the south) is considered the main attraction. It is located on the cusp of Beverly Hills and West Hollywood (just two blocks west of the Beverly Center).
Many of L.A.'s hottest and hippest boutiques can be found amongst these sidewalks. The grand dame of them all is Kitson boutique, a favorite among actresses like Lindsay Lohan, Paris Hilton, Nicole Ritchie, Britney Spears - and those who aspire to be just like them. Here, shoppers sporting oversized sunglasses, tank tops and skinny jeans browse for uber of-the-moment clothing items. Cosmetics from high-end lines including Bliss Spa, Fresh and Molton Brown are also on-hand. In addition, the store also carries the latest and greatest in jewelry, handbags, candles, books, trinkets, you name it. Should men and children feel left out, there is also a Kitson Men and Kitson Kids.
Other boutiques that take the same on-trend, fashion-forward approach as Kitson include Lisa Kline, Intermix and Madison. Stores such as Curve and Sky provide a bevy of bold, bright prints that are ideal for a night out on the town. As for designer labels, the street also features brand-name retailers including Alice & Olivia, Tory Burch, Nanette Lepore, Ted Baker and Paige Premium Denim, among others.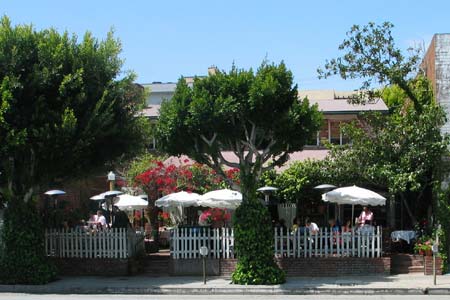 The Ivy Restaurant
Of course, Robertson Boulevard has more to offer than just shopping and people-watching. It also provides a stellar selection of restaurants, many of which have a loyal celeb following. The area's epicenter of eating is, without a doubt, The Ivy. Countless entertainment industry deals have been made within this cottage-like space over lunch. This infamous restaurant is bordered by a picket fence, which often has a slew of paparazzi camping out on the other side of it. Its patio is ideal to see and be seen, as many reality stars have discovered. The menu, which is on the costlier side, is comprised of Southern-influenced American classics.
Another oh-so L.A. eatery is Newsroom Cafe, which serves up super healthy fare alongside magazines aplenty. Other favorite eateries in the area are Michel Richard, Cuvee Wine & Food and Le Pain Quotidien, among others.
Interestingly, this happening boulevard is also home to the Kabbalah Center, which, of course, has its own loyal following of celebrities.
Click here for a map of the Robertson Blvd shopping district