Century City Shopping Center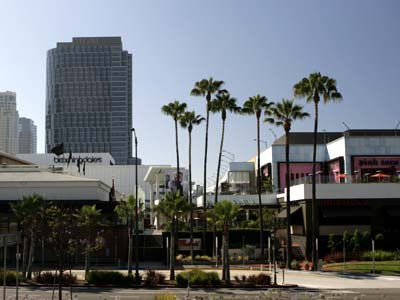 Westfield Century City Shopping Center
Westfield Century City (website) is a cut above your average shopping mall. Offering a diverse mix of stores and eateries, this outdoor complex makes for an elegant experience that is bound to please even the pickiest of patrons. Renovated in 2004, the shopping center has a luxurious, upscale vibe that appeals to both tourists and locals alike.
The mall is anchored by both Bloomingdale's and Macy's. Plus, it features more than 100 shops, catering to every style and need - if not always budget. For those of discerning taste, luxury brands like Louis Vuitton, Swarovski Crystal, Tiffany & Co. and Movado are on-hand Contemporary clothing brands including Theory, Kate Spade, Madewell and Vans Off the Wall are also on-premise, as are mall staples like Banana Republic, Bebe, Coach, Gap, H&M, J. Crew, Sephora and Victoria's Secret.
Clothing and accessories aren't the only items to be found here. Rather, one-stop shopping can be achieved thanks to the likes of the Apple Store, Borders, Brookstone, The Container Store, Papryus and more. In fact, visitors can even get all of their grocery shopping done at the Gelson's Market.
Not only does Westfield Century City offer a variety of stores to suit every taste, but it also provides an exceptional array of eateries to satisfy every craving. On any given weekday during the lunchtime hour, the vast majority of eateries are filled to the brim with suit-clad executives, due to the fact that Westfield Century City is located just a stone's throw away from several of the city's talent agencies, law firms and entertainment studios.
Rounding out this shopping center's seemingly endless assortment of options is the AMC Century City 15. This start-of-the-art cinema offers stadium-style seating, and tickets can be purchased in advance.
(Westfield) Century City
10250 Santa Monica Boulevard, Los Angeles
M-F: 10 AM - 9 PM
SAT: 10 AM - 9 PM
SUN: 12 AM - 7 PM
Return to List: Los Angeles Shopping Centers and Malls

---
Short links to this page: https://LAtourist.com/CenturyCityMall -or- https://inLA.us/CentCity
---