Los Angeles Museums: Hollywood area

Museums near Hollywood Boulevard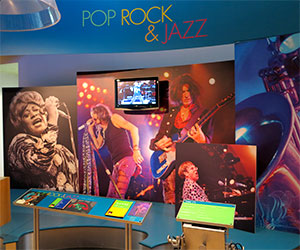 Hollywood Bowl Museum
Hollywood Bowl Museum
[Temporarily closed]
Features history, photos, posters, videos, and rock memorabilia from events at the Hollywood Bowl. Admission is free. Hours vary by season, so check the website to find out when the museum is open. [2301 N Highland Avenue, on the Hollywood Bowl campus]
Hollywood Heritage Museum
Dedicated to the early days of filmmaking in Hollywood. The Museum features archival photographs from the silent movie days of motion picture production, movie props, historic documents and other movie related memorabilia. Also featured are historic photos and postcards of the streets, buildings and residences of Hollywood during its heyday. [2301 N Highland Avenue, across the street from Hollywood Bowl]
Museums on Hollywood Boulevard
These attractions are within walking distance of each other.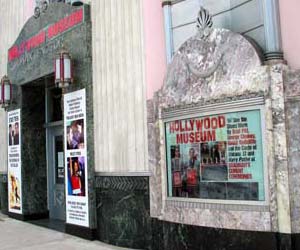 The Hollywood Museum
Hollywood Museum
The Hollywood Museum contains four floors full of artifacts, movie props, costumes, memorabilia, dioramas, pictures, posters, old film equipment and other exhibits related to Hollywood movies and motion pictures.
On the first floor there are "makeup rooms" dedicated to famous actresses like Lucille Ball, Marilyn Monroe and Loretta Young. These rooms contain costumes, pictures, multimedia displays and other exhibits. There are cases filled with artifacts such as scripts, letters and contracts plus magazines and newspapers featuring the actresses.
The second and third floors feature displays, including props from famous Hollywood movie scenes, costumes, posters, antique film equipment and other displays. Exhibits range from tiny jewelry worn in films, to large objects like Marilyn Monroe's 1961 Cadillac Fleetwood.
The Hollywood Museum holds enough exhibits to keep you occupied for hours. But it's not open every day, and it closes at 5PM, so plan accordingly. [On Highland Avenue at the intersection of Hollywood Boulevard]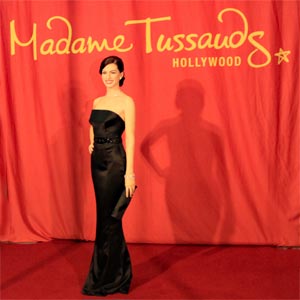 Anne Hathaway Wax Figure at Madame Tussauds
Madame Tussauds Hollywood
Interact with lifelike wax figures of your favorite celebrities without ropes or barriers between. The museum features movie stars, musicians, sports figures and more, spanning decades of entertainment history. The gift shop offers souvenirs, and can make a wax mold of your own hand! [6933 Hollywood Blvd]
Ripley's Believe It or Not
Ripley's "odditorium" showcases odd trivia from Ripley's Believe It or Not book. (Ripley's offers a combo deal that includes Madame Tussauds) [6780 Hollywood Blvd]
Guinness Book of Records Museum
Next door to Ripley's Believe It or Not you will find the Guinness Museum, which features exhibits related to the famous World Book of Records. [6764 Hollywood Blvd]
Guinness Museum and Hollywood Wax Museum each offer a combo deal that includes both attractions
Hollywood Wax Museum
The original wax museum on Hollywood Boulevard is still there! Features hundreds of wax figures depicting famous people and celebrities. [6767 Hollywood Blvd]
Medieval Torture Museum
[Scheduled to open during Summer 2022]
This museum offers over 100 unique implements and devices on display. Enter the minds of fanatics, madmen, and murderers, and discover the world's most detailed collection of confinement and torture devices. The Medieval Torture Museum is located across the street from Ripley's. [6757 Hollywood Blvd]
---
(More Hollywood Boulevard Links)
---
East of Hollywood and Highland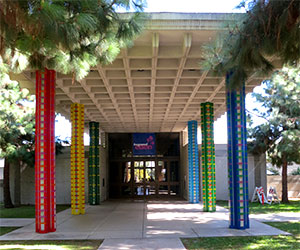 L.A. Municipal Art Gallery
Immersive Van Gogh Exhibit
The exhibit features 300,000 cubic feet of animated artwork by Vincent van Gogh. The exhibit is designed and conceived by Massimiliano Siccardi, with soundtrack by Luca Longobardi, both of whom pioneered immersive digital art experiences in France. [6400 Sunset Boulevard in Hollywood]
LA Fire Dept Historical Society Museum
Preserving and sharing the rich history of the LAFD by remembering, memorializing and honoring fallen firefighters and educating the public on fire and safety tips. [1355 N. Cahuenga Blvd, just south of Sunset Blvd]
Hollyhock House / Barnsdall Art Park
[Outdoor areas are open; Indoor exhibits and activities are temporarily closed]
A collection of buildings and art objects located within a park on Hollywood Boulevard, about two and a half miles east of Hollywood and Highland. On the premises:
Art displays throughout the park