Museum Row on the Miracle Mile

Miracle Mile is a stretch on Wilshire Boulevard between Fairfax Avenue and La Brea Avenue - and it is home to four major Los Angeles museums: L.A. County Museum of Art, La Brea Tar Pits and Museum, Craft Contemporary Museum, and The Petersen Auto Museum. The area is within an easy drive or bus ride to The Grove and Farmers Market. You can walk from Wilshire and Fairfax (near Petersen's Auto Museum) to Third Street and Fairfax (Farmer's Market) in about 10-15 minutes ( Metro bus ride takes 6 minutes, departs from northeast corner of Wilshire/Fairfax).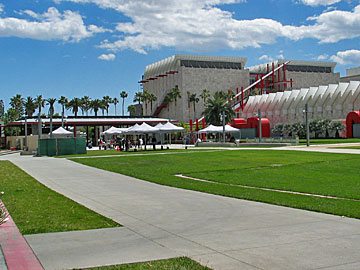 Broad Contemporary Museum and Resnick Pavilion at Los Angeles County Museum of Art
L.A. County Museum of Art (LACMA)
The anchor of Museum Row, LACMA boasts a collection of over 100,000 pieces of art including paintings, sculptures and unique experimental art forms (once they had a miniature potato farm on display!) LACMA includes art forms that represent the diverse cultures of the Los Angeles area, featuring collections from Asia, Latin America, India, Europe, and American art, for example. The museum is comprised of several buildings, each of which is a mini-museum: the Ahmanson Building, Broad Contemporary Art Museum, Art of the Americas Building, the Hammer Building, the Pavilion for Japanese Art, and the Lynda and Stewart Resnick Exhibition Plaza. There are outdoor sculpture exhibits that are free to view (when the museum is open), including a very nice collection by Auguste Rodin in the B. Gerald Cantor Sculpture Garden. LACMA offers two cafe-style restaurants and some snack carts for refreshment (see below for more dining options in the area). The museum is open every day except Wednesday. Occasionally there are days when they offer free admission. During the summer there are free concerts in the evening at least twice per week.
LACMA and La Brea Tar Pits are located inside of Hancock Park, which has a limited number of picnic benches next to Page Museum, as well as a few more park benches throughout. There is plenty of grass for kids to run around, and a grassy hill for them to play on and roll down. There are a few free exhibits to view, most notably LACMA's Lake Pit Walk exhibition featuring the world-famous model of a Columbian mammoth trapped in the tar lake, while her mate and offspring watch helplessly from the shore. On the opposite end of the lake there is a life-sized model of an American mastodon. This exhibit is in the public area of Hancock Park, so you don't need to go inside the museum to walk around it or take photos. There are open tar pits within Hancock Park. Most are surrounded by gates but you do need to keep a look out so you don't step in tar.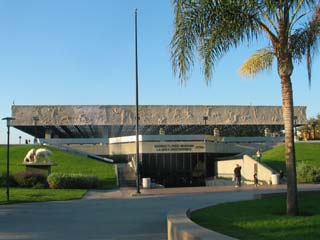 La Brea Tar Pits Museum
La Brea Tar Pits and Museum
Explore the world's only active, urban Ice Age excavation site. The La Brea Tar Pits Museum (formerly called Page Museum) is a showcase of the best fossils, animals, and plants that have been discovered here - mammoths, saber-toothed cats, dire wolves, and more. Experience the Ice Age come to life with the Ice Age Encounters show.
Outside check out the La Brea Tar Pits where tar is still bubbling, and the active fossil excavation sites to see what excavators have uncovered today.
Make the most of your visit with the Excavator Tour, where you can get a behind-the-scenes story and see scientists working on recently excavated fossils, walk around the famous Lake Pit, and visit the live dig site where scientists discover new Ice Age specimens every day. The Excavator Tour is free with museum admission.
Academy Museum of Motion Pictures (Oscars Museum)
The Academy of Motion Picture Arts and Sciences (home of the Oscars Awards) museum exhibits motion picture artifacts and memorabilia, and features a 1,000-seat theater for film screenings and other events.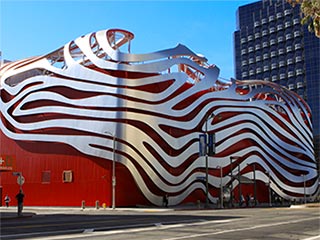 Petersen Automotive Museum
The Petersen Automotive Museum
The Petersen Auto Museum is across the street from LACMA, at the corner of Fairfax Avenue and Wilshire Blvd. It features automotive themes and exhibits. Hot rods, celebrity automobiles, land-speed record cars, motorcycles, artwork and sculpture can be found here. Exhibits cover topics such as automotive history, technology and aesthetic designs. Automobiles on display include antiques, popular classic cars, movie cars, futuristic concept cars and more. The Petersen has been recently completely renovated both inside and outside.
Sprüth Magers
This gallery exhibits modern and contemporary art. It is located across the street from Hancock Park and Page Museum, between Petersen Auto Museum and Craft Contemporary Museum. Open Tuesday-Saturday. See the website to make an appointment.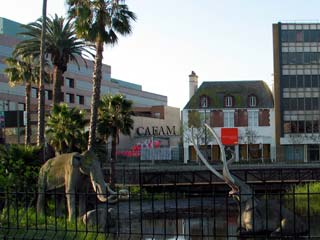 Lake Pit Walk in foreground, CAFAM across the street
Craft Contemporary Museum
Craft Contemporary Museum (formerly CAFAM) hosts a changing display of vibrant exhibitions, family programs, film screening, artists talks. The museum is dedicated to domestic and international folk art and contemporary craft, and often includes work by undiscovered artists. Craft Contemporary Museum is directly across the street from La Brea Tar Pits.
Korean American Museum
[Under construction, due to open in 2022] The mission of the Korean American Museum is to interpret and preserve the history, culture, and achievements of the Korean American community; to examine and discuss issues currently facing the community; and to explore new and innovative ways to communicate the Korean American experience to other American communities. [Wilshire Center, 3 miles east of LACMA]
---
Restaurants on and Near the Miracle Mile
Dining options for L.A. County Museum of Art (LACMA), The Petersen, La Brea Tarpits, the Craft and Folk Art Museum and other art galleries on Wilshire Boulevard east of Fairfax Avenue. Many options are available, such as restaurants, cafeterias, fast food, food trucks and fine dining, as well as late night entertainment.
NAVIGATION

Museum Row on the Miracle Mile (this page)

ADVERTISMENT