Los Angeles Museums: Griffith Park area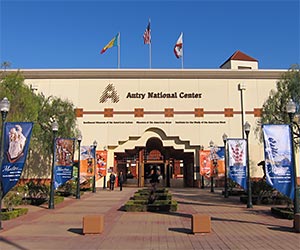 Autry Museum of the American West
Museums in Griffith Park
Autry Museum of the American West
The Autry was established in 2003 following the merger of the Southwest Museum, the Women of the West Museum , and the Museum of the American West (formerly the Autry Museum of Western Heritage). Through innovative exhibitions, a broad range of programs and extensive collection of art and artifacts, the Autry Museum of the American West explores the distinct stories and interactions of cultures and peoples, and their impact on the complex, evolving history of the American West.
Travel Town Museum
An outdoor museum which preserves and celebrates the railroad heritage of the western United States--its history and its artifacts. Displays actual railroad locomotives and boxcars, along with other transportation related displays. This is a great place to take the kids before or after visiting Griffith Park, the LA Zoo or Autry Museum of the American West (see above). [closed Wednesday]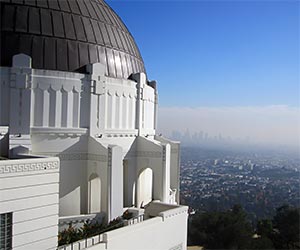 Griffith Park Observatory
Griffith Observatory
Since 1935, the Griffith Observatory has majestically balanced on the southern side of Mount Hollywood, keeping watch over the skies above Hollywood and Los Angeles. Inside, there is no shortage of exhibits to capture your attention and imagination. There are countless science exhibits as well as a Planetarium that features a $2 million projector and sound system which make each show an unforgettable experience. The view of Los Angeles is remarkable, especially in the evening and at night. [Currently open Friday-Sunday]
Museums near Griffith Park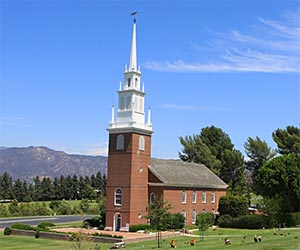 Old North Church Replica at Forest Lawn
Forest Lawn Museum (Glendale)
Home to a world-recognized collection of art and architecture since 1951. The Forest Lawn Museum is free and has a permanent collection of western bronzes, stained glass, historical American pieces, original paintings, and cultural artifacts. The museum also has changing, temporary exhibits three times a year. [open Wed-Sun]
Forest Lawn Museum in Hollywood Hills
Offers an idyllic landscape, showcasing a unique collection of American architecture and artworks that honor our country. There are exhibits that pay tribute to early American heroes, such as the Birth of Liberty Mosaic, the Court of Liberty, Lincoln Terrace and more. There are also replicas of famous Revolutionary War sites, such as the Old North Church, made famous by Paul Revere's midnight ride.
Martial Arts History Museum [Burbank]
is an educational facility teaching young children and visitors about Asian history, culture and tradition and how it became part of American history through films, animation and more. [open Thu-Sun]
Museum of Neon Art [Glendale]
MONA encourages learning, curiosity and expression through the preservation, collection and interpretation of neon, electric and kinetic art. The Museum of Neon Art is devoted exclusively to art in electric media, exhibiting electric and kinetic fine art, and outstanding examples of historic neon signs. [open Fri-Sun]