Museums in Exposition Park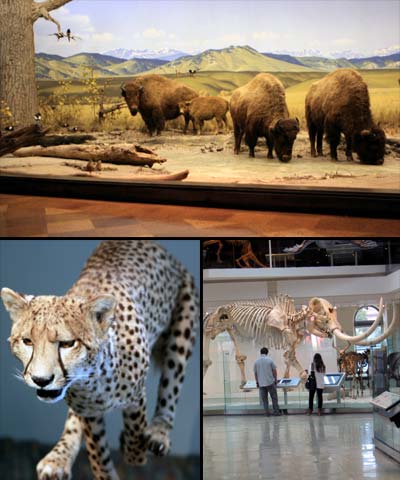 Exhibits at the Museum of Natural History
Los Angeles County
Museum of Natural History

Discover your world past and present. The Dinosaur Hall has over 300 real fossils, 20 complete dinosaurs and ancient sea creatures and the world's only Tyrannosaurus rex growth series. Get the behind-the-scenes look at how scientists work on fossils at the Dino Lab. Watch as dinosaurs come to life with the Dinosaur Encounters show.
Journey through the epic evolutionary story that spans 65 million years. See 240 specimens, including skeletons from mastodons to whales, animal dioramas from North American and Africa, and more.
See and touch more than 2,000 spectacular specimens displayed in the Gem and Mineral Hall. Enter into the vault to view diamonds, rubies, sapphires, and other exquisite gems.
Discover the nature of things while strolling through the extensive Nature Gardens. Kids and adults can take a closer look at how things grow in the Get Dirty Zone. Discover true stories about plants and animals in the Nature Lab.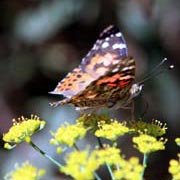 At the Butterfly Pavilion
The Butterfly Pavilion is a summertime exhibit on the South Lawn. Inside a large tent with webbed walls, you can view dozens of species of butterflies and moths, along with butterfly eggs, caterpillars and plants to showcase them in a natural environment. The butterflies can be quite active at times, and do not seem to be afraid of visitors. The Butterfly Pavilion is a special exhibit that requires an additional admission fee, although the exhibit is free for museum members.
The Museum is located at 900 Exposition Park Drive. There is a parking lot at the Museum, and another across the street on Bill Robertson Lane.
California African American Museum
Art and history exhibitions that are designed to enhance the public's knowledge of past and present African American contributions to society. Includes modern and contemporary art, traditional African art, historical artifacts and photographs, plus over 4000 books on topics ranging from African American History, to music, art and culture. [600 State Drive]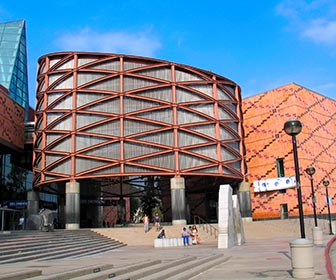 California Science Center
California Science Center
Features hands-on interactive science exhibits, the Air and Space Gallery, and an IMAX movie theater (huge screen). Free admission to all exhibits except IMAX Theater. The museum entrance is a short walk from the Natural History Museum. [700 Exposition Park Drive]
Exposition Park Rose Garden
A large garden containing a variety of roses. The garden is open mid-March through December 31 of each year. It is located between the Natural History Museum and the California Science Center.
USC Fisher Museum of Art
Contemporary and old master exhibitions, as well as tours, lectures, music and other events. The museum is located on the The University of Southern California (USC) campus, across the street from Exposition Park. Admission is free. [823 Exposition Blvd]