Los Angeles Museums: Santa Monica and Malibu

Museums in Santa Monica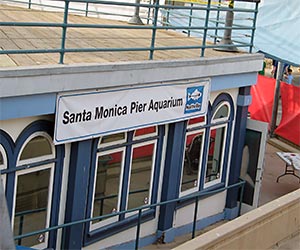 Santa Monica Pier Aquarium
Santa Monica Pier Aquarium
A marine science learning center and aquarium located under the Santa Monica Pier. Features interactive lessons and activities to introduce students to the basic concepts of marine environmental studies. Open to the general public on Saturdays and Sundays.
18th Street Arts Center
This is a collective of artists whose work is showcased in the center's gallery, which is open on weekdays and for special events on various weekends and holidays. 18th Street Arts Center is one of the top artist residency programs in the US, and the largest in Southern California.
Bergamot Station Arts Center
A creative arts complex, featuring artist galleries and innovative businesses. The fine art galleries present regular and diverse rotating exhibitions featuring artists from all over the globe and across all mediums. Throughout the year Bergamot Station hosts community and cultural activities, and facilitates educational, non-profit and charitable events.
Museum of Flying
Houses a rare collection of World War II fighter aircraft. The interactive children's wing features fun and educational kiosks, vintage aircraft suspended from the ceiling, and videos showing dramatic footage of historic planes in action. There are hundreds of model aircraft, and the Museum also has a theater. (Open Thursday through Sunday)
Museums in Malibu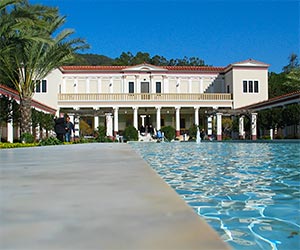 Getty Villa in Malibu
Getty Villa
Roman-inspired architecture and gardens, plus exhibits of Greek, Roman, and Etruscan antiquities arranged by themes. Admission is free although you must get reservations before you visit. The museum is closed on Tuesdays, and various Wednesdays. Parking costs $15.
Adamson House and Malibu Lagoon Museum
The Adamson House Tour is a guided tour through the house which contains its original furnishings and is decorated with the renowned Malibu Potteries tile. The Malibu Lagoon Museum adjoins the Adamson House and contains a collection of artifacts, rare photographs and documents depicting the colorful history of Malibu. Admission to the Museum is free.
Frederick R Weisman Museum of Art
Open Wednesday, Friday and Saturday, 11 AM to 5 PM, and one hour prior to most performances through intermission. Free admission, advance reservations required. [Pepperdine University]