Los Angeles Museums: Long Beach, San Pedro, South Bay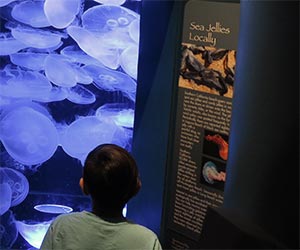 Sea Jellies at Aquarium of the Pacific
Long Beach Museums
Aquarium of the Pacific
One of the largest aquariums in the United States. Features hundreds of aquatic species of the Pacific Ocean in large, natural habitats, as well as dozens of smaller exhibits.
Long Beach Museum of Art
Located on a magnificent bluff site overlooking Long Beach Harbor and the Pacific Ocean. The campus includes the historic Elizabeth Milbank Anderson house and carriage house (built in 1912), a new pavilion with two floors of expansive gallery space for changing exhibitions, and oceanfront gardens.
Museum of Latin American Art
The Museum of Latin American Art's mission is to educate the American public about contemporary Latin American art (created by artists who have lived or worked in Latin America since World War II) through the establishment of a significant representative permanent collection and the presentation of dynamic exhibitions and related programs.
Carolyn Campagna Kleefeld Contemporary Art Museum
At California State University, Long Beach creates exhibitions and programs that provide space for critical interpretation of contemporary and modern art and culture.
Queen Mary
Daily tours. The Queen Mary features an on-board hotel, an elaborate Champagne Sunday Brunch, a variety of restaurants, a wedding chapel and 16 Art Deco reception salons for private celebrations.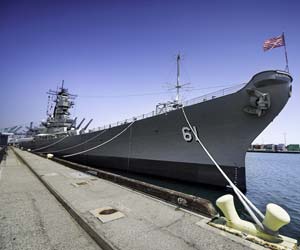 U.S.S. Iowa in San Pedro Harbor
San Pedro Museums
Battleship USS Iowa
The West Coast's only battleship that's open to the public, Battleship USS Iowa is a former winner of the SSHSA museum ship of the year. Considered one of the "Best Cool Exhibits to See with Your Kids", your tour takes you on a journey through World War II, the Korean War, and the Cold War to experience the life of a sailor on the lead ship of the last class of gunships. Walk the wood decks of a battleship and see areas such as the 16" guns, 5" guns, missile decks, bridge, mess areas, and the world famous Captain's Cabin, including the only bathtub installed on a battleship for a President. Known as "The Battleship of Presidents", USS Iowa has hosted three Presidents - Franklin D. Roosevelt, Ronald Reagan, and George H.W. Bush - along with numerous dignitaries during almost 70 years of service.
S.S. Lane Victory Museum
Long Beach area - The ship is functional but is also part museum. Located in the Port of Los Angeles.
Cabrillo Marine Aquarium
Features local aquatic life as they would appear in their natural habitat. Visitors can interact with live animals in the "touch tank" and browse exhibits, including slide shows and special events. Exhibits and events are designed to please all ages.
Fort MacArthur Museum
Dedicated to the preservation and interpretation of the history of Fort MacArthur, a U.S. Army post which guarded the Los Angeles harbor from 1914 to 1974.
Point Fermin Lighthouse Historic Site and Museum
Guided tours are offered Tuesday through Sunday at 1:00, 2:00, and 3:00 PM.
Los Angeles Maritime Museum
[Temporarily closed for renovations]
Seven galleries of exhibits exploring the maritime history of Southern California.
South Bay Museums
Banning Museum This exquisitely-restored mansion built in 1864 features an extensive collection of Victorian decorative arts and furnishings. The museum is located on a 20-acre park in Wilmington. Guided 90-minute tours explore the mansion, a one-room schoolhouse and a stagecoach barn. [Reservations required]
Drum Barracks Civil War Museum
The historic Drum Barracks is the only Civil War-era U.S. Army building still standing in Southern California. The Drum Barracks served as the main training, staging and supply depot for military operations. The museum is operated by the City of Los Angeles, and features many historical items from the Civil War era. Open for tours by appointment only. [Wilmington]
International Printing Museum
This museum shows how printing was accomplished before inkjet and laser printers. It's necessary to take a one-hour tour in order to truly appreciate the museum because the tour includes lots of fun demonstrations on old machinery, including a replica of the original Gutenberg Press. Open to public on Saturdays; Tuesday to Friday by appointment only. [Carson]
Point Vicente Interpretive Museum
Located next to Point Vicente Lighthouse, this small natural history museum is an ideal whale-watching spot. Exhibits highlight the peninsula's geology, flora and fauna. Open daily, 10 AM to 5PM, year-round, with extended hours during summer. Picnic areas are available. [Rancho Palos Verdes]