Hollywood Boulevard Attractions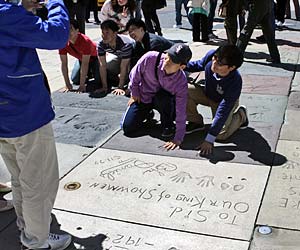 Chinese Theatre Courtyard
TCL Chinese Theatre
Hosts many film premieres. One of its attractions is the famous cement forecourt containing hand and footprints of numerous screen legends, including John Wayne, Marilyn Monroe, Judy Garland and Jack Nicholson, to name a few. Since its opening in May 1927, millions of movie patrons and visitors to Hollywood have been drawn to the theatre. [6925 Hollywood Boulevard, near Ovation Hollywood]
Dolby Theatre
The crown jewel of the Ovation Hollywood Center retail, dining and entertainment complex located in the heart of Hollywood. The 3,400 seat theatre opened in November 2001 and soon thereafter became known to more than one billion people across the globe as the first permanent home of the Academy Awards. Tours are available daily [6801 Hollywood Boulevard, near Ovation Hollywood]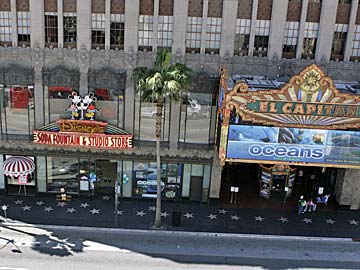 Disney Store and El Capitan Theatre
El Capitan Theatre
In 1989, The Walt Disney Company joined forces with Pacific Theatres to begin a two-year archeological dig, which led to a museum-quality restoration of the legendary El Capitan Theatre which now hosts live stage shows, world premieres, and other special events that have helped restore showmanship to Hollywood Boulevard. [6838 Hollywood Boulevard, across the street from Ovation Hollywood]
Guided Tours on Hollywood Boulevard
A list of guided bus tour operators that are located on or near Hollywood Boulevard. The list includes company names, addresses, phone numbers and actual pictures of the vans.
Walking Tours on Hollywood Boulevard
A list of guided tour operators who offer walking tours in Hollywood Boulevard and downtown L.A.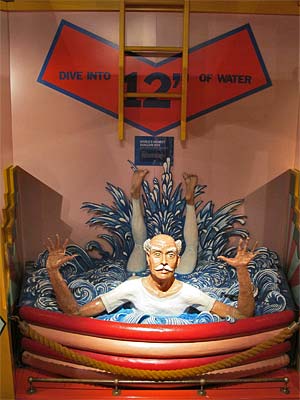 Exhibit at Guinness Museum
Guinness World Records Museum
This curio museum is based on the book of the same name. Guinness Museum and the Hollywood Wax Museum (across the street) offer a combination ticket that allows admission to both museums. [6764 Hollywood Boulevard, near Highland Avenue, next to Ripley's]
Ovation Hollywood
(formerly Hollywood & Highland) consists of over 387,000 square feet of retail space leased to national, regional and local retail tenants, a variety of restaurants, several of Hollywood's hottest nightclubs, the popular upscale bowling alley lounge, Lucky Strike Lanes, and a six-screen state-of-the-art cinema adjacent to the world famous Grauman's Chinese Theatre. The complex also contains 65,000 square feet of unique indoor and outdoor banquet facilities for conferences and special events including an elegant Grand Ballroom, site of the annual Oscars Governors Ball. The ballroom, catered by celebrated chef Wolfgang Puck, is now one of Los Angeles' favorite venues. Along with the Academy Awards and other awards shows, the handsome Dolby Theatre offers a year-round program of concerts, Broadway shows and theatrical events in its 180,000 square feet. [6801 Hollywood Boulevard, near Highland Avenue]
Museum of Dream Space, Hollywood
Museum of Dream Space mainly exhibits digital art, inspired by art design from Yayoi Kusama (famous of infinite rooms) and the development of digital art. The aim of MODS is to provide an immersive, magical and unique art appreciative experiences to the visitors. Photography is allowed, so you can get some selfies and pictures of yourself with the art. [6757 Hollywood Boulevard, near Highland Avenue]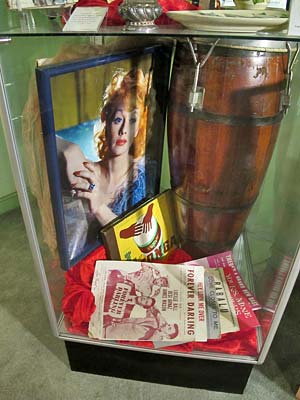 Exhibit at the Hollywood Museum
Hollywood Museum
See costumes, memorabilia and props from famous movies and shows such as W.C. Field's famous top hat and Pee-Wee Herman's original red bicycle from "Pee Wee's Big Adventure", as well as revolving exhibits from recent shows. The Hollywood Museum contains over 10,000 exhibits within 35,000 square feet on four floors of the Max Factor building. You'll also see where Marilyn Monroe and Lucille Ball had their hair dyed! [1660 Highland Avenue, near Hollywood Boulevard]
Hollywood Sign
Locations from which to view and photograph the Hollywood Sign, with a focus on areas of interest to tourists who have limited transportation options. You can take a shuttle to some view points, or go on a guided tour that includes a view of the sign from an overlook of the city on Mulholland Drive. If you don't want to spend the time to get near the Hollywood Sign, you can download a close-up photo of it for free.
Hotel Accommodations on Hollywood Boulevard - Hotel information, rates and online availability for hotels in Hollywood.
Jimmy Kimmel Live
Late-night comedy talk show host Jimmy Kimmel appears at El Capitan Theatre on Hollywood Boulevard. Topics include comedy routines, daily monologue, plus appearances from celebrities, athletes, musicians and comedians. [6840 Hollywood Boulevard, next to El Capitan Theatre, across the street from Ovation Hollywood]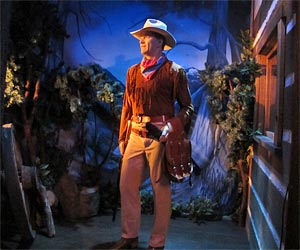 Exhibit at Hollywood Wax Museum
Hollywood Wax Museum
The approximately 220 wax replicas on display at the museum include major movie and television stars of past and present, sports figures and a host of other celebrated people. You can get a combination admission pass that lets you in Guinness World Record Museum (located across the street) and the Hollywood Wax Museum. [6767 Hollywood Boulevard, near Highland Avenue]
Egyptian Theatre
[Temporarily closed for renovation - reopens in 2022]
This theatre plays classic and new movies. Offers a behind-the-scenes look at making movies called "Forever Hollywood." [6712 Hollywood Boulevard, east from Highland Avenue]
Larry Edmunds Bookshop
On Hollywood Boulevard since 1938, when bookshops were a common fixture in Hollywood. Located across the street from Musso and Frank's Deli, this book store features anything they can find that's related to Hollywood - movie posters, photos, scripts, music sheets, cinema reference resources, and of course, real paper books! Larry Edmunds Bookshop also hosts celebrity events and book signings. [6644 Hollywood Boulevard, east from Highland Avenue]
Madame Tussauds Hollywood
Located adjacent to the historic Grauman's Chinese Theatre on Hollywood Boulevard, Madame Tussauds Hollywood is an immersive attraction where guests can interact with their favorite celebrities without velvet ropes or barriers between them, stepping into elaborate interactive sets - as if they are playing the role of a supporting actor or actress. [6933 Hollywood Boulevard, near Ovation Hollywood]
Icons of Darkness
Located on Hollywood Boulevard at Ovation Hollywood. This is a guided walking experience through the exhibit that features screen-used costumes and props from movies such as Terminator series, Star Wars, Harry Potter, Batman and more. Guests will be accompanied by a knowledgeable docent during the tour. Photography is allowed. [6801 Hollywood Blvd Suite 151]
World of Illusions
Four experience zones with props for taking pictures and selfies. Props at the Giant's House include a giant burger, a donut the size of a monster truck wheel, a pizza with each slice the size of an adult. The Museum of Illusions has more than 30 3D Illusions that produce eye-popping pics, inspired by cartoons, art, current events, movies, and more! The Upside-down House features 7 unique rooms that flip the world as you know it, upside down! SMASH IT! is a fully interactive feature where visitors are encouraged to SMASH to their heart's content and break away as fast as they can move or throw. [6751 Hollywood Blvd]
Medieval Torture Museum
If you're looking for something a bit more macabre than the standard tourist attractions, this museum offers over 100 unique implements and devices on display. Enter the minds of fanatics, madmen, and murderers, and discover the world's most detailed collection of confinement and torture devices. The Medieval Torture Museum is located across the street from Ripley's. Open daily. [6757 Hollywood Boulevard]
Escape Hotel Hollywood
Escape room game on Hollywood Boulevard with nine rooms for 1 to 8 players. Open 6 days a week (closed on Mondays). [6633 Hollywood Boulevard, east from Highland Avenue]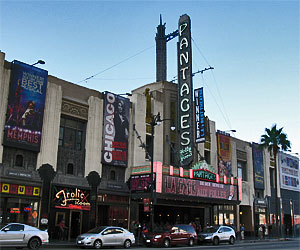 Pantages Theatre on Hollywood Boulevard
Pantages Theatre
Recognized for its art deco motif, and features Broadway musicals, dance performances and concerts.
Red Line Tours
[Currently offers private tours and virtual experiences]
Red Line Tours is LA's only daily operating walking tour company. They offer "edutainment" sightseeing tours of Hollywood and Downtown Los Angeles that take you inside the famous landmarks and let you discover the hidden treasures of America's second largest city. In addition, Red Line Tours creates customized single-day and multi-day programs for schools all over the United States and the world. [6233 Hollywood Boulevard, near Vine Street]
Runyon Canyon Park
Hiking trails within walking distance from Hollywood Boulevard. You can get there by walking west on Hollywood Boulevard to Fuller Avenue, then walk up the hill to Runyon Canyon Park. There are hiking trails to Inspiration Point that offers a nice view of Hollywood, downtown Los Angeles, the Hollywood Sign, Griffith Park Observatory and more. The trail is steep in some areas, and the park can become crowded on weekends. So while you won't find solitude or peaceful mountain strolls here, you can take advantage of the nice view and get a workout at the same time. For a longer, but slightly less strenuous hike, you can walk up to the trail that starts on Vista Avenue. [2000 North Fuller; access is from Hollywood Boulevard, west of La Brea Avenue]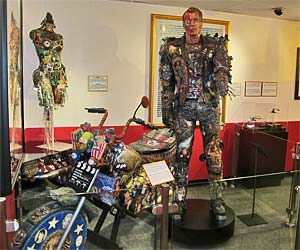 Exhibit at Ripleys Odditorium in Hollywood
Ripley's Believe It or Not
This "odditorium" features over a dozen galleries spanning two floors of the building. There are hundreds of interesting and unusual exhibits that were collected from around the world by Robert Ripley for his Odditoriums. At Ripley's Believe It or Not! you can see modern-day oddities, as well as the unusual exhibits that fascinated the nation during the 1930's and 1940's, and more recently inspired a hit TV series. They completed a massive renovation in December 2011, adding hundreds of new exhibits, including new interactive displays. There are some exhibits in the lobby that you can look at for free, such as telephone book carvings of Clint Eastwood, Frank Sinatra and other celebrities. You can get a combination admission pass that lets you in to Ripley's and Madame Tussaud's (across the street). [6780 Hollywood Boulevard, near Ovation Hollywood, next to Guinness Museum]
Starline Tours
The most popular guided tour company for Los Angeles and Hollywood. They've been doing it for more than 75 years! They have all of the traditional tours plus some that you can only find at Starline.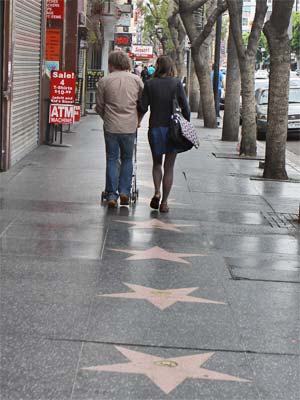 Walk of Fame Stars
Walk of Fame (stars on the sidewalk)
Step onto the sidewalk anywhere on famed Hollywood Boulevard and you'll certainly see a number of stars... the bronze ones on the sidewalk, that is. The Walk of Fame was inaugurated in 1960 when 2,500 blank stars were placed along the main thoroughfare. Since that time, more than 2,300 have been emblazoned with the names of famous personalities who've left their mark in the fields of radio, television, motion pictures, recording, and live performance. A small symbol on each star indicates for which field the person is being honored. The Hollywood Chamber of Commerce chooses the honorees each year after a long nomination process. Hundreds of nominations are made annually, but only a handful of them are chosen. Upcoming Star Award Ceremonies The Hollywood Chamber of Commerce is the official source of information for upcoming star award ceremonies. There are several ceremonies throughout the year, but the official date is not usually released until soon before the event.