Los Angeles Museums: in Downtown L.A.

Near Civic Center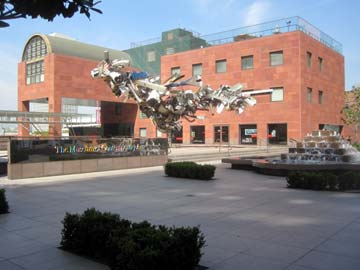 MOCA Grand Avenue
MOCA Grand Avenue
[250 South Grand Avenue] - Museum with underground galleries, a cafe, and the MOCA Store. Grand Avenue is the main location for the Museum of Contemporary Art (MOCA). Adjacent to the entrance of MOCA Grand Avenue, Lemonade at MOCA is a cafeteria-style restaurant that serves seasonal food and refreshments during lunch hours. MOCA Grand Avenue is open Thursdays through Sundays. General admission is free. Special events and exhibits require a paid entry ticket. [near Disney Hall]
The Broad
[221 South Grand Avenue] - A contemporary art museum founded by philanthropists Eli and Edythe Broad on Grand Avenue in downtown Los Angeles. The museum is designed by Diller Scofidio + Renfro in collaboration with Gensler and offers free general admission. The museum is home to the 2,000 works of art in the Broad collection, which is among the most prominent holdings of postwar and contemporary art worldwide. Although admission is free, reservations are recommended and currently the waiting list is two weeks, so you should plan in advance. Otherwise, there is a standby line for walk-up admission into the museum on a first-come, first-served basis. [near Disney Hall]
Wells Fargo History Museum
[CLOSED] - Wells Fargo no longer has a museum in downtown L.A.
The GRAMMY® Museum at L.A. Live
The GRAMMY Museum highlights excellence in video and audio art and technology. Occupying four stories, the museum contains 30,000 square-feet of displays, interactive exhibits and video presentations. [800 West Olympic Blvd, near Staples Center]
Near Little Tokyo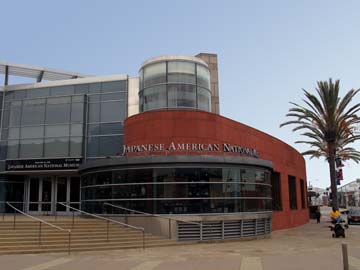 Japanese American National Museum
Japanese American National Museum
[369 East 1st Street] - The Japanese American National Museum in Los Angeles was formed to commemorate the culture and contribution of the Japanese American community during the last century. The museum was formed in the early 1980s with Japanese American military veterans and area businessmen looking for a way to preserve Japanese American heritage. The "Go For Broke" monument is in the parking lot for the Japanese American National Museum, next to MOCA Geffen. [Little Tokyo]
The Geffen Contemporary at MOCA
[152 North Central Avenue] - A 40,000 square feet extension of the Museum of Contemporary Art (MOCA), featuring contemporary abstract art exhibits. There are guided tours throughout the day. General admission is free. Special events and exhibits require a paid entry ticket. The Geffen Contemporary is next to the Japanese American National Museum, and shares the same parking lot. [Little Tokyo]
African American Fire Fighter Museum
[1401 South Central Avenue] - the first and so far the only free standing African American Firefighter Museum in the United States. The first floor contains vintage fire apparatus, stories and pictures of pioneering African American Los Angeles Firefighters. The Museum gallery is located on the second floor with pictures, artifacts and other memorabilia of African American Firefighters from around the country. Free admission (donations accepted); Open Tuesday, Thursday and Sunday. [in Fashion District, 1.5 miles south of Little Tokyo]
Near Union Station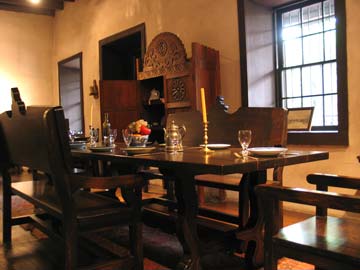 Exhibit in Avila Adobe at Olvera Street
El Pueblo de Los Angeles Historical Monument
A collection of historic buildings, artifacts, museums and exhibits (both indoor and outdoor). Some of the most famous parts of the monument are L.A. Plaza Park, Olvera Street and the Chinese American Museum (see below). As you wander through the Monument grounds, you'll find exhibits and museums, such as the Old Plaza Firehouse Museum, along with exhibits at the Pico House, El Pueblo Gallery, and Hellman/Quon building. Most of the exhibits are free!
In Olvera Street
Avila Adobe
and the Sepulveda House are located near the center of Olvera Street. They each offer displays of artifacts from the early history of Los Angeles. Avila Adobe is the oldest residential building in L.A. and has room displays with settings from the early 1800's.
The America Tropical
[125 Paseo de La Plaza] - The center is dedicated to the life and legacy of David Alfaro Siqueiros. His mural, America Tropical, continues to have a profound influence on the Chicano Muralist Movement in Los Angeles. The mural has survived years of weathering and natural disasters and is now conserved and on display to the public. Limited hours, see schedule. Free exhibit. [near Sepulveda House and Avila Adobe in Olvera Street]
Italian American Museum
[644 North Main Street] - The 5,000-square-foot IAMLA presents the Southern California Italian American experience with an emphasis on Los Angeles, a story that is inextricably linked to the region itself and represents a unique chapter of the Italian American Diaspora. Admission is free; donations are encouraged. [near the north end of Olvera Street]
In and Near L.A. Plaza Park
LA Plaza de Cultura y Artes
[501 North Main Street] - Museum that exhibits art from the Mexican and Mexican-American culture, with a specific focus upon the unique Mexican-American experience in Los Angeles and Southern California. [near LA Plaza Park and La Placita church]
Chinese American Museum
[open Fridays, Saturdays and Sundays from 10AM to 3PM]
[425 North Los Angeles Street] - Exhibits featuring the history, rich cultural legacy and continuing contributions of Chinese Americans. The 7,200 square foot museum site stands inside El Pueblo Monument, located near Olveras Street and Union Station. [in LA Plaza Park near Union Station]
Gateway to Nature L.A. [130 Paseo de la Plaza] - A partnership with El Pueblo de L.A., the National Park Service and the U.S. Forest Service. Learn about how nature intertwines into our daily lives and how to take advantage of all the parks, mountains, forests and public lands in Los Angeles. Free exhibit. Open Wed-Sun, 10AM-3PM. [near Chinese American Museum in LA Plaza Park]
---
Near Downtown Los Angeles
Museums in Exposition Park (about three miles south of Downtown Los Angeles)
The list includes the Los Angeles County Museum of Natural History, the California Science Center, California African American Museum and Fisher Museum of Art at the University of Southern California (USC).
Vincent Price Collection
Contains over 2,000 pieces (with an estimated value of over $5,000,000), and includes art from Africa, Peruvian and Mexican artifacts dating from 300 B.C., North American Indian Art, and important works from the renaissance to the present day. [at East Los Angeles College, 7 miles east of downtown L.A.]