Los Angeles Tourist Attractions - Orange County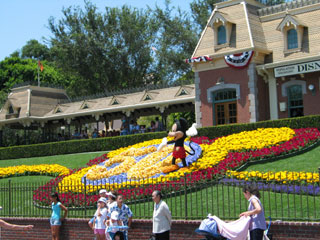 Mickey Mouse at Disneyland
Disneyland - Southern California's most popular amusement park. Emphasis on theme attractions and rides. Disneyland is a "must see" attraction. You will feel the magic of Disneyland as soon as you enter the park! Plan on spending a whole day (or longer, if possible). Follow the link to find more info.
Disney's California Adventure - Celebrate the fun and adventures of California -- Disney style! You'll be immersed in the California spirit through the magic of Hollywood, the thrills of a beachfront boardwalk and the adventures of the great outdoors.
Downtown Disney - A shopping and entertainment district that is located next to the main entrance to Disneyland. An emphasis on restaurants, stores and a movie theatres. No admission required; free parking for three hours; open 8AM to 2AM.
Knott's Berry Farm - Large theme park with an emphasis on theme attractions and rides. There is an adjacent shopping district that you can visit for free. Some thrill rides. If you like slower rides where you can look at animated characters and other scenarios, try Knott's. This is a good place for kids. The park and the shopping district follow an old western (cowboy) theme, plus features Snoopy and other Peanuts characters.
Pirate's Dinner Adventure - Set aboard an authentically replicated 18th-century Spanish galleon measuring 46 feet long, 18 feet wide with 40-foot masts, the ship is anchored in a 300,000-gallon indoor lagoon with night sky lighting. Surrounding the lagoon is a six-sided showroom of six additional ships where the audience is seated to begin the show. Voyagers on each of the six ships have their own fearless pirate mascot whom they cheer on as the adventure unfolds with a cast a dozen actors, singers and stunt performers engaging in a bounty of action-packed exploits, accompanied by cannon blasts, pyrotechnics and plenty of laughs. In addition, more than 150 guests have the chance to play an actual role in each dinner show as the evil Captain Sebastian the Black leads his crews of renegades on a swashbuckling adventure before your very eyes!
Medieval Times - As you thrill to a 2-hour rousing live jousting tournament, marvel at awe-inspiring horsemanship and falconry, Medieval Times serves a four-course meal fit for royalty.
Shopping in Orange County - Brea Mall, The Block at Orange (factory outlets), Fashion Island, South Coast Plaza and others.
Whale Watching in Dana Point - Dana Wharf Sportfishing and Whale Watching was the first business to open in Dana Point Harbor, and the first to start whale watching trips in Dana Point.
Whale Watching in Newport Beach - The ocean water near Newport Beach contains nutrients that attract whales, dolphins and many other types of marine wildlife. Water tours offer the opportunity to view these fascinating creatures up close and in their natural environment, as well as spectacular sights of beautiful California coastline. Tour operators such as Newport Landing Whale Watching offer various cruises to view marine wildlife, enjoy the sunset in the harbor, or go out for a few hours of fishing. Newport Beach is only about an hour from downtown L.A., and is one of the closest whale-watching destinations from Los Angeles.