Los Angeles Tourist Attractions - Westside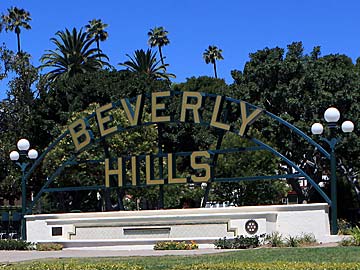 Beverly Hills Marquis at Beverly Gardens Park
Beverly Hills - Beverly Hills is located in the western region of Los Angeles County, and it's surrounded by the cities of Los Angeles, West Hollywood, Santa Monica and Culver City. It is said to form a "Platinum Triangle" with adjacent neighborhoods Bel Air and Holmby Hills, as all three areas are regarded as the most affluent within Los Angeles. Beverly Hills is where you'll find perhaps one of most well-known streets in the world: Rodeo Drive - a haven for anyone who has a passion for fashion. As seen in Pretty Woman, these short three blocks are concentrated with an overwhelming array of designer labels, including the likes of Giorgio Armani, Bulgari, Cartier, Christian Dior, Dolce & Gabanna, Escada, Gucci, Harry Winston, Louis Vuitton, Prada, Valentino, Yves Saint-Laurent and more.
Academy Gallery & Grand Lobby Gallery - The Academy's Grand Lobby Gallery and Fourth Floor Gallery offer free film industry-related exhibitions, open to the public Tuesday through Sunday. Both galleries (as well as the Samuel Goldwyn Theater) are located at the Academy Headquarters in Beverly Hills. The Linwood Dunn Theater is at 1313 Vine Street in Hollywood (at Fountain Avenue, a half mile south of Hollywood and Vine Metro station). The Samuel Goldwyn and Linwood Dunn theaters offer exhibitions on scheduled dates, which you can find on the calendar at the Academy's website.
LA with Kids: Westside - Activities in West LA that are suitable for children.
Mildred E Mathias Botanical Garden - Located on the beautiful campus of the University of California, Los Angeles (UCLA), this garden maintains one of the most important living botanical collections in the United States, with plant specimens from all over the world. Our seven-acre garden is frost-free and therefore can exhibit many different species of tropical and subtropical plants. Approximately 5000 species in 225 families are growing here outdoors. Admission is free.
Westside Museums, including Getty Center Museum, LACMA, La Brea Tar Pits, Skirball Cultural Center, Museums at UCLA and more.
Shopping on the Westside, including Beverly Center Shopping Mall, Robertson Boulevard Shopping District, Rodeo Drive, Century City Shopping Center and Westside Pavilion.
(The) Grove - The Grove provides an extensive selection of retail stores bound to please even the most discerning shoppers. Many of the shops veer toward the higher-end, such as Barneys New York CO-OP, L'Occitane, Michael Kors, M. Fredric, Nordstrom, and Theodore, though there is a sampling of affordable options including Chico's, Forever 21, Gap and Guess on-premise. Young girls will go gaga over the American Girl Place, while the flagship Apple store can entertain techies for hours. Bookworms will revel in the three-story Barnes and Noble. This is a nice place to wander around and take in the sights, or go on a shopping spree. Farmers Market is directly adjacent. [between Hollywood and West LA]
Original Farmers Market - the Farmers Market was conceived when a dozen local farmers started parking their trucks on a field to sell their fresh produce to residents. Since then, the Farmers Market has retained its open-air atmosphere and selection of fresh-from-the-farm goods, while becoming a world-class haven for gourmands, offering fare from nearly every region imaginable. The compact, maze-like space houses more than 70 stalls, stores, markets and cafes, some of which are nearly as old as the market itself. The Grove shopping district is directly adjacent.
Wilshire Boulevard - The boulevard spans 15.8 miles from Grand Avenue in Downtown L.A. to Ocean Avenue in Santa Monica. Take a journey down one of LA's most fascinating streets. An interactive map allows you to select points of interest along Wilshire Blvd so you can read details and view photos. Also includes Metro bus stop info.