Tourist Attractions in Marina del Rey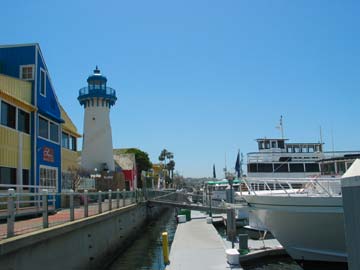 Fisherman's Village in Marina del Rey
Fisherman's Village
A section of the marina where you will find a collection of restaurants, souvenir shops, harbor tours and fishing cruises. You can also rent a sailboat, motorboat, kayak or jet ski. There are harbor cruise companies at the northern end of Fisherman's Village, as well as the Catalina Flyer ferry that goes to Catalina Island. There is a public parking lot that normally has plenty of room and is inexpensive if you get your parking ticket validated at various businesses. You can walk to Fisherman's Village from the Marina del Rey Visitors Center about 3/4 mile away, although it's too far to walk from most of the hotels in Marina del Rey. On weekends during the summer you can take a free shuttle to Fisherman's Village from various points around Marina del Rey and Venice Beach. Also in the summertime, you can get here using the WaterBus (it runs Friday evenings through Sunday evenings). Whiskey Red's restaurant is not actually part of Fisherman's Village, although it is adjacent and you'll end up there as you walk south along the marina.
Burton W. Chace Park - A park overlooking the marina and boat docks. There are picnic tables and a grassy area where you can relax or eat lunch and enjoy the view. The park is in the northern end of the harbor, near the Marina del Rey Visitors Center.
Marina del Rey Visitor Center - The Visitor Center is located near the northern part of the marina, at the corner of Admiralty Way and Mindanao Way. The facility is operated by the Marina del Rey Convention and Visitors Bureau. You can speak with an information specialist plus stock up on maps, brochures, coupons and a Marina del Rey Visitor's Guide.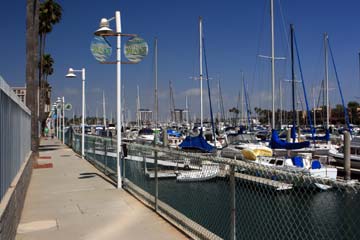 Waterfront Walk in Marina del Rey
Waterfront Walk - This is a section of the marina with a wide sidewalk where you can walk along the docks to view the boats and water, smell the fresh air and enjoy a nice stroll beside the harbor. The Waterfront Walk itself is between Mother's Beach and the docks a few hundred feet south of the Ritz-Carlton hotel, but you can keep walking along the water past the Ritz-Carlton, to Tony P's Dockside Grill.
Marvin Braude Bike Path (PDF document) is a coastal bike path that passes through Marina del Rey and allows you to safely travel around the harbor on bicycle. Much of the path is accessible only by bicycles and pedestrians, although occasionally it takes you on a street or boulevard where there is a dedicated bike lane. The Marvin Braude Bike Path follows Washington Blvd from Marina del Rey to Venice Beach. From there you can ride northbound past the Santa Monica Pier to Pacific Palisades. Southbound, the Marvin Braude Bike Path takes you to Dockweiler Beach and then all the way south to Torrance Beach (near Palos Verdes). Other bike lanes and trails are connected to the Marvin Braude Bike Path. There are numerous bicycle rental shops in Marina del Rey (near hotels and at Fisherman's Village), and at Venice Beach.
More Parks in Marina del Rey - A list by the Marina del Rey Visitor Center, which includes beaches and parks in MDR and the surrounding community.
Restaurants on the Marina
There are numerous restaurants in Marina del Rey, but the locale is most noted for high-end restaurants that are located overlooking the harbor. Reservations are recommended at any of these restaurants: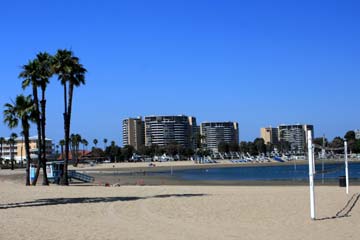 Mother's Beach in Marina del Rey
Marina Beach Park has shaded picnic tables and is adjacent to Mother's Beach, a very peaceful lagoon with no waves, a sandy beach, a lifeguard stand and a playground. The Cheesecake Factory restaurant is nearby. Vehicles can park nearby at Parking Lot #10, located at the intersection of Via Marina and Admiralty Way. The park and beach are within easy walking distance from the Marriott, Jamaica Bay Inn and the Marina International Hotel. It's about a 5 to 10-minute walk from the Ritz-Carlton.
Venice Beach near Marina del Rey
The southern end of Venice Beach is within walking distance from many hotels in Marina del Rey.
Venice Beach at Washington Boulevard is on the Pacific Ocean and offers beach activities, bicycle and roller blade rentals, restaurants, pubs and shops. You will find most of the establishments at the western terminus of Washington Blvd, between the Venice Canals and the Venice Beach Pier. There are miles of bicycle paths leading up and down the coast - northbound past Santa Monica, and southbound to Palos Verdes. The portion of Venice Beach near Washington Blvd next to Marina del Rey is residential, but less than a half-mile north of there on the pedestrian path you will find the world-famous Venice Beach Boardwalk (near Venice Blvd), where there are shops, stands, street performers, local artists selling their work and fortune tellers ready to predict your future. On weekends in the summertime there is a free shuttle that takes you from various points in Marina del Rey to this part of Venice Beach.
Venice Canals - This is a neighborhood of nice cottage-style homes with interconnecting waterways facing the backyard. Near the center of the neighborhood there is a very small park (Linnie Canal Park) with a playground for toddlers, but is otherwise is not suitable for a large picnic or typical park activities that require room to run around. The best way to view the Venice Canals is the same route taken by the tour vans: drive west on Washington Blvd to Dell Avenue and then turn right. Drive slowly through the neighborhood and you will see the houses and waterways as you cross the bridges over the canal.
Venice Beach Pier - This pier is designed for fishing and enjoying the ocean view. It does not have dining and entertainment like the much larger Santa Monica Pier about 3 miles north of here. You do not need a license to fish from a public pier in California.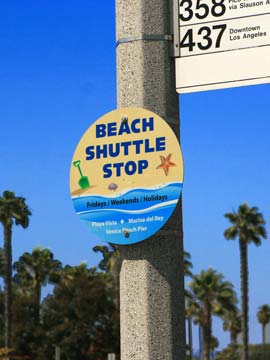 Beach Shuttle Bus Stop
Special Summer Activities in Marina del Rey
Summer Weekend Beach Shuttle (PDF document) - A free shuttle that takes you to various points around the Marina, plus Playa Vista and Venice Beach at Washington Blvd. Stops include Fishermans Village, Marina Park (Mother's Beach), Chace Park and many restaurants on the marina and nearby. The shuttle also goes to Pacific Promenade in Playa Vista, where you can find more restaurants, shops and entertainment.
Marina del Rey WaterBus (PDF document) - A ferry that takes you to seven stops throughout the marina, including Fishermans Village, Marina Park (Mother's Beach), Chace Park, Dolphin Marina (near The Chart House restaurant), Waterfront Walk and other stops. Many of the waterfront restaurants are near the stops. The WaterBus runs during the summer on Friday evenings, all day during the weekend, and at selected times during special events and holidays. The fare is only $1.00
Summer Concerts in the Park - Free concerts on selected Thursday nights (classical music) and selected Sunday nights (pop music), held in Chace Park.
Near Marina del Rey
Dockweiler State Beach - This beach on the Pacific Ocean is near El Segundo, south of Marina del Rey. It is most notable because it's one of the few RV parks in Los Angeles (click here for RV Park info). There are parking lots for vehicles to park for the day. There are no businesses nearby so be sure to pack a lunch. The park allows beach camp fires in designated fire rings.