Los Angeles Tourist Attractions - South Bay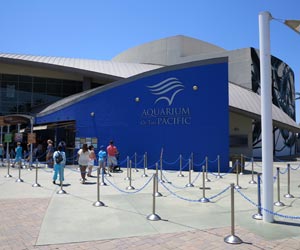 Aquarium of the Pacific
Aquarium of the Pacific
One of the country's largest aquariums, the Aquarium of the Pacific takes several hours to truly appreciate but those with kids can hit the major highlights in less time, if necessary. While you'll enjoy the usual attractions, this aquarium also features some great live shows that kids love, like those that feature sea otters, seals, and other marine mammals. There's also an outdoor play area for running and climbing, perfect for little ones who've spent too much time in a stroller going from tank to tank.
Alpine Village, Torrance
A little slice of Bavaria in sunny Southern California, Alpine Village was established in 1968 as a destination for shopping, dining and entertainment. The Alpine Market features a huge array of imported German foods and products, as well as award winning sausages and bakery items that are made daily on the premises. In the village are also a number of specialty shops including cosmetics, travel, toys, and many more. This is the home of L.A.'s' Oktoberfest.
El Dorado Regional Park and Nature Center
This expansive park has a number of attractions that both parents and kids will enjoy. The Nature Center is the most visited portion of the park and provides "touch tables" where kids can feel animal skins, bugs, and other "natural" things. The nature center also provides puppets so kids can create their own show. In addition, the park boasts hiking trails and a pond with turtles and large fish. A perfect place to go when you've had enough of museums!
LA with Kids: South Bay - Activities in the South Bay that are suitable for children.
Long Beach Shopping and nearby, including Lakewood Center, Long Beach CityPlace, Shoreline Village, Ports O' Call Village, Los Cerritos Center, Westminster Mall.
Los Angeles Maritime Museum
[Temporarily closed for renovations]
There are dozens of models on display, spanning the ages. Other exhibits tout L.A.'s rich maritime history and the city's ties to the sea, including how people make their living on the waters of the Pacific. Plenty of hands-on stuff that kids love is included in many of the exhibits. The staff welcomes kids and is especially cordial to you and them, even if your child is running around the museum, which is located in an old berth. Ramps are provided for those pushing strollers. This is a donation only museum, which makes for a cheap outing.
Museums in Long Beach and nearby, including Aquarium of the Pacific, Cabrillo Marine Aquarium, Long Beach Museum of Art, Los Angeles Maritime Museum and others not listed on this page.
Ports O' Call Village - [CLOSED] Ports O'Call has been demolished for a planned new development. LA Waterfront Sportfishing, the San Pedro Fish Market, and the Crusty Crab remain open, although the Ports O'Call Restaurant is gone. Harbor cruises, whale watching and sport fishing trips still depart on a regular basis from LA Waterfront Cruises.
Queen Mary Daily tours. The Queen Mary features an on-board hotel.
The Pier at Redondo Beach
The Pier offers oceanfront dining, shopping at curio shops, live entertainment and more. View and purchase fresh seafood that was caught earlier in the day.
Shoreline Village
Long Beach - Dining, Shopping and Attractions.
South Bay Shopping, including Del Amo Fashion Center, Manhattan Village Mall, South Bay Galleria, South Bay Pavilion.