Los Angeles Tourist Attractions - Griffith Park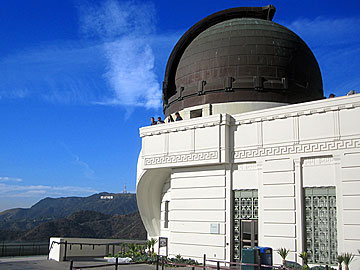 Griffith Observatory, Hollywood Sign Behind
Griffith Observatory - A major Los Angeles landmark since 1935. It is visited by nearly two million people each year end ranks seventh on the list of major tourist attractions of Southern California. It sits on the southern slope of Mount Hollywood where it commands a stunning view of the Los Angeles basin below. [Currently open Friday-Sunday]
Griffith Park - Includes Griffith Park recreation area, Autry Museum of the American West, Bicycle Rentals, the Greek Theatre, Griffith Observatory, LA Equestrian Center, the LA Zoo, Travel Town, Griffith Park Merry-Go-Round, Pony Ride for kids, Banquet and Group Picnic reservations. The park itself covers more than 4000 acres. There are various entry points to gain access from Hollywood, Glendale or the San Fernando Valley. There are several picnic parks located within Griffith Park, with accompanying parking lots. You can also park along the road in many places, or at Travel Town, as a launch point to go hiking within Griffith Park.
Travel Town Museum - Train museum, including historic rail cars that are open for walk-throughs. There are benches and grass for picnics, and railroad cars are available for parties and group events. A miniature train ride circles the park, operating daily. Admission to the park is free, although there is a small fee for train rides, and souvenirs can be purchased at the gift shop.
Travel Town Railroad - Travel Town Railroad is built on a 16" gauge track around the perimeter of the Travel Town Museum. Rides are available for individuals and groups.
Griffith Park and Southern Railroad - Train rides on 1/3rd scale reproductions of classic American trains from the 20th Century. The GP&S Railroad is located between Silverlake and the L.A. Zoo, on the opposite side of Griffith Park from Travel Town.
Greek Theatre - [Live events scheduled to resume in August] In Griffith Park, near Hollywood. This is an outdoor theatre with a seating capacity of over 6000, which hosts concerts and stage shows. It is said there are no bad seats at the Greek, but if you can get tickets for section A or B you will experience the best view and sound. Due to the limited number of seats, concerts sell out quickly for top name performers.
Ferndell Nature Museum - A nature trail that features over 50 different types of fern plants, as well as tropical plants and flowers, held within a grove of shady sycamore trees.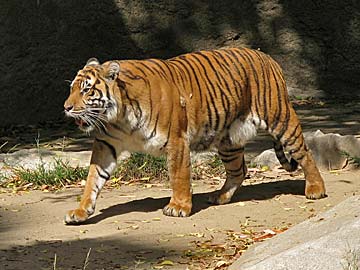 Tiger at the Los Angeles Zoo
Los Angeles Zoo - Housing 1,100 animals of more than 250 species, the zoo offers something for animal lovers of all ages. The zoo is not only a traditional source of entertainment and education for the public, but its emphasis on research and conservation make the Los Angeles Zoo a must-see destination.
Autry Museum of the American West - Dedicated to exhibiting, exploring and relating the cultures of various societies during the formation of the western portion of the United States. Also known as "The Autry," the institution was the result of a merger between the Autry Museum of Western Heritage, and the Southwest Museum of the American Indian and the Women of the West Museum.
Museum of the American West - Perfect for cowboy lovers and especially suited to elementary school-aged kids, this museum - formerly the Gene Autry Museum - is also in Griffith Park. By far, the best part of the museum for kids is the McCormick Tribune Foundation Family Discovery Gallery, which houses a reconstruction of a 1930s house belonging to a Chinese family, including their adjacent Chinese restaurant. Kids will love playing with all the stuff in the house and serving food to their parents in the make-believe restaurant. The cowboy exhibits and pretty cool too, and visitors should be sure to stop at the Blue Screen Horse, where blue screen technology allows your child to see themselves riding off into the sunset. Good stroller access and low admission fee!
Southwest Museum - Children will be enthralled with the dioramas of the great Southwest, which include both animals and kid-sized people. There are also a few great exhibits of Native American children's wear and toys. In addition, there's an outdoor garden and a Hopi Trail that families can navigate together. The gift shop is very nice but doesn't have a lot of kid-proof stuff that little ones will enjoy.
Near Griffith Park
Los Angeles Equestrian Center - A collection horse arenas and showing areas. Hosts equestrian events and horse shows, large and small. Located on the north side of Griffith Park. There are horse rentals available for trail riding, and an equestrian riding school.
L.A. Horse Rentals - The official horse rental livery of the Los Angeles Equestrian Center. Horseback trail rides are led by an experienced guide. Riding helmets are provided free of charge (mandatory for under 18, optional for adults).
Traditional Equitation School - Horse riding school located on the grounds of the Los Angeles Equestrian Center. You can take lessons on your own horse or one of theirs. There are occasional student-rider shows that are free to the public for viewing.
Forest Lawn Museum (Glendale) - Home to a world-recognized collection of art and architecture since 1951. The Forest Lawn Museum is free and has a permanent collection of western bronzes, stained glass, historical American pieces, original paintings, and cultural artifacts. The museum also has changing, temporary exhibits three times a year.
Forest Lawn Hollywood Hills - An idyllic landscape, showcasing a unique collection of American architecture and artworks that honor our country. There are exhibits that pay tribute to early American heroes, such as the Birth of Liberty Mosaic, the Court of Liberty, Lincoln Terrace and more. There are also replicas of famous Revolutionary War sites, such as the Old North Church, made famous by Paul Revere's midnight ride.