Most Popular Tourist Attractions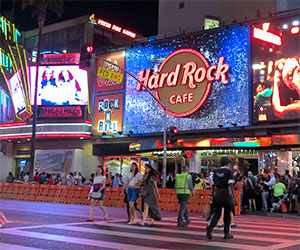 Hard Rock Cafe on Hollywood Boulevard
Hollywood attracts millions of visitors each year who travel there to pay homage to their favorite stars and perhaps even catch a glimpse of a few famous personalities. Sometimes they're lucky! On these pages you'll find famous Hollywood landmarks such as the Walk of Fame (stars on the sidewalk), the Hollywood Sign, the Hollywood Bowl and more. There are links to the Hollywood tourist sites such as the landmarks, as well as links to Hollywood Boulevard attractions.
Tourist Attractions and Sightseeing - A list of tourist attractions in Los Angeles and the surrounding area. The list is arranged by location to make it easy for you to figure out what's near your hotel. The list includes attractions such as Landmarks, Performing Arts Centers, Shopping Malls & Districts, Amusement Parks and other tourist activities.
TV Show Tickets - Find out how to be in the studio audience for game shows, attend free TV talk shows or even be in a movie! Some game shows choose participants from the audience. One website recruits people to be extras in movies.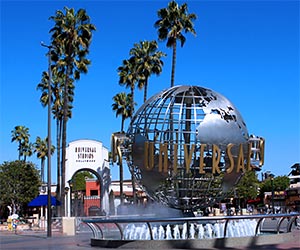 Universal Studios Hollywood
Amusement Parks - Southern California has quite a few famous amusement parks where you can find rides, attractions and theme-based entertainment. Los Angeles is a prime destination for visitors who want see two of the world's most popular theme parks:
Universal Studios Hollywood - LA's second most popular theme park behind Disneyland/California Adventure. The world-famous movie studio and theme park featuring movie studios, tours, attractions, rides, restaurants and more. Get a behind-the-scenes look at special effects techniques. See what life's like on a movie back lot. Universal Studios is a "must see" attraction, because it's a movie studio tour and a world-class amusement park all rolled into one package.

Disneyland - Southern California's most popular amusement park, featuring world-famous characters like Mickey Mouse, Donald Duck and Goofy. There are more rides and attractions than you can see in a day, so many people attend for multiple days. Adjacent to Disneyland, California Adventure is adjacent and offers more theme park rides and attractions.

Knott's Berry Farm covers 160 acres in Buena Park, CA, just 20 miles from Los Angeles. The park is consistently ranked among the top 15 theme parks in the country and continues to maintain its popularity. This is a good place for kids. The park and the shopping district follow an old western (cowboy) theme, plus features Snoopy and other Peanuts characters.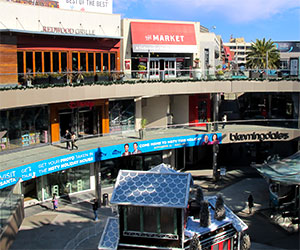 Santa Monica Place Mall
Los Angeles-area Shopping Centers and Malls - Los Angeles is a world-class premium shopping destination. Not only do we have a variety of stores to suit every taste and budget; we also have several different types of shopping venues. Here's a comprehensive and up-to-date list of LA-area malls, shopping districts (such as the Grove and Third Street Promenade) and open-air markets, organized by location. It includes factory outlets and farmers markets.
Museums in Los Angeles - Los Angeles is a world-class destination for museum patrons, including the J. Paul Getty Trust, Los Angeles County Museum of Art (LACMA), the Norton Simon collection, the Huntington Library, and dozens more.
Los Angeles with Kids - Los Angeles is one of those places where kids can feel at home. There are many options in and around this bustling city for travelers with young children in tow. Here are some of the city's best bets.
Transportation - Los Angeles Transportation info, including Bus schedules, Trains, Airports, Bicycles and more.
Activities Near LAX - Some ideas on what to do during an extended layover at Los Angeles International Airport.
Free Visitor Guides - How to order free Visitors Guides, Brochures and Travel Publications from Visitors Bureaus in the Los Angeles, Orange County and San Diego areas, plus other parts of California and the western United States.
Los Angeles Calendar of Events Listings - Links to websites the offer Los Angeles event listings, calendars and ticketed events.
Free Activities - Free and low-cost activities in and around Los Angeles. The list includes free shows, museum exhibits, free tours and activities in downtown L.A. and more!
Deals and Discounts - Combined-admission discount cards save money and help plan your vacation at the same time. Also, this page has discounts and hotel deals for early booking and multiple nights.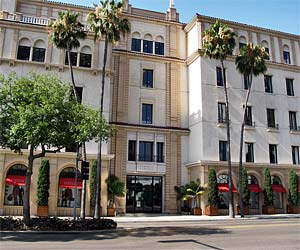 Barney's New York in Beverly Hills
Beverly Hills / Two Rodeo Drive - Beverly Hills is said to form a "Platinum Triangle" with adjacent neighborhoods Bel Air and Holmby Hills, as all three areas are regarded as the most affluent within Los Angeles. Beverly Hills is where you'll find perhaps one of most well-known streets in the world: Rodeo Drive - a haven for anyone who has a passion for fashion. As seen in Pretty Woman, these short three blocks are concentrated with an overwhelming array of designer labels, including the likes of Giorgio Armani, Bulgari, Cartier, Christian Dior, Dolce & Gabanna, Escada, Gucci, Harry Winston, Louis Vuitton, Prada, Valentino, Yves Saint-Laurent and more.
Santa Monica / Venice Beach - Where can you go to experience the excitement of Southern California, the lure of the big city, and the peacefulness of a trip to the seashore - all in one visit? The answer is Santa Monica, the Los Angeles area's true "urban" beach. Enjoy ocean views, dining on the Pier, carnival games and rides at Pacific Park. Browse shops and watch street performers at the Third Street Promenade shopping district and Santa Monica Place shopping mall.
Malibu - Attractions in Malibu including oceanside restaurants, museums, beaches, wineries that have tasting rooms and more.
Seasonal Events