Knott's Berry Farm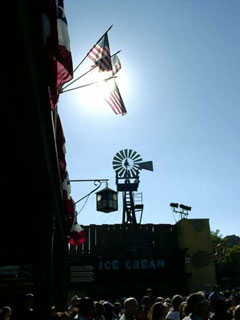 Knott's Berry Farm
For those unfamiliar with the theme park scene, the name "Knott's Berry Farm" certainly doesn't evoke images of one of the nation's top amusement parks. But, indeed, this Southern California theme park - which had its start as a small berry farm and, later, a restaurant - is an energetic, family-friendly destination that has dubbed itself "America's First Theme Park."
The History of the Park
In 1920, Walter and Cordelia Knott made their way to bucolic Buena Park, CA, where they rented 20 acres of land, intent on farming it and growing a variety of fruits and vegetables. Within the next 10 years, the Knotts were able to purchase land for their own - 20 acres in all - and soon opened a building that housed a tea-room, berry market and nursery where they sold berry plants.
In the 1930s, Walter Knott was credited with helping Anaheim Parks Superintendent Rudolph Boysen save a crop of new berry plants with which he had been experimenting - a cross between a loganberry, red raspberry and blackberry. Named after its originator, all boysenberries in the world today can be traced back to Knott's farm.
To keep the money flowing in, especially during the difficult years of the Depression, Cordelia began making jams, jellies, and pies from their berries and soon added a restaurant that served chicken dinners for just 65 cents each! It was the restaurant that gave birth to the theme park, as Walter built a Ghost Town attraction to entertain guests while they wanted for entry to the very popular restaurant.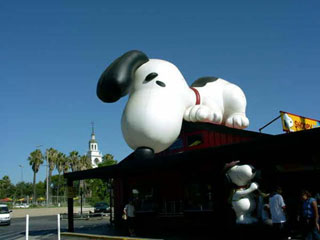 Snoopy at Knott's Berry Farm
As the years waned, the popularity of Knott's Berry Farm increased and additional "lands" were added, including Fiesta Village and Roaring 20s. The Knott family continued to run the park after Cordelia's death in 1974 and Walter's in 1981. In 1997, the theme park was purchased by Cedar Fair, who owns the massive Cedar Point in Sandusky, Ohio and several other parks throughout the country.
---
More Reading