Los Angeles with Kids - Orange County and San Diego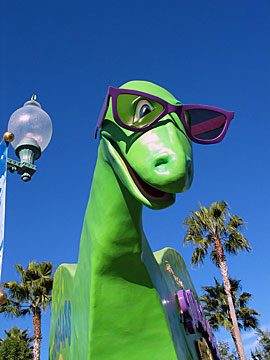 Dinosaur at California Adventure
Disneyland - Southern California's most popular amusement park, with around 19 million visitors in attendance during 2019. Disneyland is a "must see" attraction. Kids love it. Try to spend more than one day there, if possible.
Disney's California Adventure - Okay, everyone knows that kids love Disneyland, but this second Disney Anaheim park has gotten such a bad rap that people sometimes avoid it. However, many parents of small children and toddlers find Disney's California Adventure much more attractive and manageable than its larger, much-more-crowded sister park, Disneyland. Start with wide walkways that easily accommodate strollers and add to that fewer crowds and much shorter lines, and you have a parent's dream park. Truly, California Adventure is a treat.
A few areas of the park are designed just for little ones. The first, near the park entrance, is A Bug's Land, based on the film A Bug's Life. Everything in this section accommodates small children and parents can enjoy a much needed rest while kids ride again and again. The other must-see area is Brother Bear's Redwood Creek Challenge, where preschool and elementary aged kids can climb, crawl, and even enjoy a zip line-like ride. The live Brother Bear show is adorable! Also check out the other live shows, particularly those in the Hollywood Studios Backlot, which are based on favorite Disney animated films.
There's plenty of kid-friendly food here also, especially in the back of the park in the Paradise Pier section, where "boardwalk" fare is common and McDonald's often boasts a long line. And like all Disney parks, changing stations are easy to find and Disney "cast members" are always eager to help parents of small children who might run into a challenge or two.
Knott's Berry Farm - Amusement park with a wild west theme. Also the hangout for Snoopy and the Peanuts characters. Knott's Berry Farm is lesser-known throughout the world, however it's a local favorite. Knott's Berry Farm is a lot of fun! It's not far from Disneyland, so this would be a good choice if you are staying in Buena Park, Anaheim or a nearby city.
LegoLand - a family theme park located in Carlsbad, 30 miles north of San Diego and one hour south of Anaheim. LegoLand offers interactive attractions, family rides, shows, restaurants, shopping and beautiful landscape features specially geared for children ages 2-12 and their families. There are more than 15,000 Lego models in the Park created from more than 35 million Lego bricks. These models range from a Brontosaurus named Bronte (made of more than 2 million Lego bricks) to a tiny rabbit in a magician's hat in Miniland Las Vegas made of just four bricks.
NAVIGATION

Orange County and San Diego (this page)

ADVERTISMENT