Los Angeles with Kids - Hollywood Area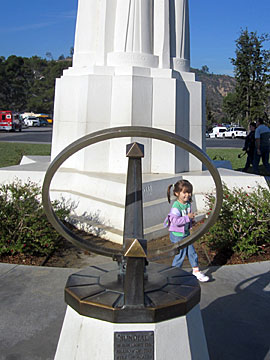 At Griffith Park Observatory
Griffith Park - The largest city park in America, Griffith Park is a haven for parents whose kids need some run-around and be-a-kid time. Actually, this park is several attractions in one. The green part of the park is huge and includes an excellent play area called "Shane's Inspiration", which features safe, toddler-friendly equipment that's also suitable for kids with disabilities. There's also a beautiful 1926-built Merry-Go-Round; a children's train ride that takes visitors through an old Western town; pony rides (both fast and slow); and a free railroad museum called Travel Town (website), where kids can climb atop huge locomotives.
Griffith Observatory - Children of all ages will enjoy peering through the telescopes and older kids will certainly find the exhibits interesting as well. The planetarium is state-of-the-art and perfect for those who aren't afraid of the dark; if your child doesn't like dark, it can be a bit intimidating in here and you may wind up with a screamer. With the renovations came improved stroller access and bigger and better bathrooms as well. Since 1935, visiting the observatory has been free. There is a charge, however, for the planetarium.
Los Angeles Zoo - Kids love zoos and watching the animals and their crazy antics. Though not as good as some other large city zoos, the L.A. Zoo does provide parents and kids with plenty of fun. Besides the normal animal exhibits, there's a play park, children's zoo, interactive theatre, and an excellent bird show. The zoo's big flaw, however, is the fact that it's full of hills, making it a tough place to get around for those pushing strollers. So, head to the zoo in the morning when you're full of energy and when the temperatures are cooler, especially in the summer.
Autry Museum of the American West

Museum of the American West - Perfect for cowboy lovers and especially suited to elementary school-aged kids, this museum - formerly the Gene Autry Museum - is also in Griffith Park. By far, the best part of the museum for kids is the McCormick Tribune Foundation Family Discovery Gallery, which houses a reconstruction of a 1930s house belonging to a Chinese family, including their adjacent Chinese restaurant. Kids will love playing with all the stuff in the house and serving food to their parents in the make-believe restaurant. The cowboy exhibits and pretty cool too, and visitors should be sure to stop at the Blue Screen Horse, where blue screen technology allows your child to see themselves riding off into the sunset. Good stroller access and low admission fee!
Southwest Museum - Though this museum isn't very stroller-friendly, if you don't mind carrying the kids, it's certainly worth a stop. Children will be enthralled with the dioramas of the great Southwest, which include both animals and kid-sized people. There are also a few great exhibits of Native American children's wear and toys. In addition, there's an outdoor garden and a Hopi Trail that families can navigate together. The gift shop is very nice but doesn't have a lot of kid-proof stuff that little ones will enjoy.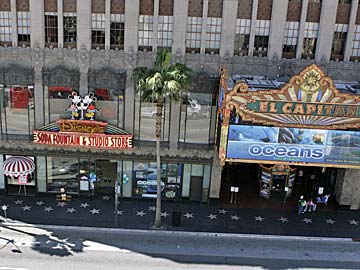 Disney Store and El Capitan Theatre on Hollywood Boulevard
El Capitan Theatre - Owned by the Disney folks, this theater - built in 1926 - is more than just a movie palace. In addition to viewing a movie, a ticket to El Capitan also buys you a live Disney-oriented show and a concert on the mighty pipe organ located there. (Some people even leave after the show and forego the movie, especially those with really small children.) Tickets are available at two price levels, but if you're flexible and can go on a weekday, the premium seats are less expensive then.
Hollywood Boulevard - While adults will recognize many more names on Hollywood's Walk of Fame than their kids, this stretch of street will still delight children as they place their hands and feet inside those of the "stars" to see how they compare. Also along Hollywood Boulevard - which is much less sleazy than it was thirty years ago - you'll find lots of costumed performers that want to entertain the masses. (Be careful, however, some are scary and many are just out to make a few bucks by enticing you to take a photo with a "star.") Older kids might enjoy some of the museums located along the boulevard as well, including the Hollywood Wax Museum, Ripley's Believe It or Not!, Guinness World of Records Museum, and the Los Angeles Fire Department Museum. (Again, watch out for the scary sections of some of these museums.) Souvenir stores abound so be prepared to do a little shopping.
Universal Studios with Kids - Information and tips on visiting Universal Studios with Children. Includes height restrictions for most rides, plus descriptions of attractions that might be too intense for young visitors.
NAVIGATION

Griffith Park/Hollywood (this page)

ADVERTISMENT