Los Angeles with Kids - Westside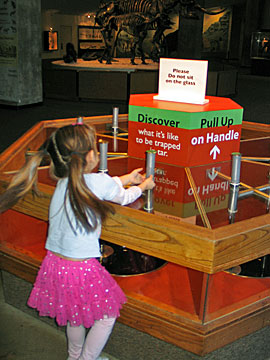 Tar Viscosity Exhibit at La Brea Tar Pits
Miracle Mile and Nearby
La Brea Tar Pits and Museum (formerly called Page Museum) - These two attractions must be visited together in order to gain something from your trip to this Westside location. While the words "tar pits" conjure up thoughts of someplace you'd never bring your kids, the fact remains that this place is fascinating. The actual excavating of the pits, which is sometimes visible, can be pretty boring for little ones, but they'll love the museum. Here, they'll see bones of large, extinct animals that were pulled from the pits, including a giant wooly mammoth skeleton. Paleontologists work on the premises and visitors can watch their progress through the glass. There are also a few videos (about 10 minutes each), which you may want to catch first before the kids are too tired to sit through them.
L.A. County Museum of Art (LACMA) - Though LACMA is a large complex of buildings, the one you want to find if you're visiting with children is the one labeled "West", which is home to the Boone Children's Gallery. All the art in the children's area is interactive and kids can be as creative as they wish...and someone else gets to clean up the mess! If you're flexible, head here for Sunday Family Days, when there are tons of arts and crafts opportunities for your kids. (Hint: If you sign your kids up for an "Arts for NexGen" membership, admission for all of you is free. Do this at the main ticket booth.)
Petersen Automotive Museum - If you have little boys (or girls) who love cars, this is the museum for them. All the cars are fun to view, but kids will especially enjoy the amazing Hot Wheels(tm) exhibit (check out the cool full-sized Hot Wheels, too) and the hands-on May Family Children's Discovery Center, full of car-related games and activities for kids of all ages. A special toddler lot provides toy cars and trucks for the little ones to push around. Admission is inexpensive and kids under 5 are free.
Los Angeles Farmers Market - A Los Angeles landmark since 1934, the Farmers Market is the ideal place to bring the kids for a bite to eat. The food stands are many and varied, so kids with different tastes can all get something they like. The eating area is casual and there's no need to worry about what will happen if your kid makes too much noise. Best of all, the food is affordable here. Directly adjacent to The Grove.
The Grove - The Grove tends to be a bit upscale but has enough stuff to keep the kids happy, including some cool fountains and an electric trolley (free!) that runs from The Grove to the nearby Los Angeles Farmers Market. Check out the Kid's Club at the Grove, which offers daily activities from late June through October, designed for younger kids up to about age 6 or 7. Directly adjacent to Farmer's Market.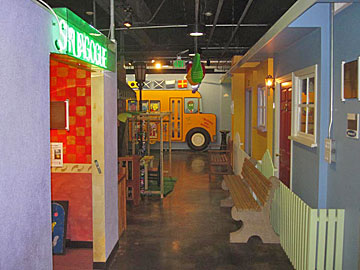 Cayton Children's Museum
Cayton Children's Museum - (formerly Zimmer Children's Museum) A hidden gem on the Westside, this darling museum is tucked inside the Goldsmith Jewish Federation Center. Though the museum's mission is to "share values, ethics, and cultures while demonstrating community responsibility and sensitivity", kids think this place was built just so they could have fun. Check out the stage area with hundreds of costumes, the Discovery Airplane where kids can pretend to be the pilot or ground crew, the two-story pinball machine, Bubbie's Bookstore, and the Corner Market.
More Attractions
Star Eco Station Wildlife Rescue Facility - Animal aficionados love touring this small facility with a big heart, and the tour guides show true affection for the animals that have wound up in the facility for one reason or another. Kids of all ages will enjoy viewing the animals though really little ones might get bored on the one-hour guided tour. If you have young ones in tow, however, there's plenty of room for strollers. [Culver City]
Franklin Canyon - Los Angeles does indeed have a wilderness area and this is it. Open sunrise to sunset, Franklin Canyon features a nature center, expansive Franklin Lake, and Heavenly Pond, which is full of ducks. There are also plenty of jogging paths that can be traversed with jogger strollers. There's no admission fee for enjoying the canyon area. [Mulholland Drive]
NAVIGATION

Westside (this page)

ADVERTISMENT