Disney's California Adventure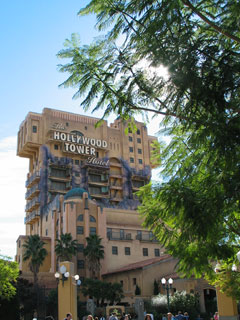 Hollywood Tower at California Adventure
In an attempt to expand Disneyland's appeal and generate more revenue, the folks at Disney opened Disney's California Adventure (website) in 2001. Not unlike the first Disneyland theme park, California Adventure wasn't a hit when it first opened. Visitors pronounced it un-Disney-like and boring. However, the Disney Corporation was listening and have endeavored to re-design the park so that it meets the expectations of Disney visitors.
Indeed, this 55-acre park is different - but wonderfully so! With its wide walkways and shorter lines, it's a treat to visit and is perfect for those who don't enjoy crowds! No, the rides are not typical Disney fare. Instead, they pay homage to the great state of California in a Disney sort of way, still packed with plenty of magic but including a bit of educational fare as well, not unlike EPCOT in Walt Disney World.
California Adventure is divided into four lands:
Golden State - The largest area in the park, Golden State includes nods to California's past and present. Here you'll find the greatest ride in the park - Soarin' Over California - a hang-glider style ride that'll leave you wanting more! There's also a great area for kids, called the Grizzly Peak Recreation Area, where youngsters can climb, slide, and swing to their heart's content.
Hollywood Pictures Backlot - With elements from Disney World's MGM Studios, guests to this land can learn about California's movie industry and enjoy attractions that provide an inside look at the animation process and other movie secrets. Thrill seekers will head to the spooky Twilight Zone Tower of Terror while kids will enjoy Muppets 3-D and the newly opened Monsters, Inc. attraction.
Paradise Pier - Reminiscent of seaside amusement piers of old, Paradise Pier features boardwalk-style rides like the wild mouse, swings, carousel, and the fantastic California Screamin' looping roller coaster.
A Bug's Land - The kid-sized rides here are perfect for little ones and a good place to head when the "grown-up" rides are getting to be too much for your kids. All are based on the feature film "It's a Bugs Life."
One of the nicest things about California Adventure is the varied selection of foods available in this park. The presence of a Mission Tortilla Factory and a Boudin Sourdough Bread exhibit and cafe means there's more to choose from than the usual amusement park fare. An on-site winery also provides the opportunity to enjoy an upscale meal with wine pairings.
NAVIGATION

California Adventure (this page)

ADVERTISMENT