Los Angeles with Kids - Downtown Area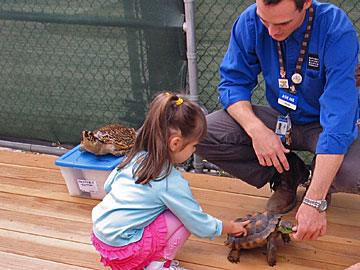 Hands-on Exhibit at Museum of Natural History
Natural History Museum - Suitable for all ages but especially attractive to kids, this museum is a sure thing for families, even those with toddlers and pre-schoolers. Kids who visit this museum will love just about everything they see, especially the giant dinosaur bones and the dioramas featuring their favorite animals. Check out the Discovery Center, a hands-on area where young ones can learn a lot about nature and use up that extra energy by participating in "fossil digs", playing with games and puzzles, and hugging stuffed animals. Family Fun Days happen once a month and the museum is stroller-friendly.
California Science Center - Just when you thought science was boring, you'll know the opposite is true when you take your kids to this attraction. Nearly the entire center is hands-on so you're children can touch anything they want without being reprimanded, and it may take more than one visit to see it all. Check out the third-floor Discovery Room, perfect for really little ones who like to play pretend, and a similar room in the World of Life, where kids can admire live animals like frogs and snakes. Older kids like the Air and Space Gallery and its cool rockets and other space gear. Of course, the best thing about this museum is that it's FREE (except for the IMAX).
Old Chinatown Plaza - Just the never-ending activity and bright colors found in this Los Angeles neighborhood are enough to attract any child's attention. Your kids can feed the goldfish in the outdoor ponds and visit the many shops of Chinatown, where they can buy kitschy souvenirs and other Chinese-related items. The restaurants here are excellent and generally kid-friendly and the frequent festivals held in Chinatown are especially fun. If you're in town for the Chinese New Year, make it a point to join in the celebration. Your kids will be entranced by the dragons, martial artists, and other festival regulars.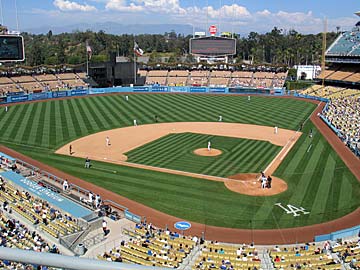 Baseball game at Dodger Stadium
Dodger's Stadium - Take them out to a ballgame! A trip to see the L.A. Dodgers play one of their opponents is especially fun for kids who are elementary aged and older but maybe not so great for toddlers and pre-schoolers. Older kids will love the sheer size and excitement of the stadium, the hot dogs and cotton candy, and the gift shops where they can buy Dodger's souvenirs. You might not get in a lot of game-watching, but you will have a fun day with your kids. Spring for tickets (preferably near an aisle) that are on the level that's near the concessions and bathrooms, as you'll probably be getting up a lot.
Olvera Street - Considered the birthplace of Los Angeles, this lively Mexican market thrills kids with its sounds and colors, and adults with its history. There are things to do and see both indoors and outdoors. While the rows of vendors sometimes make it tough to navigate with strollers, patience will provide you with a look at wonderful Mexican crafts and artwork and the opportunity to buy authentic traditional foods. Be sure to make time to tour Avila Adobe, the oldest standing structure in the city, built in 1819. You'll have to carry the kids, which is best as there are plenty of fragile antiques inside, but the tour isn't terribly long. A map and brochure are available at the Visitor Center to help you explore other historic sites along Olvera Street on your own. It's best to visit on weekdays if possible, when it's less crowded.
Grand Central Market - Situated in a large warehouse, this open market is so much fun to explore. Best navigated with a small stroller, this is a great place to eat, as the offerings are endless and even picky kids can find something they'll like. Don't miss the giant tortilla-making machine which produces yummy flour tortillas! Hold hands tight, however, as it gets pretty crowded here and children are easily separated from their parents, especially on the weekends when the Grand Central Market can be absolutely mobbed.
Bob Baker Marionette Theater - An often overlooked gem in the downtown area, this puppet palace has been entertaining children since 1961. Baker, a master puppeteer, has more than 3,000 puppets and many of them join in the shows, which happen once a day on Sunday through Friday (except Monday) and twice on Saturday. The theater is large and kids sit on the floor, where they're most comfortable. There's plenty of room to stretch out and run around before the show...which is encouraged! Snacks are allowed during the show and all audience members get ice cream when the performance is done. What could be better? Shows change with the season. For example, at Christmastime, you might catch a puppet performance of The Nutcracker. (Hint: Try to get a front row spot as the puppets and puppeteers often interact with the kids in the first row of seats.)
Toyota Symphonies for Youth - While the LA Music Center's Walt Disney Concert Hall hosts wonderful concerts and other performances - some free - most of those are too long for little ones, especially those who aren't crazy about sitting in the dark for a few hours. Instead, travelers with small children should check out the Toyota Symphonies for Youth, which is geared towards 5-11 year-olds. Featuring music, dance, storytelling, and simple theatrical performances, the presentations are just the right length and kids even get to do an arts and crafts project before the show.
NAVIGATION

Downtown Los Angeles (this page)

ADVERTISMENT