Los Angeles with Kids - San Gabriel Valley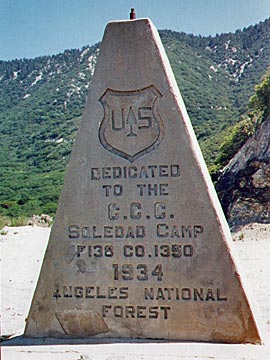 Marker in the Angeles National Forest
Angeles National Forest - When it's time to get outside, head to this 650,000 acre wilderness. The Angeles National Forest is a four-season expanse of fun for the entire family. If you're the camping type, sites are available here, or if you're just up for a day trip, you can go fishing or hiking in the summer or sledding in the winter, when the forest's higher elevations are covered with snow. Or if you prefer, just take a walk on one of the many trails that wind past waterfalls and other lovely natural attractions. (Some are wide enough for a stroller.) Overall, the Angeles National Forest provides a welcome respite from the hustle and bustle of the city.
Kidspace Children's Museum - Making a comeback after being closed and then relocated, the title of this museum says it all. This is truly a space for kids, especially those under 8. Kids begin by climbing through a kaleidoscope tunnel at the entrance and the fun begins! Bug Land is especially popular as is the opportunity to dig for dinosaur bones and experience an earthquake. Little ones can paint and repaint on a rock wall that washes itself! There's also an outdoor area where children can ride tricycles (available at the museum), climb walls, or splash in the fountain. Open every day, general admission is affordable and the galleries are easy to navigate with strollers.
Raymond Alf Museum of Paleontology - If there's a future paleontologist in your family, they'll be thrilled with this very inexpensive but fun museum in Claremont. Situated at the Webb School, a private educational institution, the dinosaur bones on display here were discovered mostly by the students and staff at the school. Some are assembled into full-sized dinos while others are available on tables for kids to touch. There's also a very cool "Hall of Footprints", where families can view (and touch) the largest collection of animal tracks in North America.
NAVIGATION

San Gabriel Valley (this page)

ADVERTISMENT