Visiting Universal Studios with Kids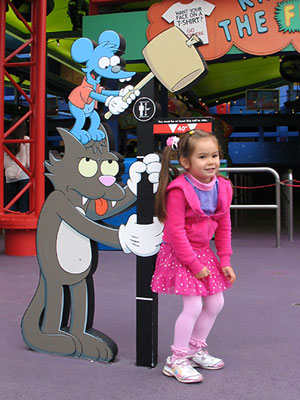 See Below for Attraction Height Requirements
While Universal Studios Hollywood is certainly family-friendly, those traveling with small children may find that the majority of the rides are too intense for the little ones. There are also some rides with height restrictions (see below) that may exclude your younger ones from riding.
Never fear! That doesn't mean you can't enjoy Universal. Many of the rides offer the opportunity to use Child Switch, which allows one parent to wait with the child while the other parent and family members ride, and then switch when they depart, without having to wait in line again.
Park maps indicate which rides are appropriate for your children and also list spots where you kids can enjoy photo-taking with their favorite characters. You'll find that restrooms, changing stations, and other things that families with kids need frequently are readily available and easy to find.
Attractions that are Suitable for Young Children
Universal's Animal Actors: combines animal talents and insights into working with animals on a movie set. Features dogs, cats, birds, a chicken and a pig. Most kids will like the show.
Characters in the Park: Dora the Explorer, Diego, Spongebob Squarepants, Donkey, Curious George, Woody Woodpecker and other characters are available for kids to meet and have a picture taken. Universal Studios is far less crowded than Disneyland, so kids don't have to wait in line 15 minutes to meet their favorite characters. In many cases you can walk right up, or wait just a minute or two.
Shrek 4D: This is a light-hearted movie. There are moments of darkness, but this should be suitable for kids 3+.
The Simpsons Ride: This roller coaster simulator seems suitable for most young guests. (40 inch requirement)
Despicable Me: Minion Mayhem: A roller coaster simulator that seems suitable for most young guests. (40 inch requirement)
Jurassic Park - The Ride: Part of the ride is dark and noisy, but the main concern is the 84-foot water slide at the end. There is a jolt at the end and kids will need to be able to keep their head from hitting the back of the seat. Make sure you warn them right before the plunge so they are prepared for this. (42 inch requirement).
Attraction Height Requirements
The Secret Life of Pets: Off the Leash: Must be 34″ (102 cm) tall. Children 34-48″ (102-122 cm) must be accompanied by a Supervising Companion (14 years or older)
Flight of the Hippogriff - must be 39 inches or taller.
The Simpsons Ride - must be 40 inches or taller.
Despicable Me: Minion Mayhem Must be 40 inches or taller.
Transformers: The Ride 3D: Must be 40 inches or taller.
Jurassic Park: The Ride - must be 42 inches or taller.
Harry Potter and the Forbidden Journey - must be 48 inches or taller. This is a fast roller coaster, forward and backward through a dark tunnel.
Revenge of the Mummy: The Ride - must be 48 inches or taller. This is a fast roller coaster, forward and backward through a dark tunnel.
Parental Guidance Suggested
WaterWorld - There are loud explosions that involve flashes of fire, sensations of heat from the fire, and splashes of water. This can be frightening to small children if you sit too close. Seats farther back will insulate you from the heat and water, plus make the noise less frightening.
Special Effects Stage - There is a short scene that simulates massive bleeding, which could be disturbing to young guests.
Studio Backlot Tour - There are two locations that are enclosed and include intense activity: King Kong 360 3D; and the flooded subway with earthquake. Also, the spinning ice cave might cause uncomfortable dizziness for a child who is not used to controlling the sensation. Regardless, people do take small children on this attraction, and they seem to be OK at the end. NOTE: The tour lasts 45-60 minutes and many small children will become bored.
Child Switch Available
Despicable Me: Minion Mayhem (ask an attendant for instructions)
Harry Potter and the Forbidden Journey
Revenge of the Mummy - The Ride
Transformers: The Ride 3D
The Simpsons Ride
Jurassic Park - The Ride
NAVIGATION

Universal Studios with Kids (this page)

ADVERTISMENT