Los Angeles Venues

Venues in and near Hollywood
Hollywood Bowl and Hollywood Sign
Avalon - In Hollywood. Concerts, club nights (DJs and dance music including hip-hop, R & B, Top 40, etc)
Dolby Theatre is the crown jewel of the Ovation Hollywood retail, dining and entertainment complex located in the heart of Hollywood. The 3,400 seat theatre opened in November 2001 and soon thereafter became known to more than one billion people across the globe as the first permanent home of the Academy Awards. Capacity: 1500; Rentals: Yes
Fonda Theatre - In Hollywood. Concerts, live entertainment, private events. Capacity: 1200; Rentals: Yes
The Ford Amphitheatre - Enjoy music, dance, theatre, film & family events in the intimate 1,200-seat historic outdoor amphitheatre nestled in the Hollywood Hills, near the Hollywood Bowl.
Greek Theatre - In Griffith Park, near Hollywood. This is an outdoor theatre with a seating capacity of over 6000, which hosts concerts and stage shows. It is said there are no bad seats at the Greek, but if you can get tickets for section A or B you will experience the best view and sound. Due to the limited number of seats, concerts sell out quickly for top name performers.
Hollywood Bowl - Open air amphitheatre in Hollywood, close to the attractions on Hollywood Boulevard and Universal Studios. The venue hosts major events, including music from all genres, dance, and film, dinner events. Hollywood Bowl capacity is 17,500.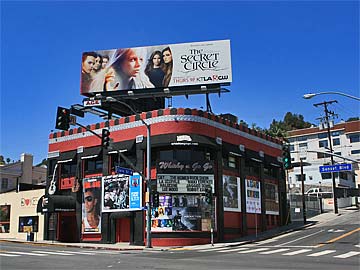 Whisky-a-Gogo in West Hollywood
The Montalban - The Ricardo Montalban Theatre was established to help fulfill Ricardo Montalban's vision to provide a learning experience for performing arts in the Hispanic community. The venue offers productions from a wide variety of genres. On Vine Street near Hollywood Boulevard. Rentals: Yes; Capacity: 960
Pantages Theatre - The Pantages has become one of the greatest landmarks of Hollywood, signifying both the glorious past and adventuresome future of the world's entertainment capital.
(The) Roxy Theatre - Concerts almost every night. West Hollywood.
Troubadour - Concerts almost every night. West Hollywood.
Whisky A Go Go - Concerts almost every night. West Hollywood.
(The) Wiltern - Concerts and comedy events
Venues in and near Downtown Los Angeles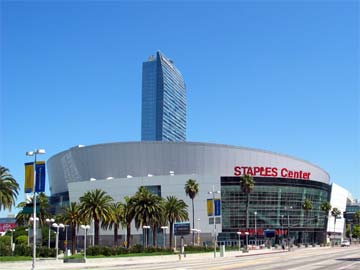 Staples Center arena, Ritz-Carlton behind
Los Angeles Convention Center - Exhibit halls, meeting rooms, events. This is not the same as the (Los Angeles Tourism and Convention Board).
Microsoft Theater - (formerly named Nokia Theatre) a 7,100-seat live performance theater, located in the L.A. Live courtyard across the street from Staples Center. The venue hosts concerts and performances, awards shows, family shows, corporate showcases, product launches, speaker series and television broadcasts.
Performing Arts Center of Los Angeles - Schedules, Online ticket sales. Formerly known as The Music Center, Performing Arts Center of Los Angeles County, which opened in 1964, reaches more than four million people each year and is home to the Los Angeles Philharmonic, the Center Theatre Group (the Mark Taper and the Ahmanson Theatre), the Los Angeles Opera and the Los Angeles Master Chorale as well as special events. The downtown Los Angeles complex includes the Dorothy Chandler Pavilion, the Mark Taper Forum, the newly renovated Ahmanson Theatre and the Walt Disney Concert Hall.
The Orpheum Theatre - A historical landmark from the beginning of the 20th century, The Orpheum was revived as a performance venue in the beginning of the 21st century. It is in an older part of town on the southern part of Broadway in downtown L.A. [seats ~ 1900]
REDCAT - (Roy and Edna Disney/CalArts Theater) is the premiere contemporary and experimental theater in Los Angeles, with an entrance located on the southwest corner of the Walt Disney Concert Hall.
Staples Center - Located near the Financial District in downtown Los Angeles, this is the home court of the Lakers, Kings, Clippers and Sparks. The site of many concert and special events. The website has a calendar of events, seating chart and more.
Venues in and near Exposition Park
Shrine Auditorium and Expo Center - Concerts, award presentations, exhibits, religious gatherings, fundraisers.
Los Angeles Coliseum - Los Angeles Memorial Coliseum and Sports Arena. Home field for the USC Trojans football team, as well as occasional sporting events and foot races. The Sports Arena is adjacent to the Coliseum and hosts occasional basketball and hockey games, plus boxing matches.
U.S.C. Scheduling Office - Bovard Auditorium [1200], the Trojan Grand Ballroom [~2000] and others.
Venues in and near West L.A. and Santa Monica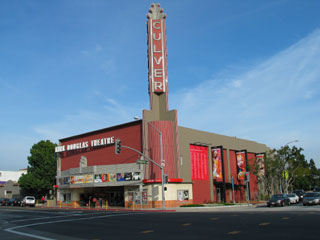 Kirk Douglas Theatre in Culver City
Kirk Douglas Theatre - A member of the Center Theatre Group (also includes Mark Taper Forum and Ahmanson Theatre). Offers musicals, plays and theatrical events. Small and informal. See the website for a calendar of events and to reserve seats.
The Broad Stage - Performing arts center in Santa Monica.
Santa Monica Civic Auditorium - Home of the annual Santa Monica Cat Show, as well as other shows and events.
Santa Monica Playhouse - emerging artists transform traditional theatre into unique and unusual performances. Located in Santa Monica near the Third Street Promenade. Rentals: Yes; Capacity: 88 or 64
Venues in other parts of L.A.
Antelope Valley Fairgrounds - Home of the annual Antelope Valley Fair & Alfalfa Festival. Events and expos throughout the year.
Canyon Club - Concerts and comedy dinner club in Agoura Hills.
Fairplex - Home to the annual Los Angeles County Fair and more than 300 other events throughout the year. Activities include trade and consumer shows, sporting events, conventions, meetings, inter-track wagering and agricultural events.
Dignity Health Sports Park - Home of the Los Angeles Galaxy soccer team. Located in Carson, about 20 miles south of downtown L.A. This venue was formerly named "StubHub Center" and also "Home Depot Center" before that. (10 miles west of Long Beach).
Rose Bowl Stadium - Home of the annual Tournament of Roses college football game. Sports events and concerts are scheduled throughout the year.
Glen Helen Amphitheater - (formerly San Manuel Amphitheater) In Devore, near San Bernardino. Formerly known as Blockbuster Pavilion, Hyundai Pavilion and Glen Helen Pavilion.
Odyssey Theatre - The Odyssey Theatre is Los Angeles' oldest 99-seat complex. With three, unique productions playing simultaneously in the Odyssey's three-theatre building, you are sure to find something that will be of interest to everybody in your party.
Venues in and near Orange County
Anaheim Convention Center - Exhibit halls, meeting rooms, banquet rooms.
Honda Center (formerly known as the Arrowhead Pond of Anaheim) - Anaheim event center, home of the Mighty Ducks. Sporting events, concerts, entertainment. Calendar of Events, Box Office info. (Near Disneyland in Orange County)
(The) Grove of Anaheim - Concerts and Comedy events.
Orange County Fairgrounds & Exposition Center - Home of the annual Orange County Fair. Events, concerts, exhibitions.
Segerstrom Center for the Arts - Orange County Performing Arts Center.
Verizon Wireless Amphitheatre - Irvine. [CLOSED] Concerts, Events. Originally called Irvine Meadows. It was a large outdoor amphitheatre, but was demolished in 2016.