Free or Low-cost Tourist Activities in Los Angeles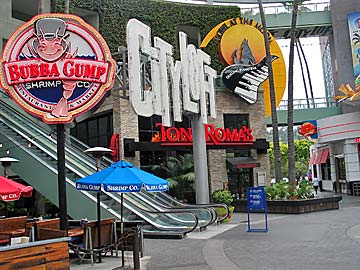 CityLoft at CityWalk Hollywood
Shopping Districts
Some shopping districts are more than just malls, and are an attraction in themselves. Many of them offer entertainment beyond what a mall provides. Some are in attractive locations, like near the ocean. Although it costs money to shop, the shopping districts listed here are places where you can walk around and stay entertained without having to buy anything. Most charge for parking.
Hollywood
Ovation Hollywood Center - An outdoor and indoor entertainment center that offers shopping, dining and nightlife.
CityWalk Hollywood - An outdoor mall lined with shops and restaurants. Pay for parking. [adjacent to Universal Studios Hollywood]
---
Farmers Market / Grove Shopping District
The Original Farmers Market has fresh fruit, produce, seafood, ice cream, wines, cheeses, gourmet foods, as well as gift shops. The Grove is an outdoor shopping district featuring high-end stores and restaurants, a theater, live performances. This is a nice place to visit whether you want to just wander around and take in the sights, or go on a shopping spree.
---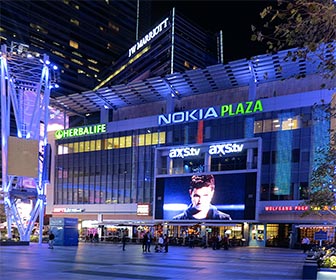 L.A. Live in Downtown Los Angeles
Downtown L.A.
L.A. Live - outdoor entertainment Plaza near Staples Center, with an emphasis on dining, nightlife and live shows.
Olvera Street - outdoor shopping plaza with an emphasis on goods imported from Mexico, along with tourist souvenirs, Mexican food, live entertainment and events. Near Union Station.
Chinatown - outdoor shopping plaza with an emphasis on goods imported from China, along with tourist souvenirs and Chinese food. Near Olvera Street.
Little Tokyo - outdoor shopping plaza with an emphasis on goods imported from Japan, along with tourist souvenirs and Japanese food.
Free Tours in Downtown LA - More free activities in Downtown L.A.
---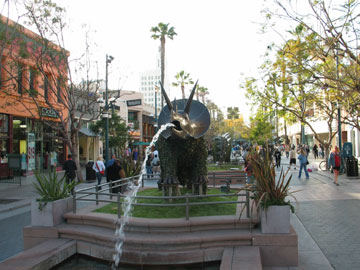 Third Street Promenade
Santa Monica and Malibu
3rd Street Promenade - An open-air pedestrian street that offers restaurants, unique retail shops, movie theatres and nightclubs. Street performances are free, but all performers will appreciate a tip if you like their show. Pay a small fee for convenient parking, or look or a free spot along 5th, 6th or 7th streets [Santa Monica].
Venice Beach Boardwalk - outdoor stands, near the beach. Park in nearby parking lots. If you like to walk, you can walk to Venice Beach from Santa Monica Pier in about 45 minutes, each way.
Malibu Country Mart - A pleasant little outdoor shopping center made up of about 25 upscale shops and restaurants, located just minutes from the beach and the famous Malibu Colony.
---
Long Beach and South Bay
Ports O' Call Village - [CLOSED] Ports O'Call has been demolished for a planned new development. LA Waterfront Sportfishing, the San Pedro Fish Market, and the Crusty Crab remain open, although the Ports O'Call Restaurant is gone. Harbor cruises, whale watching and sport fishing trips still depart on a regular basis from LA Waterfront Cruises.
Shoreline Village - Gift shops, boutiques, restaurants, entertainment, nightlife, ocean views. This is a popular stop for cruise ships. Pay for parking [Long Beach area].
Redondo Beach Pier - Redondo Beach Int'l Boardwalk has restaurants and bars, curio shops, ocean views and more. It is a large pier where you can walk around, people watch or browse stores.
More Shopping Center Links - LAtourist.com's list of shopping centers and malls.
---
Click here to go back to the list of free activities
---