Free Attraction Tours in Downtown LA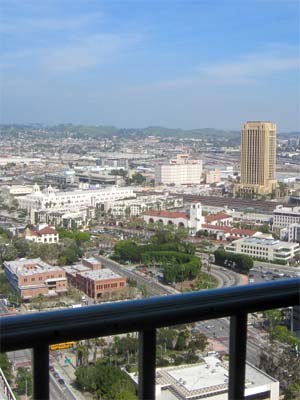 Union Station from the Observation Deck
Free Attraction Tours near Union Station
Olvera Street Tours
[at La Plaza Park near Union Station] - Las Angelitas del Pueblo is a volunteer docent group that gives the tours of El Pueblo de Los Angeles Historical Monument, including Olvera Street and historic buildings. Advance registration is required, through the Las Angelitas website. Meet the tour guide before your tour starts, at the office of Las Angelitas del Pueblo, located on the south side of La Plaza, between Pico House and the Firehouse museum. (You can easily see the tour office from Los Angeles Street).
Self-Guided Tour of Olvera Street
A self-guided tour brochure describing the historic buildings is available at the Information Desk in La Plaza or at the El Pueblo Visitors Center, located in the Sepulveda House.
Observation Deck at City Hall - [public entrance at 201 Main Street]
This is not a tour but it feels like one. Open to the public, Monday through Friday from 9AM to 5PM, the Observation Deck offers an outstanding view of the downtown L.A. city skyline. Admission is free, but you will need to check in at the security desk at the Main Street entrance. They will issue a visitor badge and give you a leaflet with directions to the Observation Deck on the 27th floor. You will pass through the Tom Bradley Room on the 26th floor. The walls on this level are covered with pictures of all past mayors of Los Angeles. The "room" is not an open space - instead it's a hallway that occupies the perimeter of the floor. After you are finished looking at the pictures, you will walk up a grand staircase to the Observation level on the 27th floor. Most of the level is an open space filled with chairs and a podium. It's interesting to imagine what sort of conferences or meetings might occur from this vantage point overlooking the city. You can go outside on this level and walk around the perimeter of the floor. The view is great, and there are signs to let you know what's where. There are unobstructed views of Union Station, Disney Concert Hall and other attractions in downtown L.A.
Free Attraction Tours near Civic Center Metro Station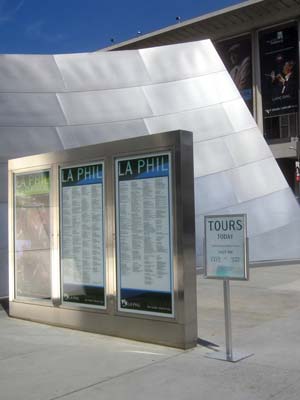 Disney Hall and Performing Arts Center
(Metro Rail Red & Purple Lines)
Walt Disney Concert Hall / Performing Arts Center (Music Center) - [111 South Grand Avenue]
There is a self-guided audio tour of Disney Concert Hall (most days 10AM - 2PM), and docent-led tours (usually Tuesday through Saturday at 10:30AM and 12:30PM) that include the Ahmanson, Dorothy Chandler and Mark Taper buildings as well. All tours are free for individuals or small groups. Tours can be cancelled during certain performances, so see the schedule on the PACLA tour website for availability before you go. All tours originate from the main lobby of the Disney Concert Hall.
Self-guided Tour of Disney Concert Hall:
[Self-guided tours are available]
A hand-held listening device leads you on a narrated tour through portions of Disney Concert Hall. The tour covers a fair amount of the inside of Disney Hall, but does not include the auditorium areas. Attendants will provide an audio device (free of charge) and a map. When you walk to a location on the map, you will press a corresponding number on the device, then listen to the narration. The tour also covers outside areas including a large garden with trees that were imported from various Los Angeles neighborhoods. Much of the tour covers the design and structure of the building, including comments from architects and designers. There are several views of BP Hall, where pre-performance events are held. This is an interesting tour for teens and adults, although younger children will probably get bored. You can cover it in about 60-90 minutes, if you listen to the entire narration along with the side notes. To begin the tour, see an attendant in the Disney Hall Lobby. They will ask for a picture ID to hold until you return the listening device. Walk toward the gift shop, then press 101 on the listening device, to begin the self-guided tour.
Docent-led Tour of the Music Center:
[Docent-led tours are temporarily suspended]
This is a more comprehensive circuit of the four buildings that comprise the Music Center complex. The tour is usually offered Tuesday through Saturday at 10:30AM and 12:30PM, starting in the Disney Hall Lobby. Reservations are not required - just meet the guide before the tour begins. Tours can be cancelled when there are performances, so be sure to check the website to check the schedule on PACLA's website.
Cathedral of Our Lady of the Angels - [555 West Temple Street]
[Self-guided tours are available. Guided tours are currently suspended]
Free tours Monday through Friday at 1PM. Reservations are not required - just meet the guide at the Temple street entrance of the church, 15 minutes before the tour begins.
Los Angeles Times Building - [202 West First Street]
[Tours are currently suspended]
Free public tours of the historic Times Building and the newspaper's printing facility in downtown Los Angeles are available during business hours during the week. Reservations are required and participants must be at least 8 years of age. Groups and individuals can be accommodated, and tours runs an hour in length. Call (213) 237-5757 for current tour information.
Free Attraction Tours near Pershing Square Metro Station
(Metro Rail Red & Purple Lines)
Los Angeles Central Public Library - [630 W. 5th Street]
Free docent-led tours are available on a limited basis. Daily walk-in tours of the Central Library last approximately one hour. No reservations are necessary for groups of six or less. The tours leave from the front of the Library Store in the main lobby accessible via the Fifth Street, Hope Street, and Flower Street entrances. Also, the LAPL website has a 360 virtual tour of the Library grounds (inside and out) that can be viewed at any time.
Self-guided Walking Tours, Guides and Maps
Angels Walk Walking Tours - Download free PDFs with descriptions of sites and maps to guide you around popular destinations on foot. Walking Guides for downtown Los Angeles include Bunker Hill, Union Station, Chinatown and Figueroa (including Staples Center, LA Convention Center, USC and Exposition Park). The website also offers guides for Hollywood, Wilshire Boulevard and San Pedro.
Downtown L.A. Walks - Free podcast downloads and PDF maps. Print the map and listen to the narrated tour on your iPod while you walk. Arts and Culture Tour, Shopping Tour, International Tour and Historic Tour. The site has information and highlights about each district in downtown L.A.
L.A. Conservancy Self-guided Tours - a collection of self-guided tours, including downtown Los Angeles, La Cañada Flintridge, Pomona, Claremont, Wilshire Boulevard, Koreatown and more.
The Real Los Angeles Self-guided Tours - This company normally provides paid walking tours with a guide. Here, they offer a collection of self-guided walking tours that you can take for free. The list includes walks in Hollywood, downtown L.A. and Beverly Hills.
GPS My City Los Angeles - an app that uses the GPS on your phone or tablet to help you navigate the tour. Each walk comes with a detailed tour map as well as photos and background information for the featured attractions. The app's navigation functions guide you from one attraction to the next. The app works offline, so no data plan is needed when traveling abroad.
Marina del Rey Self-guided Walk - a PDF download, provided by the County of Los Angeles. This brochure includes a collection of walks that cover points of interest, parks, beaches, the harbor and canal in Marina del Rey.
More Free Tours
Jet Propulsion Laboratory (JPL) - [Pasadena]
The JPL Public Services Office offers a limited number of onsite, in-person tours, free of charge, for groups and individuals on an advance reservation basis. Visitor parking is also available free of charge. All tours commonly include a multimedia presentation on JPL entitled "Journey to the Planets and Beyond," which provides an overview of the Laboratory's activities and accomplishments. Guests may also visit the von Karman Visitor Center, the Space Flight Operations Facility, and the Spacecraft Assembly Facility. Please see the below descriptions for additional information. Tours are booked one month at a time, and must be booked a minimum of three weeks in advance.