Free or Low-cost Tourist Activities in Los Angeles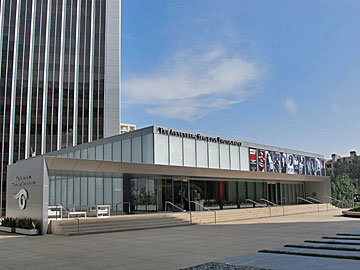 Annenberg Space for Photography
Free Museums
Getty Museum, see previous page.
Academy of Motion Picture Arts & Sciences - The Academy Gallery and Grand Lobby Gallery are located at the Academy's main building. Events and exhibitions related to the Hollywood film industry.
Annenberg Space for Photography - Contemporary photography exhibits in Century City. This exhibit space is walking distance from Westfield Century City mall. Admission to the Annenberg is always free, except on Monday and Tuesday (when it is closed).
Bergamot Station (Santa Monica)
California Science Center
California Science Center (near downtown LA) Science Exhibits are free, pay only for parking. The adjacent Air and Space Gallery is also free. The museum has other activities that are available for a fee. In Exposition Park. Near the Coliseum, Natural History Museum and California African American Museum.
Exposition Park Rose Garden - view tens of thousands of rose bushes, featuring a huge variety of species.
Forest Lawn Museums and Exhibits - Forest Lawn is more than just a cemetery. Their facilities in Hollywood Hills and Glendale (website) have museums and exhibitions of historical interest. Most locations have mosaics and gardens. On the home page of Forest Lawn's website, look for the "Visitors' Guide" menu item on the right side and choose a Location to see what they offer.
Fowler Museum at UCLA (Westwood) The Fowler Museum at UCLA explores art and material culture from Africa, Asia, Oceania, Native and Latin America, past and present. Free Admission, Easy Parking.
Hollywood Bowl Museum features history, photos, posters, videos, and rock memorabilia from events at the Hollywood Bowl.
Justice Brothers Racing Museum - has a wide variety of vintage circle track racecars, ice racing motorcycles, street rods, restored classics, Indy cars from past and present (including two from the Sylvester Stallone movie Driven), dragsters, midgets, a stadium truck, historic engines, model cars, antique gas pumps and even a Pitts acrobatic biplane hanging from the ceiling. Open weekdays from 8:00 a.m. to 5:00 p.m.
La Brea Tar Pits Museum (formerly called Page Museum) - Admission is free on the first Tuesday of each month. Pay only for parking. On other days, the regular admission cost is fairly low. Also, outside of the museum there are exhibits that you can view for free.
LA County Museum of Art (LACMA) - Free for L.A. County residents after 5:00 PM every day except Wednesday, when the museum is closed. Admission for visitors under 18 is always free. The museum is normally open until 8:00 PM.
Los Angeles Fire Department Museum and Memorial - Open Saturdays only. Admission is free although a donation is appreciated. There are two locations: Hollywood and San Pedro. Each museum facility includes vintage and authentic Los Angeles Fire Department apparatus, including equipment not on display anywhere else in the United States. In addition, wonderful collections of memorabilia related to the communities of Hollywood, San Pedro and Los Angeles overall will keep you engaged for hours at a time.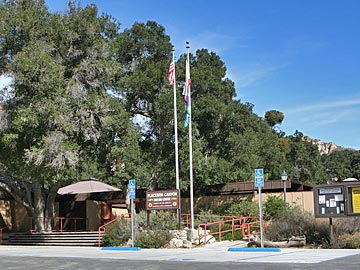 Placerita Canyon Nature Center
Nature Centers - Many nature centers and museums charge a small fee for admission. Usually $5 or less per person.
Placerita Nature Center Museum (Santa Clarita, one hour drive north of LA) - Contains exhibits on the natural history of southern California, and there is a small collection of live animals. A network of self-guiding nature, history and hiking trails radiates out into the park from the Center, with longer hikes leading to a seasonal waterfall to the top of the Santa Clarita Divide. Picnicking is available near the Nature Center. There might be a charge for parking.
Rancho Los Alamitos - surrounded by modern development, the old ranch house, four acres of tranquil gardens, and barns stand as vibrant reminders of Southern California's rich historical legacy. There are five agricultural buildings, including a working blacksmith's shop, live farm animals, four acres of nationally significant gardens designed by the preeminent landscape architects of the 1920s-1940s, and a sprawling adobe ranch house dating from c.1800. Walk around the site and enjoy this rare oasis and the shared legacy of regional culture and environment. Open Wednesday through Sunday beginning at 1pm, with the last tour starting at 4pm. [Long Beach]
Travel Town Museum (in Griffith Park) - An outdoor museum which preserves and celebrates the railroad heritage of the western United States--its history and its artifacts. Displays actual railroad locomotives and boxcars, along with other transportation related displays. This is a great place to take the kids before or after visiting Griffith Park, the L.A. Zoo or Autry Museum of the American West.
Self-Realization Fellowship Lake Shrine - a ten-acre site, with its gardens and natural spring-fed lake, is home to a variety of flora and fauna, including swans, ducks, koi, and lotus flowers. The grounds include a Court of Religions honoring the five principal religions of the world; the Mahatma Gandhi World Peace Memorial, where a portion of Gandhi's ashes is enshrined; a small museum with exhibits on Paramahansa Yogananda's work; and a gift shop with arts and crafts from India.
UCLA Planetarium and Telescope Shows (West LA) - During the fall, winter, and spring quarters of the UCLA Academic Calendar, free shows are every Wednesday night at 7PM (late arrivals can not be admitted).
Wells Fargo History Museum
[CLOSED] - Wells Fargo no longer has a museum in downtown L.A.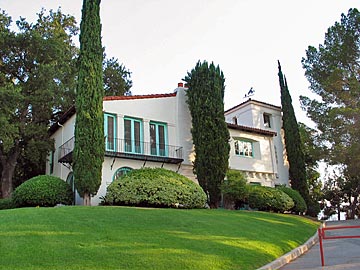 William S. Hart Ranch and Museum
William S. Hart Ranch and Museum (Santa Clarita, one hour drive north of LA) - The home of "Two Gun Bill," star and director of western films from the silent era, is displayed complete with personal effects and furnishings as well as his important collection of Native American artifacts and Western American art. Hart Park includes hiking trails, picnic areas, campground, and live animals, including a herd of bison.
More museums - Click here for LA Museum links
---
Click here to go back to the list of free activities
---