TreePeople on Mulholland Drive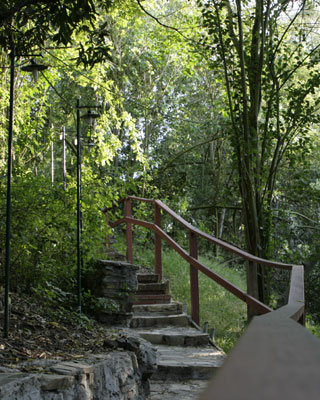 Hiking Trail at TreePeople
In addition to the vast city, you can find almost any natural environment in the Los Angeles area. We have beaches, mountains, deserts, valleys, rivers and almost anything you can think of, except for a volcano. Griffith park alone offers more than 50 miles of hiking trails and Santa Monica Mountains is so large that it contains 26 zip codes!
But then not many people travel all the way to LA only to spend their time hiking. However there is a destination that's suitable for tourists and offers the flavor of our wilderness areas: TreePeople (treepeople.org), also known as Coldwater Canyon Park. It's a stop along Mulholland Drive. They have a parking lot, restrooms, water fountains, meeting facilities, and well-manicured trails with plenty of shade from trees. As you see, it offers the "flavor" of the wilderness but you will not get lost here! There are nice views of the San Fernando Valley and On a clear day the view is spectacular. It's basically the same view that you'll see from a scenic overlook on Mulholland Drive.
TreePeople is more than just a park. The organization provides training and supports communities to plant and care for trees. For many decades they have spearheaded the efforts toward the environmental healing of Los Angeles. Since 1974, TreePeople volunteers have planted millions of trees in the L.A. area.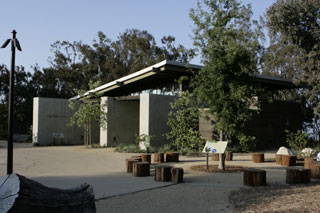 Meeting Facility at TreePeople on Mulholland Drive
TreePeople
12601 Mulholland Drive
6:30AM to sunset every day
Free parking