Ovation Hollywood Shopping Center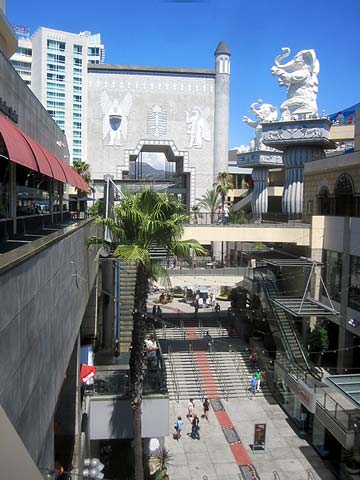 Ovation Hollywood Shopping Complex
Ovation Hollywood [website] (formerly Hollywood & Highland) is more than just an intersection: It is a tourist mecca, filled with stellar entertainment, dining and shopping destinations. This three-story complex offers a peek into Hollywood history, while serving as a home base for numerous entertainment industry events.
Located right in the heart of Hollywood, the bustling shopping complex has been credited for breathing new life into its surrounding areas. Built to the cost of approximately 615 million dollars, it opened its doors in 2001. The complex's courtyard was inspired by the D.W. Griffith film Intolerance, and its center boasts stunning views of the legendary Hollywood sign and the Hollywood Hills. Occupying nearly two whole blocks, Ovation Hollywood is comprised of 75 shops and restaurants, a movie theater, a nightclub, 65,000 square feet of gathering spaces, the Loews Hollywood Hotel, TV broadcast studios and last but not least, the Dolby Theatre.
Without a doubt, the Dolby Theatre is the complex's crown jewel. The permanent home to the Academy Awards ceremonies, the theater has hosted the legendary Hollywood event since March 2002. Its grand staircase entrance showcases glass plaques for the Best Picture winners, and images of famous Oscar winners are displayed throughout the theater's four levels. In addition to the Oscars, the theater has featured many other noteworthy concerts and events, including the American Idol finales, Daytime Emmy Awards, AFI Lifetime Achievement Awards and more.
Of course, shopping is another one of the complex's main attractions, and all members of the family will find something to suit their taste thanks to its vast selection. Mainstream mall staples abound here, including Aldo, American Eagle Outfitters, Forever 21, Hot Topic, Sephora and Pink (by Victoria's Secret). For those of more discerning taste, a Louis Vuitton store is also on-site. Meanwhile, children will delight in the Hello Kitty Hollywood store.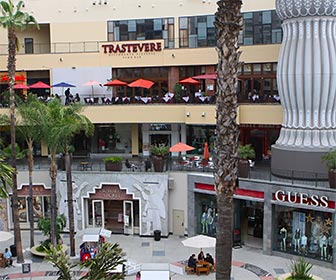 Trastevere, Woodfire BBQ, and stores
As for dining, Ovation Hollywood's eateries encompass all cuisines and all price ranges. For a quick bite, options include Green Earth Cafe, Hollywood Mongolian Grill, French Crepe Company, Fresh Fire Kabob and Sun Taco. Meanwhile, the sit-down restaurants include chains like Johnny Rockets, California Pizza Kitchen and Hard Rock Cafe, as well as Trastevere Ristorante Italiano and The Grill on Hollywood, sister to the famous The Grill on the Alley of Beverly Hills. Those with a sweet tooth need not fret: There are several dessert options, such as a Beard Papa's Sweet Cafe (featuring Japanese cream puffs), Cold Stone Creamery and Rocky Mountain Chocolate Factory.
Though many consider the complex to be purely a daytime attraction, it also offers several different nightlife options. The most noteworthy of these is Lucky Strike Lanes, a swanky bowling alley complete with a DJ, full bar and lounge area. Also on-site are the nightclubs Level 3 and The Highlands.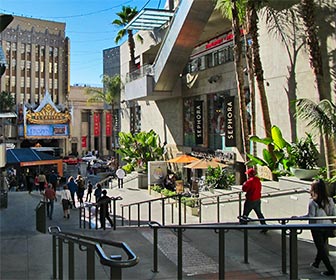 Entrance on Hollywood Boulevard
The shopping center is located just steps away from numerous Hollywood destinations. Across the street from it is the revived El Capitan Theatre, a venue of many of The Walt Disney Company's movie premieres. Kitty-corner to is the historic Hollywood Roosevelt Hotel, a favorite among celebs today and yesteryear. It is adjacent to the famous Grauman's Chinese Theatre, best known for the celebrity hand- and foot-prints in its forecourt. The Hollywood Walk of Fame runs right in front of Ovation Hollywood. Other nearby attractions include Madame Tussauds, featuring celebrity wax figures; Ripley's Believe It or Not! Museum, boasting odd and unusual trivia-type displays; and The Hollywood Museum, providing numerous show biz-related exhibits.
Not too far from Ovation Hollywood is another infamous intersection, Hollywood & Vine, home to the Capitol Records Building. Meanwhile, the intersection of Sunset & Vine offers a host of shopping and dining options.
---
Ovation Hollywood Official Website
Reservations at Loews Hollywood Hotel