Disneyland Transportation

There are various methods you can use to get to Disneyland. The most obvious is to drive there in a car, but that's not the only route. The easiest method is to stay in a nearby hotel and use the ART. The advantage is that you will avoid a long trip to get to the park, so you can spend more time inside. Even many locals choose to stay in a hotel.
Getting Around in Anaheim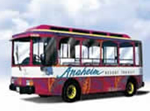 Anaheim Resort Transit
Anaheim Resort Transit System (ART).
This shuttle provides transportation from most hotels near Disneyland to area attractions including Disneyland, Downtown Disney, California Adventure the Convention Center, Anaheim Gardenwalk, the Crystal Cathedral. If you need/want to go shopping, The Outlets at Orange (shopping mall) and Segerstrom Center (performing arts in Costa Mesa) are on the ART routes. The ART shuttle also provides transportation to top restaurants in the area, such as Ruth Cris Steak House, Bubba Gump Shrimp Factory and Lucilles BBQ Smoke House. You can even take the ART shuttle from the Disneyland area to Knott's Berry Farm and nearby attractions in Buena Park. Note: You can buy ART passes online, or at hotels and kiosks in the area. You can pay a cash fare on board, one-way, exact amount only (change is not given). However a day pass costs just a little more than a one-way fare so it pays to plan in advance.
Getting to Anaheim
Driving to Disneyland - If you drive to Disneyland, use the driving directions on Disneyland's website. There's a separate page with parking information. Parking is pretty easy in the main structure. But if it's a busy day you might need to park in an overflow lot, which is farther and involves more walking. Parking fees start at $25 per vehicle per day for cars and motorcycles. An upgrade to preferred (i.e., "closer") parking is available for a fee.
How to get to Disneyland from Airports - If you plan to arrive by flight, see the information on Disneyland's website. There are directions from all major airports in Southern california, including Los Angeles International (LAX), John Wayne (SNA), Long Beach (LGB), Burbank Airport (BUR), Ontario International (ONT) and San Diego International (SAN).
Metro (Public Transportation) - You can get to Disneyland from anywhere in Los Angeles using public transportation. At the Metro home page, use the Trip Planner to find routes and schedules. Enter your starting point in the "From" box, and "Disneyland (Metro Stop)" in the "Destination" box.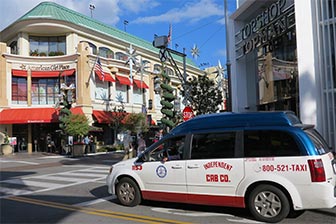 Taxi at The Grove
Taxis and Shuttles
Taxi Service Areas in Los Angeles - There are about a dozen taxi cab companies in Los Angeles, but they are limited to pick up only in their authorized areas. So you will need to call the appropriate cab company, depending on where you want to be picked up. Follow the link for details, and phone numbers of official taxi cab companies in the various areas.
Shuttle Services and Limousines - Serving Hollywood, downtown L.A., major airports and other destinations in Los Angeles and Orange County.
NAVIGATION

Disneyland Transportation (this page)

ADVERTISMENT