A Few Disney Park Tips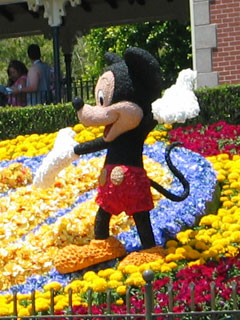 Mickey Mouse at Disneyland Entrance
Disneyland and California Adventure are typically less crowded on week days. On many weekend days, Disneyland fills to capacity. California Adventure is usually less crowded.
Arrive early and head to the most popular rides first, even if they're in the back of the park. It's always good to plot your itinerary so you don't miss anything on your must-do list.
Use Fast Pass, a unique system whereas you can receive an assigned time to return to a ride and avoid a wait in line. Fast Pass is available for the most popular rides. Consult a park map to confirm which rides offer the pass.
Pace yourself, especially if you're with kids. Sometimes it's a good idea to leave during the early afternoon (which tends to be the most crowded time) and return around dinner time. That gives everyone a break!
If you want to be in the front row to view a parade, you'll need to secure a good location well in advance, since people will begin lining up at least an hour before the parade begins. The same holds true for the fireworks display over Sleeping Beauty Castle. For the best views, you will need to secure a spot well in advance of the fireworks show.
Stay at a Disney resort, if you can afford the cost. Accommodations at the Grand Californian Hotel and Spa, Disneyland Hotel, and Disney's Paradise Pier Hotel allow close access and early admission to the parks.
NAVIGATION

A Few Disney Park Tips (this page)

ADVERTISMENT