Downtown Disney, Anaheim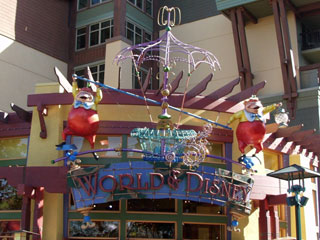 World of Disney Gift Shop at Downtown Disney
Sandwiched between the two parks, the Downtown Disney District (website) was created to provide a respite from the parks as well as a place where guests can shop, dine, or enjoy evening activities such as cinema, nightclubs, and more.
Here, guests can browse and buy at one of the best Disney stores on the planet, The World of Disney, where you can find just about anything Disney-related. The kids will love it! Young couples and singles enjoy spending time at The House of Blues and the Uva Bar. Street musicians, jugglers, and other entertainers appear frequently throughout the district and are popular with all ages.
Downtown Disney is easy to reach on foot or via monorail from either of the parks and from the Disney hotels. There's no admission fee to enter Downtown Disney and parking is free for the first 3 hours (with minimum purchase and validation), so it's easy to visit, even on days when you're not planning to be at one of the parks.
NAVIGATION

Downtown Disney (this page)

ADVERTISMENT